November 30th: The Biggest Music Headlines
Scroll down the page to see all the music headlines, stories and events for November 30 throughout music history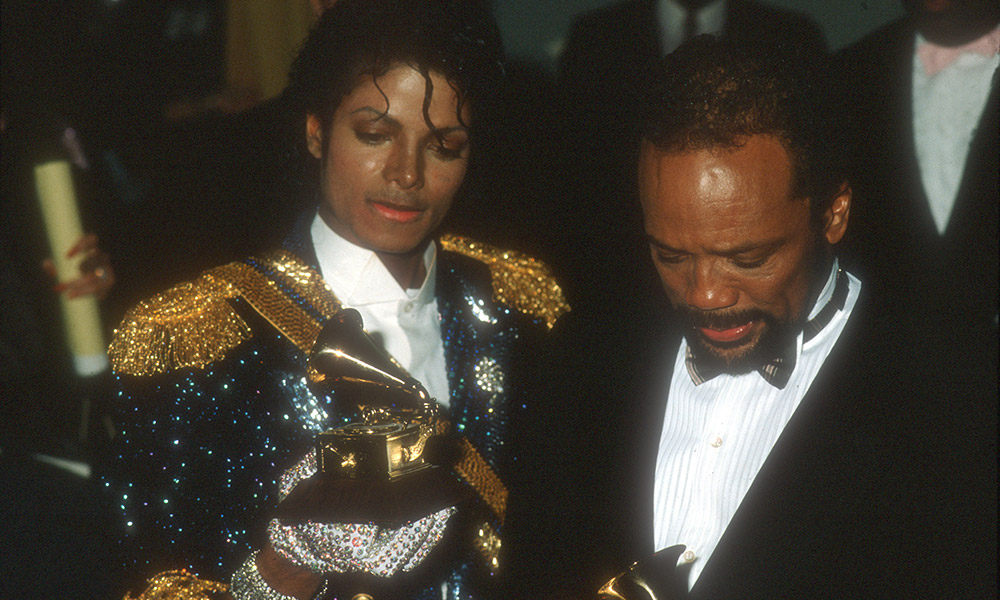 Michael Jackson's 'Thriller' Arrives
In 1982, Michael Jackson released his breakthrough album, Thriller. Co-produced by Quincy Jones and featuring seven US Top Ten singles, including "Beat It," "Billie Jean," "P.Y.T. (Pretty Young Thing)," and the title track, Thriller was an instant success. Selling 32 million copies within a year, Thriller was named the world's best-selling album of 1983. The following year, it cleaned up at the Grammys, winning a record-breaking eight awards, including Album of the Year. Today, it remains the best-selling album of all time (globally) and one of the highest-selling albums in the US.
In 2012, Glen Campbell played his final concert at Napa, CA's Uptown Theater. The show was the final stop on the prolific singer-songwriter's Goodbye Tour after he announced his Alzheimer's diagnosis.
In 2012, Rihanna debuted at No.1 in the UK with her seventh LP, Unapologetic. The accomplishment tied the artist with Madonna, Eva Cassidy, and Norah Jones for the most consecutive No.1 albums by a female artist. Across the Atlantic, Unapologetic earned Rihanna the highest-selling debut week of her career, thanks in part to the album's multi-platinum lead single, "Diamonds."
In 2003, New York City christened "Joey Ramone Place," a block at the corner of Second Street and Bowery, in memory of the punk icon. The Ramones frontman and lifelong New Yorker died in 2001, after battling lymphoma.
In 1963, The Beatles' sophomore LP, With The Beatles became the first album to sell one million copies in the UK.
In 1989, Manchester ruled the airwaves when The Happy Mondays and The Stone Roses both made their debuts on the UK TV show, Top of the Pops.
Looking for more things that happened on this day in music?
Keep scrolling for all of the headlines for November 30.
BORN ON NOVEMBER 30:
1929: Dick Clark (TV Host)
1945: Roger Glover (Deep Purple)
1953: June Pointer (Pointer Sisters)
1955: Billy Idol
1957: John Ashton (The Psychedelic Furs)
1968: Des'ree
1978: Clay Aiken
Looking for more artists born on this day?
Keep scrolling for all of our November 30 birthdays.
---
What to find another day?
---
November 30th
30 Nov 2015
Sinead O'Connor
was receiving medical treatment after a message about her taking an overdose was posted on her Facebook page. "I have taken an overdose. There is no other way to get respect," the post read. The Irish singer was found safely in Dublin by Police.
30 Nov 2015
Former New Order bassist Peter Hook was suing his ex-bandmates for £2.3m, ($3.5m). Hook accused Bernard Sumner and Stephen and Gillian Morris of "pillaging" the pop group's assets after the three other band members set up a company without him to handle the band's income in 2011.
30 Nov 2012
Rihanna
was at No.1 on the UK album chart with her seventh studio album Unapologetic. The album produced seven singles including 'Diamonds', which became
Rihanna
's twelfth No.1 song, tying her with
Madonna
and The
Supremes
for fourth most No.1 songs in the history of the chart.
30 Nov 2012
Glen Campbell
played the very last live performance of his lifetime when he appeared at Uptown Theatre in Napa, California. Campbell revealed his Alzheimer's diagnosis to the public in 2011, and had set out on his Goodbye Tour as a way to say farewell to his fans.
30 Nov 2007
During a Christies Rock & Roll auction held the Rockefeller Plaza, New York City a collection of 276 ticket stubs compiled by a rock journalist who covered many rock concerts at New York City venues sold for $2,000. The tickets included concerts by:
Jimi Hendrix
,
The Who
,
Rolling Stones
,
Frank Zappa
,
The Beach Boys
,
Pink Floyd
,
The Allman Brothers Band
,
Led Zeppelin
,
Neil Young
,
Fleetwood Mac
,
Grateful Dead
and
Bruce Springsteen
.
30 Nov 2006
The sale of
Syd Barrett
's final belongings were sold by Cheffins auctioneers in Cambridge, England. The sale of the 77 items raised £119,890 ($233,786). Ten paintings alone raised over £55,000 and two bicycles over £10,000. The sale included such things as the armchair he used to sit in, his home-made bread bin, tools, notebooks and binders and books. The sale catalogue described Barrett - who quit
Pink Floyd
in 1968 - as a man with a "total disinterest in materialism."
30 Nov 2005
50 Cent was planning to create a vibrator of his manhood, so his female fans could pretend to have sex with him. The rapper was also planning to sell a line of condoms and waterproof sex toys designed to excite his female fans. The rapper said: "I need to make a 50 Cent condom and motorised version of me, which will have to be waterproof so you can utilise it in the tub, Blue is my favourite colour so it will probably be blue'.
30 Nov 2005
Babyshambles singer Pete Doherty was arrested on suspicion of possessing class A drugs after he was stopped by police while driving his car in Ealing, west London. Police had stopped the vehicle because it was being driven "in an erratic manner" and recovered "substances" from the scene.
30 Nov 2003
A block of East 2nd Street in New York City was officially renamed Joey Ramone Place. It is the block where Joey once lived with band mate Dee Dee Ramone and is near the music club CBGB, where the
Ramones
played their first gigs. In 2010, it was reported that "Joey Ramone Place," was New York City's most stolen sign. As of September 27, the sign has been moved to 20 feet above ground level.
30 Nov 2002
High Court probate records showed that
George Harrison
left his fortune of £99m in a trust to his wife Olivia and his son Dhani, depriving the taxman of £40m. His English mansion near Henley-on-Thames was said to be worth £15m.
30 Nov 2001
The first
Top Of The Pops
UK Awards were held in Manchester, with categories voted by viewers of the BBC show. Winners included: Best pop act: Westlife, Best R&B Act: Destiny's Child, Best Rock Act:
U2
, Best Dance Act: Fatboy Slim, Best Newcomer: Nelly Furtado, Best Single:
Kylie Minogue
, 'Can't Get You Out Of My Head', Best Album: Travis, 'The Invisible Band', Artist on top of the world: Jennifer Lopez, Hall of Fame Award went to
Paul McCartney
.
30 Nov 2000
Scott Smith bassist for the Canadian rock band Loverboy died age 45. He was sailing his boat with two friends off the coast of San Francisco near the Golden Gate Bridge, when a large wave swept him overboard. Loverboy were best known for their hit singles 'Working for the Weekend' and 'Turn Me Loose', although their US Top Ten hits were 'Lovin' Every Minute of It' in 1985 and 'This Could Be the Night'. Loverboy sold over 23 million records and in 1986 the band won six Juno Awards in 1982. He also later worked as a late-night radio DJ at CFOX.
30 Nov 1999
Elton John
was blasted by the Boy Scout Association after he appeared on stage at London's Albert Hall performing 'It's A Sin' with six male dancers dressed as Boy Scouts. The dancers had peeled of their uniforms during the performance.
30 Nov 1999
Don 'Sugarcane' Harris was found dead in his Los Angeles apartment at the age of 61. The American guitarist and violinist was part of the 50s duo Don & Dewey. He also worked with
Little Richard
, John Mayall,
Frank Zappa
, John Lee Hooker and Johnny Otis.
30 Nov 1996
Ice Cube obtained a restraining order to keep an obsessed fan away from him and his family. Cynthia Renee Collins was told to stop harassing the 26 year-old rapper, and stay at least 100 feet away from him.
30 Nov 1996
American singer and ukulele player Tiny Tim (Herbert Khaury) died from a heart attack on stage while playing his hit 'Tiptoe Through the Tulips' at a club in Minneapolis. On 17 December 1969, he married Victoria Mae Budinger on The Tonight Show Starring Johnny Carson, a publicity stunt that attracted over 40 million viewers. (they had a daughter, Tulip Victoria). He performed at the 1970 Isle Of Wight Festival in front of a crowd of 600,000 people.
30 Nov 1994
Tupac Shakur
was shot five times during a robbery outside a New York City recording studio.
30 Nov 1991
Michael Jackson
scored his fourth UK No.1 album with his eighth studio album Dangerous. The album has sold over 32 million copies worldwide making it one of the best selling albums of all time.
30 Nov 1991
Milli Vanilli singer Rob Pilatus attempted suicide while staying at Los Angeles' Mondrian Hotel.
30 Nov 1989
The Happy Mondays and fellow Mancunians The Stone Roses both made their debut appearance on UK TV music show
Top Of The Pops
. The Mondays performed 'Hellelujah' and the Stones Roses 'Fools Gold.'
30 Nov 1985
Wham! Were at No.1 on the UK singles chart with 'I'm Your Man', the duo's third UK No.1, a No.3 hit in the US.
30 Nov 1982
Michael Jackson
's
Thriller
album was released. It spent 190 weeks on the UK album chart became the biggest selling pop album of all time, with sales over 66 million copies. Seven singles were released from the album, including 'Beat It', which featured guitarists
Eddie Van Halen
and Steve Lukather on 'Billie Jean'.
30 Nov 1971
Sly And The Family Stone were at No.1 on the US singles chart with 'Family Affair', their fourth and final No.1. Rolling Stone magazine later ranked the song No.138 on their list of the 500 Greatest Songs of All Time.
30 Nov 1969
The
Monkees
made what would be their last live appearance for 15 years when they played at The Oakland Coliseum, California.
30 Nov 1969
The
Rolling Stones
played the final night on a 17 date North American tour at the International Raceway Festival, West Palm Beach, Florida. Also appearing, The Moody Blues, Ten Years After, King Crimson,
Janis Joplin
, The Band, Steppenwolf and
Iron Butterfly
.
30 Nov 1968
Glen Campbell
started a five-week run at No.1 on the US album chart with 'Wichita Lineman.' Jimmy Webb's inspiration for the lyrics came while driving through Washita County in northern Oklahoma. Webb was driving through an endless litany of telephone poles, each looking exactly the same as the last. Then, in the distance, he noticed the silouette of a solitary lineman atop a pole. Webb then "put himself atop that pole and put that phone in his hand" as he considered what the lineman was saying into the receiver.
30 Nov 1963
The Beatles
second album With
The Beatles
became the first million selling album by a group in the UK. The album stayed at the top of the charts for 21 weeks, displacing Please Please Me, so that
The Beatles
occupied the top spot for 51 consecutive weeks.
Born on this day in music
30 Nov 1987
Dougie Poynter, bass, vocals, McFly, (2004 UK No.1 single 'Colours In Her Hair', 2004 UK No.1 album 'Room On The 3rd Floor').
30 Nov 1978
Clay Aiken, singer, runner-up in 2003 US American Idol, (2003 US No.1 single 'This Is The Night').
30 Nov 1973
John Moyer, bass, Disturbed, (2005 US No.1 album 'Ten Thousand Fists').
30 Nov 1968
Des'ree, UK singer, songwriter, (1998 UK No.8 single 'Life').
30 Nov 1965
Paul Wheeler, Icehouse, from Australian rock band Icehouse who had the 1983 UK hit single 'Hey Little Girl'. Their best known singles on the Australian charts were 'Great Southern Land', 'Crazy' and 'Electric Blue'.
30 Nov 1957
Richard Barbieri, Japan, (1982 UK No.5 single 'Ghosts').
30 Nov 1957
John Ashton, guitarist with English rock band The Psychedelic Furs. Film director John Hughes used their song 'Pretty in Pink' for his 1986 movie of the same name.
30 Nov 1955
William Broad (Billy Idol), singer, Generation X, (1979 UK No.11 single 'King Rocker'). Solo (1987 US No.1 & UK No.7 single 'Mony Mony', plus nine other UK top 40 singles).
30 Nov 1954
George McArdale, from Australian group, Little River Band who scored the 1978 US No.3 single 'Reminiscing' plus 12 other US Top 40 singles selling more than 30 million records.
30 Nov 1953
June Pointer, singer with American R&B singing group The Pointer Sisters who had the 1981 US No.2 single, 'Slow Hand' and the 1984 UK No.2 single 'Automatic'. The Pointer Sisters have won three Grammy Awards and had 13 US top 20 hits between 1973 and 1985.
30 Nov 1953
David Sancious, keyboard player and guitarist, and an early member of
Bruce Springsteen
's E Street Band. Sancious contributed to the first three Springsteen albums and has also worked with Stanley Clarke, Narada Michael Walden, Zucchero Fornaciari,
Eric Clapton
, Peter Gabriel and Sting among many others.
30 Nov 1945
Roger Glover, bassist with
Deep Purple
who had the 1970 UK No.2 single 'Black Night' and the 1973 US No. 4 single 'Smoke On The Water'.
30 Nov 1944
Rob Grill, who with Grass Roots had the 1968 US No.5 single 'Midnight Confessions', plus 13 other US Top 40 singles. Grill died on 11th July 2011 after suffering a head injury from a fall caused by a stroke. He was 67.
30 Nov 1943
Leo Lyons, bass, Ten Years After, (1970 No.10 UK single 'Love Like A Man').
30 Nov 1943
American R&B singer and songwriter J. J. Barnesm. His early releases including 'Just One More Time' and 'Please Let Me In', were later picked up as Northern soul favourites in the UK. He died on December 10, 2022 aged 79.
30 Nov 1937
English-Australian country music singer and guitarist Frank Ifield who often incorporated yodelling in his music. He had the 1962 UK No.1 single 'I Remember You', plus 15 other UK Top 40 singles.
30 Nov 1932
American session musician, orchestra leader, and double bassist Bob Moore. He was a member of the Nashville A-Team during the 1950s and 1960s and performed on over 17,000 documented recording sessions, backing acts such as
Elvis Presley
,
Patsy Cline
,
Bob Dylan
and
Roy Orbison
. He died on 22 September 2021.
30 Nov 1929
Dick Clark, host of US TV's longest running music show American Bandstand and he created and produced the annual American Music Awards show. Clark died on April 18, 2012.
30 Nov 1924
Allan Sherman, singer, (1963 US No.2 & UK No.14 single 'Hello Muddah, Hello Faddah'). He died on 21st November 1973 aged 49.
30 Nov 1915
American folk music and blues singer and guitarist, Brownie McGhee. He is best known for his collaboration with the harmonica player Sonny Terry. McGhee died of stomach cancer on 16 February 1996 in Oakland, California, aged 80.