October 21st: The Biggest Music Headlines
Scroll down the page to see all the music headlines, stories and events for October 21 throughout music history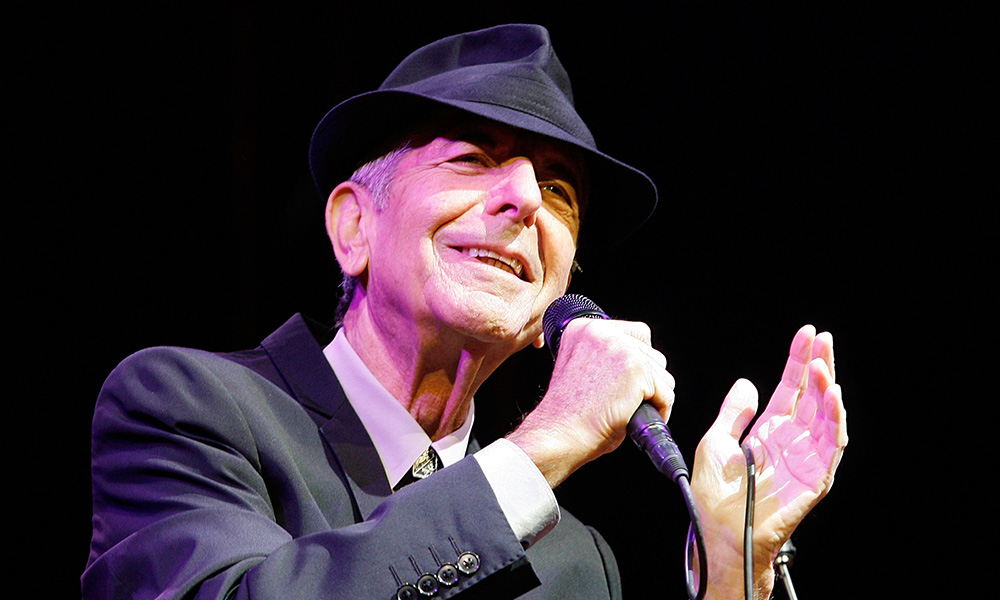 Leonard Cohen Releases Final Album, 'You Want It Darker'
On October 21, 2016, Leonard Cohen released his final studio album, You Want It Darker, just 17 days before his death. The lauded singer, songwriter, and poet had experienced a decline in his physical health, after years of touring, but used it as an impetus to focus on his final project. "In a certain sense, this particular predicament is filled with many fewer distractions than other times in my life," he explained to the New Yorker, adding that it "actually enables me to work with a little more concentration and continuity than when I had duties of making a living, being a husband, being a father."
In 1972, Curtis Mayfield began a four-week run at the top of the US album chart with the soulful soundtrack to Super Fly. The album became one of the few soundtracks in film history to out-gross the film it accompanied, thanks in large part to the album's Top Ten singles, "Superfly" and "Freddie's Dead."
In 1976, The Who concluded their North American tour with a show at Toronto's Maple Leaf Gardens. It would mark Keith Moon's final concert with the band. Due in part to the hard-partying drummer's deteriorating health, the British rockers took a break from the road. Less than two years later, following Moon's death, the band released a statement saying, "We are more determined than ever to carry on, and we want the spirit of the group to which Keith contributed so much to go on, although no human being can ever take his place."
In 1972, Chuck Berry began a two-week run with his first and only No.1 hit on the Billboard Hot 100 with "My Ding-A-Ling." Across the Atlantic, the single would also mark Berry's sole chart-topper in the UK.
In 1958, Buddy Holly's last recording session took place at Pythian Temple Studios in New York. The songs he recorded, including "Raining in My Heart" and "It Doesn't Matter Anymore," are colloquially known as "The String Sessions."
In 2013, famed concert promoter Sid Bernstein died at the age of 95. He was known for bringing The Beatles, The Rolling Stones, Herman's Hermits, The Moody Blues, and The Kinks to America.
In 2001, benefit concerts were held at New York City's Madison Square Garden and Washington DC's RFK Stadium to raise money for victims of 9/11. Performers included Tom Petty, Paul McCartney, David Bowie, Eric Clapton, and The Who.
In 2006, Evanescence's The Open Door topped the Billboard 200, becoming the 700th album to hit No.1 on the American chart.
Looking for more things that happened on this day in music?
Keep scrolling for all of the headlines for October 21.
BORN ON OCTOBER 21:
1940: Manfred Mann
1941: Steve Cropper
1946: Lux Interior (The Cramps)
1947: Tetsu Yamauchi (Faces, Free)
1952: Brent Mydland (Grateful Dead)
1953: Charlotte Caffey (The Go-Go's)
1957: Steve Lukather (Toto)
1971: Nick Oliveri (Queens of the Stone Age)
1993: Kane Brown
1995: Doja Cat
Looking for more artists born on this day?
Keep scrolling for all of our October 21 birthdays.
---
What to find another day?
---
October 21st
21 Oct 2016
Leonard Cohen released his last album, You Want It Darker, 17 days before his death. Cohen was in poor health while the album was being made, and never went to the recording studio, relying on his son Adam to handle the sessions and integrate his tracks. The title track was awarded a Grammy Award for Best Rock Performance in January 2018.
21 Oct 2014
Former Dr Feelgood guitarist Wilko Johnson said he has been "cured" of the terminal pancreatic cancer with which he was diagnosed in 2012. The 67-year-old was initially given 10 months to live after rejecting chemotherapy, but had radical surgery to remove the tumour earlier this year.
21 Oct 2013
Sid Bernstein, the concert promoter who staged early US shows by
The Beatles
and The
Rolling Stones
, died aged 95. Bernstein booked
The Beatles
for their legendary show at Shea Stadium in New York in 1965, which was the first concert to be staged in a stadium. Bernstein also promoted the Fab Four's gigs at Carnegie Hall in New York on their first US tour in 1964. He also arranged The
Rolling Stones
first five US gigs and shows for Judy Garland, Ray Charles and Tony Bennett.
21 Oct 2007
Kid Rock and five members of his entourage were arrested after an argument with a man escalated into a fight in a restaurant in Atlanta, Georgia. Kid Rock's tour bus was pulled over by police after it left the scene; Rock was released after posting $1,000 (£490) bail. Kid Rock also had the No.1 album on the US chart with 'Rock N Roll Jesus' his eleventh album release and first to debut at the top of the chart.
21 Oct 2006
American musician, singer, songwriter, and drummer Sandy West died. Founding member (with Joan Jett) of all girl group The
Runaways
, hailed by fans and critics alike to be one of the most groundbreaking drummers in rock and roll history.
21 Oct 2006
British broadcaster
John Peel
left over £1.8m and over 25,000 vinyl records in his will. Peel died suddenly at the age of 65 from a heart attack in 2004.
21 Oct 2006
Evanescence were at No.1 on the US album chart with their second album 'The Open Door.' It became the 700th No.1 album in Billboard since the chart became a weekly feature in 1956.
21 Oct 2003
US singer-songwriter Elliott Smith, died at the age of 34. A one-time member of Heatmiser, he was nominated for a 1998 Academy Award for his song 'Miss Misery'.
21 Oct 2001
21 Oct 1997
Elton John
's 'Candle In The Wind 97' was declared by the Guinness Book Of Records as the biggest selling single record of all time, with 31.8 million sales in less than 40 days and raising more than £20 million for charity.
21 Oct 1995
Green Day
singer Billie Joe was arrested and fined $141 after mooning at the audience during a gig in Milwaukee.
21 Oct 1992
George Michael
took Sony Records to court in a fight over his contract with the company; he lost the case in 1994. Michael worked with Sony again less than 10 years later.
21 Oct 1989
Jive Bunny And The Mastermixes had their second UK No.1 single with 'That's What I Like.' The Theme from Hawaii Five-O was the recurring hook in the record which also included 'Lets Twist Again', 'Lets Dance', 'Great Balls of Fire' and 'The Twist'.
21 Oct 1978
The Clash
sacked manager Bernie Rhodes, saying the band and record company 'found him hard to deal with'. Melody Maker journalist Caroline Coon took his place.
21 Oct 1976
Keith Moon
played his last show with
The Who
at the end of a North American tour at Maple Leaf Gardens, Toronto. On September 7, 1978, Moon died of an overdose of a sedative Heminevrin, that had been prescribed to prevent seizures induced by alcohol withdrawal.
21 Oct 1972
Chuck Berry
started a two week run at No.1 on the US singles chart with 'My Ding-A-Ling', his first and only US and UK No.1, 17 years after his first chart hit.
21 Oct 1972
Curtis Mayfield started a four-week run at No.1 on the US album chart with soundtrack to 'Superfly'.
21 Oct 1967
Scottish singer Lulu started a five-week run at No.1 on the US singles chart with the theme from the film 'To Sir With Love'.
21 Oct 1965
Bill Black,
Elvis Presley
's bass player, (1954-57), died four months after receiving surgery to remove a brain tumour, aged 39. With guitarist Scotty Moore, and
Elvis Presley
on rhythm guitar, Black played on 'That's All Right (Mama)',
Heartbreak Hotel
, 'Baby Let's Play House', 'Mystery Train', 'Hound Dog'; 'Jailhouse Rock' in the late 1950s. Black, Scotty Moore and drummer D. J. Fontana toured extensively during Presley's early career. After leaving Presley Black formed Bill Black's Combo.
21 Oct 1965
Wanting to improve on a previous recording session
The Beatles
started from scratch on a new song called 'Norwegian Wood (This Bird Has Flown)', finishing recordings in three takes. They also begin working on another new
John Lennon
song 'Nowhere Man.'
21 Oct 1965
The Spencer Davis Group recorded 'Keep On Running' at Pye Studios in London, England. The track went on to top the UK chart next January.
21 Oct 1958
Buddy Holly
's last recording session took place at Pythian Temple Studios, New York City. The songs recorded included 'Raining In My Heart', 'Moondreams' and 'It Doesn't Matter Anymore' which became a No.1 hit.
Born on this day in music
21 Oct 1995
Doja Cat, American singer, rapper, songwriter. Her second studio album, Hot Pink (2019), reached the top 10 of the US Billboard 200 and spawned the single 'Say So', which topped the Billboard Hot 100 chart.
21 Oct 1993
American singer Kane Brown. He released his first album, the self-titled Kane Brown, on December 2, 2016. The single 'What Ifs' came from this album, and in October 2017, Brown became the first artist to have simultaneous No.1's on all five main Billboard country charts.
21 Oct 1971
Nick Oliveri, American bassist, guitarist, vocalist who has been a member of Kyuss, Queens of the Stone Age, (from 1998 to 2004), Mondo Generator and Dwarves.
21 Oct 1971
Tony Mortimer, from English pop boy band East 17 who had the 1994 UK No.1 single 'Stay Another Day', plus 18 top-20 singles and four top-10 albums, and were one of the UK's most popular boy bands during the early to mid-1990s.
21 Oct 1959
Rose McDowell, singer, Strawberry Switchblade, (1984 UK No.5 single 'Since Yesterday').
21 Oct 1957
Attila The Stockbroker, pop poet, worked with John Otway and TV Smith.
21 Oct 1957
Julian Cope, guitar, vocals, Teardrop Explodes, (1981 UK No.6 single 'Reward'), solo (1986 UK No.19 single 'World Shut Your Mouth').
21 Oct 1957
American guitarist, singer, songwriter, arranger and record producer Steve Lukather, who with Toto had the 1983 US No.1 & UK No.3 single 'Africa'. Lukather has recorded guitar tracks for more than 1,500 albums including the guitar solo for Olivia Newton-John's 1981 No.1 single 'Physical',
Michael Jackson
's 'Beat It', and was also heavily involved in the recording of virtually all of Jackson's
Thriller
album.
21 Oct 1954
Eric Faulkner, Scottish singer and guitarist of the 1970s pop group, Bay City Rollers who had the 1975 UK No.1 single 'Bye Bye Baby' plus 11 other UK Top 20 singles' and the 1976 US No.1 single 'Saturday Night'.
21 Oct 1953
Charlotte Caffey, The Go- Go's, (1982 US No.2 single, 'We Got The Beat', 1982 UK No.47 single 'Our Lips Our Sealed').
21 Oct 1952
American keyboardist and vocalist, Brent Mydland, best known for being in
Grateful Dead
from 1979 to 1990. His eleven-year tenure was longer than that of any other keyboardist in the band. He was found dead on the floor of his home on 26th July 1990 aged 38 from a drug overdose.
21 Oct 1947
Tetsu Yamauchi, bass player,
Faces
, (1973 UK No.8 single 'Pool Hall Richard',)
Free
, (1973 UK No.7 single 'Wishing Well').
21 Oct 1946
Lux Interior (Erick Lee Purkhiser), singer and founding member of The Cramps. Died in Glendale, California on February 4, 2009.
21 Oct 1946
American trumpeter, flugelhorn player, vocalist, and songwriter Lee Loughnane with Chicago who had the 1976 UK & US No.1 single 'If You Leave Me Now'. The band formed in 1967 in Chicago, Illinois as The Chicago Transit Authority before shortening the name in 1970. Chicago have had five consecutive No.1 albums on the Billboard chart and 20 top-ten singles on the Billboard Hot 100.
21 Oct 1943
Ron Elliott, The Beau Brummels, (1965 US No.8 single, 'Just A Little.')
21 Oct 1942
Elvin Bishop, guitarist, (1976 US No.3 & UK No.34 single 'Fooled Around And Fell In Love'). Member of Paul Butterfield Blues Band 65-68.
21 Oct 1941
Steve Cropper, American guitarist, with Booker T and the MG's, that had the 1962 US No. 3 single 'Green Onions', and the 1969 UK No.4 single 'Time Is Tight'. Cropper played guitar on the
Otis Redding
hit '(Sittin' On) The Dock of the Bay'. As a session guitarist he has worked with many artists including:
John Lennon
,
Dolly Parton
,
Paul Simon
,
Art Garfunkel
, and
Rod Stewart
.
21 Oct 1940
South African–British keyboard player, guitarist, and vocalist Manfred Mann who had the 1964 UK & US No.1 single 'Do Wah Diddy Diddy' and with Manfred Mann's Earth Band hits include covers of
Bruce Springsteen
's 'For You', 'Blinded by the Light' and 'Spirit in the Night'.