October 26th: The Biggest Music Headlines
Scroll down the page to see all the music headlines, stories and events for October 26 throughout music history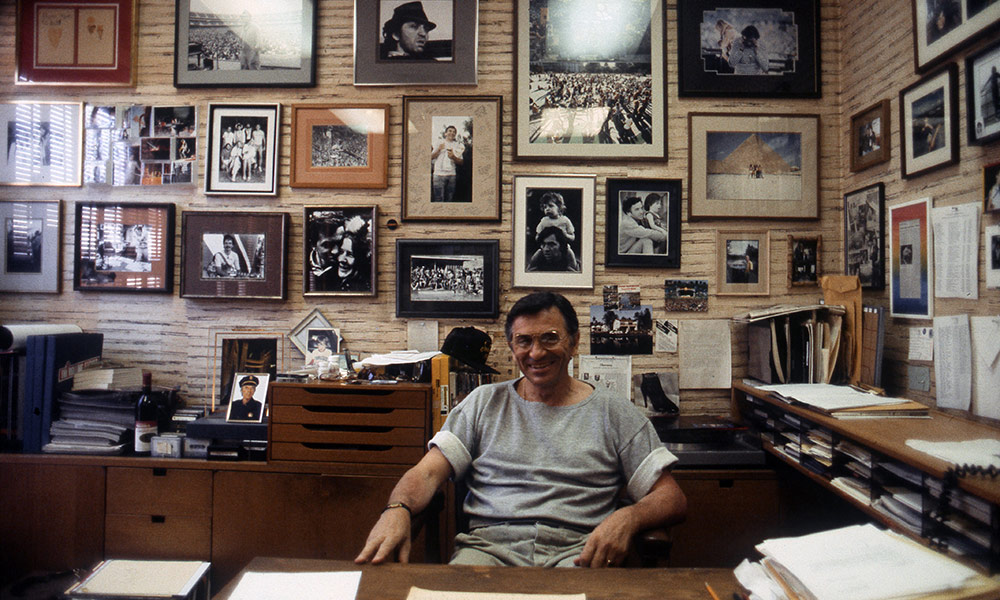 The Tragic Death Of Legendary Concert Promoter, Bill Graham
On October 26, 1991, legendary concert promoter Bill Graham was killed in a helicopter accident, alongside his girlfriend, Melissa Gold, and pilot Steve Kahn. The 60-year-old San Francisco music impresario – who began his career booking such hallowed venues as The Fillmore and Winterland Ballroom – played a key role in the rise of bands like The Who, The Jimi Hendrix Experience, Janis Joplin, The Band, Bob Dylan, The J. Geils Band, The Allman Brothers Band, and The Rolling Stones.
In 1985, Whitney Houston scored her first of many No.1 hits on the Billboard Hot 100 with "Saving All My Love For You." The song also marked her first chart-topper in the UK.
In 1958, Bill Haley and his Comets played the first rock'n'roll concert in Germany. The popular performer inadvertently caused a riot when audience members and police began butting heads. As a result, the West Berlin senate banned all future rock'n'roll concerts.
In 1962, The Rolling Stones made their first demo at Curly Clayton Studios in London. They recorded three cover songs: Jimmy Reed's "Close Together," Bo Diddley's "You Can't Judge A Book By The Cover," and Muddy Waters' "Soon Forgotten."
In 1970, a memorial service was held for Janis Joplin at the Lion's Share in San Anselmo, CA. Many of Joplin's friends, including The Grateful Dead, performed.
In 1965, The Beatles received their MBEs at Buckingham Palace. According to an account by John Lennon, the group smoked marijuana in one of the palace's bathrooms to calm their nerves.
In 1968, the two-day San Francisco Pop Festival was held at Alameda County Fairgrounds. The Animals, Procol Harum, Iron Butterfly, Jose Feliciano, Deep Purple, Creedence Clearwater Revival, and Canned Heat all performed.
Looking for more things that happened on this day in music?
Keep scrolling for all of the headlines for October 26.
BORN ON OCTOBER 26:
1911: Mahalia Jackson
1936: Al Casey (The Wrecking Crew)
1951: Bootsy Collins
1953: Keith Strickland (The B-52's)
1963: Natalie Merchant
1967: Keith Urban
1986: Schoolboy Q
Looking for more artists born on this day?
Keep scrolling for all of our October 26 birthdays.
---
What to find another day?
---
October 26th
26 Oct 2019
A olive green Manhattan brand acrylic and mohair cardigan worn by
Kurt Cobain
during Nirvana's famed appearance on
MTV
Unplugged become the most expensive sweater sold at auction after fetching £260,388. A custom Fender guitar built in 1993 that Cobain used during the band's In Utero tour was also sold for £265,066.
26 Oct 2019
American musician Paul Barrere died age 71. He was a member of Little Feat, which he joined in 1972. Barrere later played with Phil Lesh and Friends and also toured with
Bob Dylan
.
26 Oct 2015
Justin Bieber cleaned up at the
MTV
's EMAs - (European Music Awards), winning best male, best North American act, best collaboration for 'Where Are You Now?', with Skrillex and Diplo, biggest fans and best look. One Direction won the prize for best pop,
Taylor Swift
's 'Bad Blood' won best song and
Rihanna
was named best female.
26 Oct 2013
Producer Quincy Jones was suing the estate of the late
Michael Jackson
for millions of dollars. He said the singer's estate and Sony Music Entertainment improperly re-edited songs to deprive him of royalties and production fees. Mr Jones stated that they also broke an agreement giving him the right to remix master recordings for albums released after Jackson's death in 2009.
26 Oct 2011
Aerosmith
were forced to delay a concert in South America after Steven Tyler fell in his hotel bathroom. The singer suffered cuts to his face and lost two of his teeth ahead of a concert in Asuncion, Paraguay. He was said to have received stitches and had emergency dental work, forcing the gig to be postponed by 24 hours.
26 Oct 2011
A coroner's inquest on the death of
Amy Winehouse
reached a verdict of misadventure. The report explained that Winehouse's blood alcohol content was 416 mg per decilitre at the time of her death, more than five times the legal drink-drive limit. According to the coroner 'The unintended consequences of such potentially fatal levels was her sudden death'.
26 Oct 2010
Forbes Magazine released its annual list of the Top Earning Dead Celebrities.
Michael Jackson
led the way at $275 million,
Elvis Presley
was second at $60 million and
John Lennon
was fifth at $17 million.
26 Oct 2010
Former Culture Club vocalist Boy George stunned an audience in London, England after reportedly flying into a rage and tossing his drink on a woman who was talking during his show. Before emptying his glass on her from the stage, George was heard shouting, "Why don't you shut the f**k up, you rude c**t!"
26 Oct 2008
AC/DC
went to No.1 on the UK album chart with 'Black Ice' the Australian bands fifteenth studio album which went on to become a No.1 hit in 29 different countries and the second-best selling album of 2008.
26 Oct 2007
1,730 guitarists played the immortal
Bob Dylan
classic, 'Knocking On Heaven's Door' in a bid to break a record in the state of Meghalaya, North East India. The guitarists hoped their achievement would earn them a place in the Guinness Book of World Records. The current Guinness World Record was held by a guitar-ensemble from Kansas City in the US when 1,683 guitarists, played
Deep Purple
's 'Smoke On The Water'.
26 Oct 2007
Rapper TI was released on $3m (£1.5m) bail in Atlanta after he was charged with unlawfully possessing firearms, unregistered machine guns and silencers. US Magistrate Judge Alan Baverman said the singer would remain under house arrest in Henry County, Georgia, being monitored 24 hours a day by a private firm paid for by himself. The rapper was also electronically tagged.
26 Oct 2007
Pete Doherty was given a suspended prison term for drugs and motoring offences after admitting driving while uninsured, having no MOT and while in possession of crack cocaine, heroin, ketamine and cannabis. The Babyshambles singer was sentenced to four-months in jail, suspended for two years at West London Magistrates' Court. He was also given an 18-month supervision order and a 12-month drug rehabilitation order and ordered to pay a £475 fine for driving without insurance or an MOT.
26 Oct 2004
Apple launched the
U2
Special Edition iPod as part of a partnership between Apple,
U2
and Universal Music Group. The new
U2
iPod held up to 5,000 songs and featured a red Click Wheel and custom engraving of
U2
band member signatures. The iPod was being introduced as the band released their new album 'How to Dismantle an Atomic Bomb.'
26 Oct 2004
26 Oct 1999
American singer, songwriter and actor Hoyt Axton died of a heart attack in Victor, Montana aged 61. He wrote songs for,
Elvis Presley
, Three Dog Night, (1971 US No.1 'Joy To The World'), John Denver,
Ringo Starr
,
Glen Campbell
. His mother Mae Boren Axton wrote '
Heartbreak Hotel
'.
26 Oct 1996
The
Spice Girls
had their second UK No.1 single when 'Say You'll Be There' started a two-week run at the top of the charts. The song included a harmonica solo, played by Judd Lander who also played the harmonica solo on Culture Club's 1984 hit 'Karma Chameleon'.
26 Oct 1993
Catholic churches in San Juan, Puerto Rico asked residents to tie black ribbons on trees in protest against
Madonna
's first live appearance in the country.
26 Oct 1991
Legendary Rock concert promoter Bill Graham was killed when the Bell 206B JetRanger III helicopter he was riding in struck the top of a Pacific Gas and Electric transmission tower near Sears Point, northwest of Vallejo and exploded. The crash, which left the helicopter's wreckage dangling near the top of the towering structure, killed Graham, his girlfriend Melissa Gold and pilot Steve Kahn. Graham had founded the Fillmore theaters in San Francisco and New York and had played key roles in supporting such bands as
The Who
, The
Jimi Hendrix Experience
,
Janis Joplin
, The Band,
Bob Dylan
, The J. Geils Band,
The Allman Brothers Band
and The
Rolling Stones
.
26 Oct 1985
Whitney Houston
went to No.1 on the US singles chart with 'Saving All My Love For You', also a No.1 hit in the UK.
26 Oct 1984
19-year-old John D. McCollum killed himself with a .22 caliber handgun after spending the day listening to
Ozzy Osbourne
records. One year later, McCollum's parents took court action against Ozzy and CBS Records, alleging that the song "Suicide Solution" from the album Blizzard of Ozz contributed to their son's death. The case was eventually thrown out of court.
26 Oct 1979
AC/DC
appeared at The Mayfair, Newcastle upon Tyne, England, supported by
Def Leppard
. The bands were booked to appear the night before but after a fire at the venue in the afternoon, the show was cancelled.
26 Oct 1970
A wake was held at the Lion's Share in San Anselmo, California to celebrate the life of
Janis Joplin
. The singer who died of an accidental drugs overdose had left $2,500 in her will to throw a wake party in the event of her demise. The party was attended by her sister Laura and Joplin's close friends; Brownies laced with hashish were unknowingly passed around amongst the guests. Joplin was cremated in the Pierce Brothers Westwood Village Mortuary in Los Angeles; her ashes were scattered from a plane into the Pacific Ocean and along Stinson Beach.
26 Oct 1968
26 Oct 1966
English singer Alma Cogan died of stomach cancer aged 34. She scored the 1955 UK No.1 single 'Dreamboat', plus 20 other UK Top 40 hits. In the 50s Cogan was the most consistently successful female singer in the UK and the youngest female act to top the charts during the 50s.
26 Oct 1965
Queen Elizabeth II invested
The Beatles
with their MBE's at Buckingham Palace, London. According to an account by
John Lennon
the group smoked marijuana in one of the palace bathrooms to calm their nerves. Many former recipients gave their MBE's back in protest, to which John Lennon responded "Lots of people who complained about us receiving the MBE received theirs for heroism in the war, for killing people." He continued: "We received ours for entertaining other people. I'd say we deserve ours more."
26 Oct 1962
The
Rolling Stones
(known as The Rollin' Stones), and consisting of
Keith Richards
,
Mick Jagger
,
Brian Jones
pianist Ian Stewart and drummer Tony Chapman recorded their first demo tape at Curly Clayton Studios in Highbury, London. They recorded three songs, Jimmy Reed's 'Close Together',
Bo Diddley
's 'You Cant Judge A Book By The Cover' and Muddy Waters' 'Soon Forgotten.'
26 Oct 1958
Bill Haley
and his Comets played the first rock 'n' roll concert in Germany. Over 7,000 rock 'n' roll fans turned the show into a riot.
Born on this day in music
26 Oct 1986
Schoolboy Q, (Quincy Matthew Hanley), American hip hop artist who had the 2014 US No.1 album Oxymoron.
26 Oct 1981
Guy Sebastian, Australian singer-songwriter, winner of the first Australian Idol series. (2003 Australian No.1 single, 'Angels Brought Me Here').
26 Oct 1978
Mark Barry, from English pop group BBMak who scored the 2001 UK No.5 single 'Back Here' which was also a No.1 hit in Japan.
26 Oct 1967
Keith Urban, country music singer, songwriter and guitarist whose commercial success has been mainly in the United States and Australia. In 1991, he released a self-titled debut album, and charted four singles in Australia before moving to the United States in 1992. Eventually, Urban found work as a session guitarist before starting a band known as The Ranch. Since 2006, he has been married to actress Nicole Kidman.
26 Oct 1965
Judge Jules, UK remixer, producer. He was voted best DJ in the world by DJ Mag in the year 1995.
26 Oct 1963
Natalie Merchant, singer, songwriter from American alternative rock band 10,000 Maniacs that was founded in 1981. After the recording of
MTV
Unplugged (1993) Merchant left the band to pursue a solo career.
26 Oct 1962
Steve Wren, with English rock band Then Jerico who had the 1989 UK No.13 single 'Big Area'.
26 Oct 1953
Keith Strickland, guitar, keyboards, drums, with the American new wave band The B-52's. Best known for their 1978 debut single 'Rock Lobster and the 1990 UK No.2 & US No.3 single 'Love Shack'.
26 Oct 1952
David Was, founder of the American 1980s pop group group Was Not Was, who had the 1992 UK No.4 single 'Shake Your Head'. Was produced two soundtrack albums for the X-Files TV show and feature film.
26 Oct 1951
American musician and singer-songwriter Bootsy Collins. He plaed with
James Brown
, Parliament, Funkadelic, and Bootsy's Rubber Band.
26 Oct 1951
Maggie Roche, singer, songwriter, The Roches, worked with
Paul Simon
and Loudon Wainwright.
26 Oct 1946
Keith Hopwood, guitarist with English beat rock band, Herman's Hermits who scored the 1964 UK No.1 single 'I'm Into Something Good' (cover of Earl-Jean's) and the 1965 US No.1 single 'Mrs Brown You've Got A Lovely Daughter'.
26 Oct 1936
American guitarist Al Casey. Mainly noted for his work as a session musician and as a member of the Wrecking Crew, Casey worked with
The Beach Boys
, Phil Spector,
Elvis Presley
,
Glen Campbell
, The Association, The
Monkees
,
Johnny Cash
,
Simon And Garfunkel
, 5th Dimension, Harry Nilsson, The Partridge Family,
Frank Sinatra
, and Nancy Sinatra. Casey died on 17 September 2006, in Phoenix, Arizona aged 69.
26 Oct 1911
American gospel singer Mahalia Jackson. Known as the "Queen of Gospel Music" she recorded over 30 albums and became one of the most influential gospel singers in the world and was heralded internationally as a singer and civil rights activist. She died on 27 January 1972 of heart failure and diabetes complications aged 60.