September 19th: The Biggest Music Headlines
Scroll down the page to see all the music headlines, stories and events for September 19 throughout music history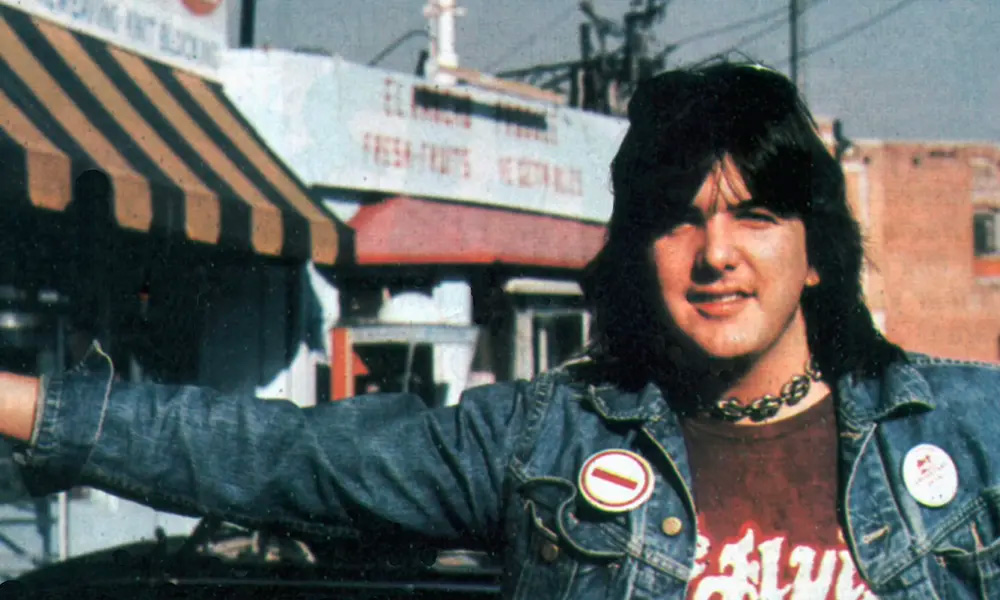 Country Rocker Gram Parsons Dies In Joshua Tree
In 1973, 26-year-old singer-songwriter Gram Parsons died of a drug overdose in Joshua Tree, California. Known for his fusion of country, rock, folk, and R&B (what he coined "Cosmic American Music"), Parsons found success as a solo artist, as well as with groups like The Byrds and The Flying Burrito Brothers. Although his career was relatively short, Parsons' influence was monumental, particularly with the development of alt-country in the following decades. In the days following his death, however, the intrigue surrounding Parsons only continued to grow, in what can only be described as rock'n'roll lore. As Parsons' body was being prepared to be shipped to his family in Louisiana, the artist's friend and tour manager, Phil Kaufman, intercepted the body at Los Angeles International Airport and, following his friend's wishes, drove the body back to the desert, where he attempted to cremate it.
In 1970, the inaugural Glastonbury Festival took place in Somerset, England. 15,000 fans attended the event, where they caught performances by T-Rex, Al Stewart, Ian Anderson, and Quintessence.
In 1979, Musicians United for Safe Energy (MUSE) kicked off a series of five star-studded concerts at New York's Madison Square Garden. Organized primarily by Graham Nash, Jackson Brown, Bonnie Raitt, and John Hall, the concerts were later captured on the triple live album, No Nukes: The Muse Concerts For a Non-Nuclear Future. Bruce Springsteen, who was among the performers, would later release his performance as the 2021 live album, The Legendary 1979 No Nukes Concert. Other performers included the Doobie Brothers, James Taylor, Chaka Khan, and Carly Simon.
In 1981, more than ten years after the final Simon & Garfunkel studio album, Paul Simon and Art Garfunkel reunited for a concert in New York's Central Park. The response was overwhelming, with 500,000 fans reportedly attending the show (the actual number has since been disputed). The 21-song performance was captured in the 1982 live album The Concert in Central Park and aired as a concert film on TV.
In 1993, Pearl Jam released their sophomore album, Vs. Given the massive success of its predecessor – 1991's Ten – it was no surprise that the rock album set a new record for first-week sales and topped the Billboard 200 for five weeks. Despite the fact that the band declined to release any music videos around the album, they still found success with many of its singles, including the acoustic "Daughter."
In 1969, Creedence Clearwater Revival scored their one and only No.1 hit on the UK pop charts with "Bad Moon Rising."
In 1998, Robbie Williams scored his first chart-topping hit in the UK with "Millennium."
Looking for more things that happened on this day in music?
Keep scrolling for all of the headlines for September 19.
BORN ON SEPTEMBER 19:
1934: Brian Epstein (Artist Manager)
1940: Bill Medley (The Righteous Brothers)
1943: Cass Elliot (Mamas and the Papas)
1952: Nile Rogers (Producer, Co-Founder of Chic)
1958: Lita Ford (The Runaways)
1963: Jarvis Cocker (Pulp)
1964: Trisha Yearwood
Looking for more artists born on this day?
Keep scrolling for all of our September 19 birthdays.
---
What to find another day?
---
September 19th
19 Sep 2020
Ozzy Osbourne
's former drummer, Lee Kerslake, died aged 73 from prostate cancer. He is best known for his performances on the Black Sabbath frontman's critically-acclaimed debut album, Blizzard of Ozz, and was also the drummer in Uriah Heep appearing on their 1972 album Demons and Wizards and nine studio records, as well as a live album, with the band before departing in 1978.
19 Sep 2014
A dance choreographer sued Cher for racial discrimination claiming the singer stopped him hiring any more black dancers. Kevin Wilson alleged Cher told him the tour had "too much colour" already. Mr Wilson and two other dancers had also alleged they were fired for reporting a sexual assault on a female fan by another dancer. Cher's long-running North American D2K (Dressed to Kill) was ranked one of the top 10-grossing tours of 2014 by Pollstar.
19 Sep 2010
John Lennon
's son Julian told the press that he had ended his long-running feud with his half-brother Sean and his step-mother Yoko Ono, which started after the former Beatle was murdered in December, 1980. The trio battled in court for a share of the singer's estate, but Julian now said "Things are good between us. Whenever I'm in New York, we all get together."
19 Sep 2008
American drummer Earl Palmer died. Worked with
The Beach Boys
,
Little Richard
('Tutti Frutti'),
Frank Sinatra
, Ike And Tina Turner ('River Deep, Mountain High'), The
Monkees
, Fats Domino ('I'm Walkin'),
Neil Young
, Elvis Costello, Tom Waits, The
Righteous Brothers
('You've Lost That Lovin' Feelin'), and Randy Newman, Tom Waits, Bonnie Raitt, Tim Buckley, Little Feat and Elvis Costello.
19 Sep 2008
George Michael
was arrested in a public toilet in the Hampstead Heath area of London for possession of Class A and C drugs. He was taken to a local police station and cautioned for controlled substance possession.
19 Sep 2005
Research published by Guinness World Records showed that Status Quo have had more hit singles than any other band in UK chart history. The band had scored 61 chart successes, dating from 'Pictures of Matchstick Men' in 1968 to 'You'll Come Around' in 2004.
Queen
came second with 52 hits, with The
Rolling Stones
and UB40 with 51 hits each.
19 Sep 2004
Canadian singer
Celine Dion
extended her Las Vegas show for another year. Dion was reportedly being paid $100m (£66m) for the original three-year run of five 90-minute concerts a week.
19 Sep 2003
Police were investigating reports that
Paul McCartney
scuffled with a photographer when the singer went to see magician David Blaine, who was in a plastic box dangling over the River Thames. The London Evening Standard said one of its photographers had clashed with McCartney resulting in a scuffle.
19 Sep 2002
James Brown
was being sued by his own daughters for more than £650,000 of song royalties they said they were owed. Deanna Brown Thomas and Dr Yamma Brown Lumar, a Texas physician, said Brown had withheld royalties on 25 co-written songs because of a family grudge. The lawsuit claimed that Brown had held a grudge against his daughters since 1998, when Ms Thomas had her father committed to a psychiatric hospital to be treated for addiction to painkillers.
19 Sep 1999
American musician, songwriter, and record producer, Ed Cobb died. He was a member of the Four Preps and he wrote the northern soul hit 'Tainted Love' for Gloria Jones, which Soft Cell reworked into one of the biggest pop hits of the 1980s.
19 Sep 1998
Robbie Williams scored his first solo UK No.1 single with 'Millennium', taken from his from his second album, I've Been Expecting You.
19 Sep 1995
P.M. Dawn's DJ JC Eternal was arrested on charges of sexual assault and child abuse after an alleged affair with his 14 year-old cousin. He was released on $10,000 bail.
19 Sep 1993
Pearl Jam
released their second studio album Vs. The album set the record for the most copies of an album sold in its first week, a record it held for five years, despite the fact that the group declined to produce music videos for any of the album's singles.
19 Sep 1992
The Shamen started a four-week run at No.1 on the UK singles chart with 'Ebeneezer Goode'. One of the most controversial UK chart toppers due to its perceived subliminal endorsement of recreational drug use. The song was initially banned by the BBC.
19 Sep 1992
Radiohead
filmed the video for their new single 'Creep' during a show at the Venue, in Oxford, England. During its initial release, 'Creep' was not a chart success. However, upon re-release in 1993, it became a worldwide hit.
19 Sep 1990
Kylie Minogue
's 'Better The Devil You Know' gave producers Stock, Aitken and Waterman their 100th UK chart entry.
19 Sep 1981
Simon And Garfunkel
reunited for a concert in New York's Central Park. Some claim more than 400,000 fans attended the show. Other estimates had it at 48,000. Either way, it was one of the largest live shows of all-time to that point. The performance was recorded for a record and video release.
19 Sep 1981
The
Rolling Stones
album 'Tattoo You' started a nine-week run at No.1 on the US chart, the band's ninth US No.1.
19 Sep 1979
The No Nukes concert was held at New York's Madison Square Garden. Performers included Stephen Stills, David Crosby, Jackson Browne, Bonnie Raitt, The Doobie Brothers, Poco,
Tom Petty
, Carly Simon, James Taylor and
Bruce Springsteen
.
19 Sep 1973
Country rock singer, songwriter 26-year-old
Gram Parsons
formerly of The Byrds and The Flying Burrito Brothers, died under mysterious conditions in
Joshua Tree
, California. His death was attributed to heart failure but later was officially announced as a drug overdose. His coffin was stolen by two of his associates, manager Phil Kaufman and Michael Martin, a former roadie for The Byrds, and was taken to Cap Rock in the California desert, where it was set alight, in accordance to Parson's wishes. The two were later arrested by police.
19 Sep 1970
The first UK Glastonbury Festival took place featuring
Marc Bolan
, Ian Anderson, Keith Christmas, Quintessence, Amazing Blondel and Sam Apple Pie.
19 Sep 1970
Diana Ross started a three week run at No.1 on the US singles chart with 'Ain't No Mountain High Enough'. The singers first solo No.1 since leaving The
Supremes
a No.6 in the UK.
19 Sep 1969
Creedence Clearwater Revival
scored their only UK No.1 single with 'Bad Moon Rising' a US No.2 hit. Also on this day the group started a four-week run at No.1 on the US album chart with 'Green River.'
19 Sep 1964
Oxfam printed half a million Christmas cards in the UK of a drawing by
John Lennon
called the Fat Budgie, which was taken from his book A Spaniard in the Works. All profits from the cards went to help raise money for charity. Oxfam re-printed the cards in 2007 as a limited edition card which again sold thousands.
19 Sep 1960
Former chicken plucker Chubby Checker went to No.1 on the US singles chart with 'The Twist'. It made No.14 in the UK in 1962, version with The Fat Boys made No.2 in the UK in 1988.
19 Sep 1960
Hank Ballard and The Midnighters had the honour of being the first group to have three songs in the US Top 100 at the same time. 'Finger Poppin' Time,' 'Let's Go Let's Go Let's Go' and 'The Twist' all made the Top 30. Ballard refused to perform 'The Twist' on a highly rated US TV show, so Chubby Checker picked it up at the insistence of Dick Clark, and Checker's version of the song was number 1 this week in 1960.
19 Sep 1957
16 year-old UK singer Cliff Richard, still known by his real name, Harry Webb, joined the Dick Teague Skiffle Group.
Born on this day in music
19 Sep 1977
Ryan Dusick drummer, Maroon 5, who had the 2004 UK No.1 album 'Songs About Jane', the 2004 US No.1 & UK No.4 single 'She Will Be Loved'. Dusick left the band in 2006.
19 Sep 1973
Alan Jay "A. Jay" Popoff, pop punk band Lit.
19 Sep 1971
Paul Winterhart, from English psychedelic rock band Kula Shaker, who had the 1996 UK No.2 single 'Hey Dude'.
19 Sep 1969
saxophonist, Candy Dulfer, (1990 UK No. 6 single 'Lily Was Here' with David A Stewart).
19 Sep 1964
Trisha Yearwood, country singer. She sang backing vocals on Garth Brooks' first album.
19 Sep 1963
Jarvis Cocker, singer, from English rock band Pulp, who had the 1995 UK No.2 single 'Common People'. He quit the band in January 1997. Pulp were regarded among the Britpop "big four", along with
Oasis
, Blur and Suede. He later presented a BBC Radio 6 Music show called Jarvis Cocker's Sunday Service.
19 Sep 1958
19 Sep 1957
Rusty Egan, The Rich Kids, (1978 UK No.24 single 'Rich Kids'), Visage, (1981 UK No.8 single 'Fade To Grey').
19 Sep 1952
American musician, producer Nile Rodgers the lead guitarist and co-founding member with Bernard Edwards of the band Chic who had the 1978 US No.1 & UK No.7 single 'Le Freak'. Produced Diana Ross, Sister Sledge,
David Bowie
(Let's Dance album), with several hit singles including 'China Girl', 'Modern Love' and the title track, 'Let's Dance'.
19 Sep 1951
Daniel Lanois, producer, singer. Produced Peter Gabriel album, 'So', along with albums by Brian Eno,
U2
, (
Bob Dylan
. Lanois released the 1990 solo album 'Acadie'.
19 Sep 1947
Lol Creme, vocals. guitar, 10cc, (1975 UK No.1 & US No.2 single 'I'm Not In Love', plus 10 other UK Top 30 hits including 2 No.1's). Godley And Creme (1981 UK No.3 single 'Under Your Thumb'). Now a video producer.
19 Sep 1947
19 Sep 1946
John Coghlan drummer with English rock band Status Quo, (he left in 1982), who had the 1977 UK No.3 single 'Rockin' All Over The World'. Other hits include 'Pictures of Matchstick Men' in 1968, and 'Whatever You Want' in 1979.
19 Sep 1945
Freda Payne, US soul singer, who had the 1970 US No.3 & UK No.1 single 'Band Of Gold'. Payne is the older sister of Scherrie Payne, a former singer with The Supremes.
19 Sep 1945
David Bromberg, US guitarist, fiddle, mandolin player worked with
Bob Dylan
.
19 Sep 1943
Cass Elliott, singer, Mamas and the Papas, who scored the 1966 US No.1 & UK No.3 single 'Monday Monday'. After the breakup of The Mamas & the Papas, Elliot embarked on a solo career and had the 1968 hit 'Dream a Little Dream of Me' from her solo album of the same name. Elliott died from a heart attack on 29th July 1974 while staying at Harry Nilsson's London flat in the UK.
19 Sep 1942
Mike Hurst from the British pop-folk vocal trio The Springfields who had the 1962 US No. 20 single 'Silver Threads And Golden Needles', and the 1963 UK No.5 single 'Island Of Dreams'. The Springfields included singer Dusty Springfield and her brother, record producer Tom Springfield.
19 Sep 1941
Lee Dorman,
Iron Butterfly
(1968 US No.14 single 'In-A-Gadda-Da-Vida'). Dorman was found dead aged 70 in a vehicle in Orange County on 21st Dec 2012.
19 Sep 1940
Bill Medley, The
Righteous Brothers
, (1965 UK & US No.1 single 'You've Lost That Lovin' Feelin').
19 Sep 1940
Paul Williams, US songwriter. Wrote The
Carpenters
hits 'We've Only Just Begun' & 'Rainy Day's and Mondays.'
19 Sep 1939
Lloyd Parks, American R&B/soul singer with Harold Melvin & The Blue Notes, (noted for his high tenor and falsetto vocal leads and harmonies). He is also a founding member of The Epsilons who backed Arthur Conley on his Atco Records 1967 hit single 'Sweet Soul Music'.
19 Sep 1935
Nick Massi from American rock and pop band The Four Seasons who had the 1960s hits 'Sherry', 'Big Girls Don't Cry', 'Walk Like a Man', and the 1976 UK & US No.1 single 'December 1963, (Oh What A Night'). They are one of the best-selling musical groups of all time, having sold an estimated 100 million records worldwide. Massi died on 24th December 2000.
19 Sep 1934
Brian Epstein, Beatles manager and manager of other Liverpool acts. Died of an accidental overdose of brandy and barbiturates on 27th August 1967.
19 Sep 1931
Brook Benton, US singer, (1959 UK No.28 single 'Endlessly', 1979 US No.4 single 'Rainy Night In Georgia'). He died on 9th April 1998.