September 3rd: The Biggest Music Headlines
Scroll down the page to see all the music headlines, stories and events for September 3 throughout music history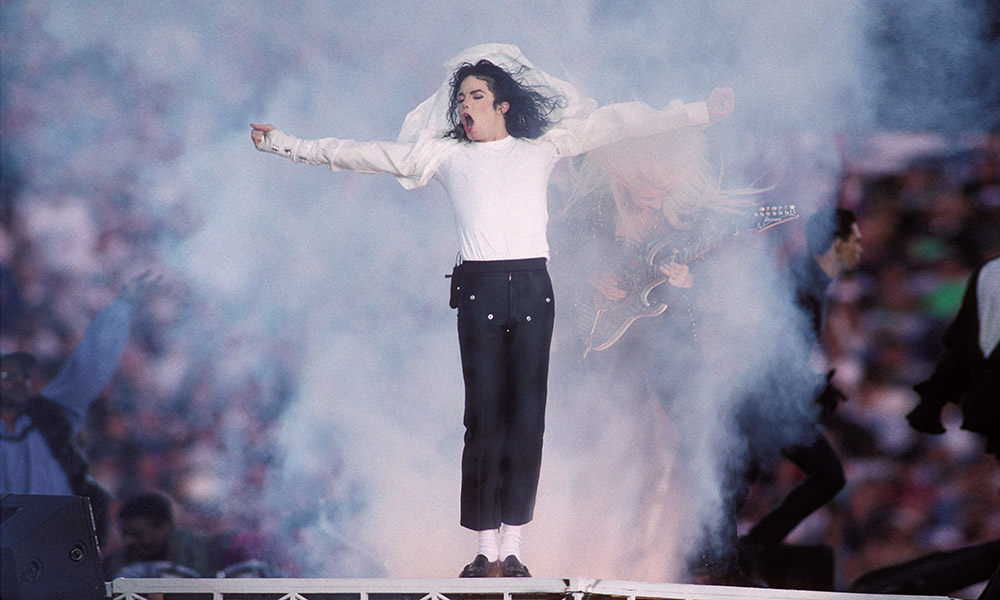 Friends, Family And Stars Pay Respects To Michael Jackson
On September 3, 2009, friends and family of Michael Jackson paid their last respects to the performer at a star-studded funeral, held in Los Angeles. Elizabeth Taylor, Quincy Jones, Macaulay Culkin, Berry Gordy, and Lisa Marie Presley were among the 200 invited guests, while the singer's famous family arrived in a motorcade of 31 vehicles. Jackson's brothers – Randy, Jackie, Tito, Jermaine, and Marlon – acted as pallbearers, carrying the artist's gold-plated coffin. An estimated 2.5 billion global viewers tuned into the funeral's live broadcast, while public screenings were held in 37 movie theaters around the world. Jackson, who was laid to rest at Glendale's Forrest Lawn Cemetary, died on June 25th.
In 2017, Walter Becker, the co-founder and guitarist of Steely Dan, died at the age of 67. The highly influential band first caught fans' ears in 1972 with Can't Buy a Thrill. From there, they released eight albums, including best-selling titles Pretzel Logic (1974), Aja (1977), and the Grammy-winning Two Against Nature (2000), plus such Top 10 hits as "Do It Again," "Rikki Don't Lose that Number," and "Hey Nineteen." During his lengthy career, Becker also released two solo albums and produced records for the likes of Rickie Lee Jones, China Crisis, and Michael Franks.
In 2009, Madonna's Sticky and Sweet World Tour – her first major venture under a new ten-year 360 deal with Live Nation – became the highest-grossing tour in history, raking in an estimated $408 million. The run of dates, which supported Madge's 11th studio album, Hard Candy, also marked her first tour to include stops in Mexico, as well as in countries across South America, in 15 years.
In 1967, after a two-week absence from The Beatles, Ringo Starr returned to his post as the band's beloved drummer. Upon his return to the studio, Ringo found his drum kit covered with flowers to welcome him back. Looking back on the brief hiatus, Ringo explained his reasons for the departure: "I left because I felt two things: I felt I wasn't playing great, and I also felt that the other three were really happy and I was an outsider." The issue, as history proves, was quickly resolved.
In 1966, singer-songwriter Donovan went to No.1 on the US singles chart with "Sunshine Superman." The song, which served as the title track to Donovan's third studio album, was also a No.2 hit in the UK.
In 1982, the three-day US Festival kicked off in San Bernardino, CA. Among the weekend's performers were Tom Petty, Fleetwood Mac, The Police, The Cars, the B-52's, and the Talking Heads. The event was bankrolled by Apple founder Steve Wozniak, who hoped to encourage more community events, while pairing state-of-the-art technology with live music.
In 1983, UB40 scored their first No.1 single in the UK with "Red Red Wine." The song, which appeared on their fourth studio album, Labour of Love, was a cover of the 1968 Neil Diamond hit. The song would be re-released in the US in 1988, where it also topped the pop charts.
Looking for more things that happened on this day in music?
Keep scrolling for all of the headlines for September 3.
BORN ON SEPTEMBER 3:
1942: Al Jardine (The Beach Boys)
1945: George Biondo (Steppenwolf)
1947: Eric Bell (Thin Lizzy)
1955: Steve Jones (Sex Pistols)
1975: DJ Redfoo (LMFAO)
1980: Jay 'Cone' McCaslin (Sum 41)
Looking for more artists born on this day?
Keep scrolling for all of our September 3 birthdays.
---
What to find another day?
---
September 3rd
3 Sep 2022
The Taylor Hawkins Tribute Concert was held in London, England. Sir Paul McCartney, Queen and AC/DC were among the rock royalty to pay tribute at Wembley; while
Liam Gallagher
opened the show with a fitting rendition of Oasis's 'Rock And Roll Star'. Foo Fighters frontman Dave Grohl choked back tears as he played the band's first show since the death of drummer Taylor Hawkins in March of this year. The star was singing 'Times Like These' when he paused to collect his emotions on the lyric: "It's times like these you learn to love again."
3 Sep 2019
Sir Elton John
was featured on a new set of Royal Mail stamps in the UK to celebrate his contribution to music. The singer-songwriter became only the second individual music artist to be given such an honour, after
David Bowie
was featured on a set in 2017.
3 Sep 2019
US songwriter LaShawn Daniels, who co-wrote such hits as Destiny's Child's Grammy-winning 'Say My Name' and Lady Gaga's 'Telephone' died in a car crash in South Carolina aged 41. He had also worked with artists including
Whitney Houston
,
Michael Jackson
, Brandy and Toni Braxton.
3 Sep 2017
Walter Becker, co-founder and guitarist for the US band Steely Dan died aged 67. Steely Dan - named after a sex toy in the book Naked Lunch by William Burroughs - released its first album Can't Buy a Thrill in 1972 and had the 1973 US No.11 single 'Reeling In The Years' and nine other US Top 30 hits. Steely Dan's 'Two Against Nature' won a Grammy in 2001 for Album of the year. Becker had produced records for Rickie Lee Jones, China Crisis and Michael Franks.
3 Sep 2012
Internal emails sent by the promoters of
Michael Jackson
's planned 2009 comeback concerts saw them voice concerns over his stability and health. In one email, sent the day the singer appeared in London to announce his This Is It shows, he was described as "an emotionally paralysed mess". The singer had locked him-self in his room and was said to be drunk and despondent.
3 Sep 2010
Mike Edwards a founding member of ELO was killed in a freak accident when a giant bale of hay tumbled down a hill and crashed into his van. The 62 year-old cellist died after the 600 kg (1,323 lb) bale rolled down a steep field in Devon, southern England, smashed through a hedge and careered on to the road. Edwards played cello with ELO, the seven-piece band led by Jeff Lynne, from their first live gig in 1972 until he left in January 1975. He quit the band in 1975 to become a Buddhist, changing his name to Deva Pramada and making his living by teaching the cello.
3 Sep 2009
Friends and family of
Michael Jackson
paid their last respects to the singer at a funeral held at Glendale's Forest Lawn Memorial Park, Los Angeles. Dame Elizabeth Taylor, Quincy Jones, Macaulay Culkin,
Berry Gordy
and Lisa Marie Presley were among the 200 invited guests. The singer's family arrived in a motorcade of 31 vehicles, Jackson's brothers - Randy, Jackie, Tito, Jermaine and Marlon - acted as pallbearers carrying Jackson's gold-plated coffin.
3 Sep 2009
Madonna
's Sticky and Sweet world became the highest grossing tour ever for a solo artist tour making $408m (£250m). The 51 year old singer had performed in 32 countries.
3 Sep 2008
R&B singer Ne-Yo was awarded $700,320 (£395,580) after he was dropped from a US tour with R. Kelly. The singer claimed he was fired as Kelly's opening act last November because fans and critics preferred him - an allegation his co-star denied.
3 Sep 2008
Heavy metal band Slipknot scored their first US number one album - but only after a recount put them ahead of rapper The Game's latest release. Slipknot topped the US chart with their fourth studio album All Hope Is Gone which, according to analysts Nielsen SoundScan, sold 239,516 copies - 1,134 more than the Games album.
3 Sep 2006
Justin Timberlake featuring Timbaland was at No.1 on the UK singles chart with 'SexyBack' his first UK No.1 hit. The track won Timberlake and Timbaland the 2007 Grammy Award for Best Dance Recording. It was the longest-running No.1 single of 2006 on the Billboard Hot 100 chart, staying seven weeks at the top.
3 Sep 2005
Blues musician Fats Domino was rescued from New Orleans shortly after Hurricane Katrina hit the city. The 77-year-old singer had been reported missing since the storm in New Orleans which had flooding the city leaving thousands feared dead.
3 Sep 2004
3 Sep 2004
Sir Cliff Richard stunned the music industry by ending his contract with EMI records and signing with Universal Music. Cliff had sold over 250 million records with EMI during his 46 year career.
3 Sep 2003
Libertines singer Pete Doherty was sentenced to six months in jail after being found guilty to burglary and drug possession charges. His sentence was reduced to two months on appeal.
3 Sep 2002
The
Rolling Stones
40th anniversary Licks tour kicked off at the Fleet Centre Boston. Tickets for the best seats cost $224. The world tour would see the band playing to over 2.5m fans over 100 shows.
3 Sep 1999
The largest music bootleg bust in US history was made. It was estimated that this one operation alone was responsible for $100 million in lost revenues. Recording equipment valued at $250,000 was confiscated, as were almost 1 million CDs and tapes.
3 Sep 1991
Ike Turner was released from prison having served 18 months of a four-year prison term, (Ike had been arrested ten other times). In an interview with 'Variety' he claimed to have spent over $11 million on cocaine.
3 Sep 1991
During a European tour,
Nirvana
recorded 'Dumb', 'Drain You' and 'Endless Nameless' at Maida Vale studios in London for the BBC
Radio 1
John Peel
show.
3 Sep 1983
UB40 had their first UK No.1 single with 'Red Red Wine'. Taken from their album Labour of Love the song was a cover of the 1968
Neil Diamond
hit song. The re-released single was a US No.1 in 1988.
3 Sep 1982
The three day US Festival in San Bernardino, California took place featuring,
Tom Petty
,
Fleetwood Mac
,
The Police
, The Cars, Talking Heads,
The Kinks
,
Ramones
, B52's, The English Beat, Gang Of Four,
Grateful Dead
, Pat Benatar, Jackson Browne. Apple Computers founder Steven Wozniak bankrolled the festival.
3 Sep 1977
3 Sep 1977
The month after his death,
Elvis Presley
had 27 albums and 9 singles in the Top 100 charts in the UK. 'Moody Blue' was the No.1 album while 'Way Down' was No.1 on the singles chart, (putting him equal with
The Beatles
each amassing 17 No.1 hits).
3 Sep 1975
An all-star jam session took place at a party in Los Angeles for actor Peter Sellers' 50th Birthday. The line-up for the group who named themselves the Trading Faces: Bill Wyman on bass,
Ronnie Wood
, Jesse Ed Davis, and Danny Kortchmar on guitars,
Keith Moon
organ and drums, Joe Cocker, vocals, Nigel Olsson, drums and
David Bowie
and Bobby Keys on sax.
3 Sep 1970
Alan Wilson guitarist and songwriter with Canned Heat was found dead at fellow band-members Bob Hite's garden in Topanga Canyon, Los Angeles aged 27. With Canned Heat, Wilson performed at two prominent concerts of the 1960s era, The
Monterey Pop Festival
in 1967 and
Woodstock
in 1969. Canned Heat appeared in the film
Woodstock
, and the band's 'Going Up the Country,' which Wilson sang, has been referred to as the festival's unofficial theme song. Wilson also wrote 'On the Road Again,' arguably Canned Heat's second-most familiar song.
3 Sep 1970
Arthur Brown was arrested at the Palermo Pop '70 Festival in Italy, after he set fire to his helmet (during the performance of his hit 'Fire'), and stripped naked during his stage performance. The singer spent four days in solitary confinement before he was released.
3 Sep 1968
After a two week absence,
Ringo Starr
rejoined
The Beatles
. Upon Ringo's return to the studio, he found his drum kit covered with flowers to welcome him back.
3 Sep 1966
Donovan went to No.1 on the US singles chart with 'Sunshine Superman', a No.2 hit in the UK. The track featured then Yardbird and future
Led Zeppelin
guitarist
Jimmy Page
. The song was written for Donovan's future wife Linda Lawrence.
3 Sep 1965
A
Rolling Stones
gig in Dublin, Ireland ended in a riot after 30 fans jumped onto the stage. Jagger was knocked to the floor as the rest of the band fled the stage.
3 Sep 1962
After playing a lunchtime show at The
Cavern Club
in Liverpool,
The Beatles
played the first of three Monday night gigs at The Queen's Hall, Widnes, Cheshire. Also on the bill, Billy Kramer and the Coasters, Rory Storm and the Hurricanes and Sonny Kaye and the Reds. Tickets cost 3/6.
Born on this day in music
3 Sep 1986
Jamaican-born singer, OMI, (Omar Samuel Pasley), his ska style 2014 single 'Cheerleader' was remixed by Felix Jaehn and topped the charts in several countries.
3 Sep 1984
Robert Curry, US singer with Day26, also known as a contestant on the TV show Making the Band 4.
3 Sep 1980
Canadian musician Jay 'Cone' McCaslin, bassist with Sum 41, who had the 2001 UK No 13 single 'In Too Deep'. The band released their debut album, All Killer No Filler in 2001.
3 Sep 1979
Tomo Milicevic, lead guitarist with 30 Seconds to Mars. Their 2018 album America peaked at No.2 on the US chart and No.4 in the UK.
3 Sep 1975
DJ Redfoo (Stefan Kendal Gordy), one half of LMFAO who had the 2011 world wide hits 'Party Rock Anthem' and 'Sexy And I Know It'. RedFoo is the son of music mogul
Berry Gordy
who formed
Motown
Records.
3 Sep 1973
David Mead, US singer, songwriter. (2001 UK airplay hit 'Girl On The Roof').
3 Sep 1973
Jennifer Paige, US singer, (1998 UK No.4 single, 'Crush'.
3 Sep 1962
Lester Noel, Beats International, (1990 UK No.1 single 'Dub Be Good To Me' featuring vocalist former actress in TV's 'Grange Hill', Lindy Layton, produced by Norman Cook).
3 Sep 1957
Suzanne Freitag, Propaganda, (1985 UK No.21 single 'Duel').
3 Sep 1955
3 Sep 1952
Leroy Smith, from British soul group Sweet Sensation who scored the 1974 UK No.1 and US No.14 single 'Sad Sweet Dreamer'.
3 Sep 1948
Donald Brewer, best known as the drummer for Grand Funk Railroad who had the US No.1 single with their version of 'The Loco-Motion' which was produced by Todd Rundgren. They were the most successful US Heavy Metal band of the 70s selling over 20m albums.
3 Sep 1947
Eric Bell, guitarist,
Thin Lizzy
, (1973 UK No.6 single 'Whisky In The Jar').
3 Sep 1945
George Biondo, from Steppenwolf who had the 1969 US No.2 hit single 'Born To Be Wild'. Steppenwolf sold over 25 million records worldwide, released eight gold albums and scored 12 Billboard Hot 100 singles.
3 Sep 1944
Gary Leeds, The Walker Brothers, (1966 UK No.1 & US No.13 single 'The Sun Ain't Gonna Shine Anymore').
3 Sep 1943
French pop music record producer, composer, singer, musician Mark Wirtz. He is best known for the never-completed A Teenage Opera concept album, a project he devised while working under contract to EMI at Abbey Road Studios with
Beatles
engineer Geoff Emerick. The first single from the planned album, 'Excerpt from A Teenage Opera' by Keith West, was a No.2 hit on the UK Singles Chart in September 1967. Wirtz died on 7 Aug 2020 from Pick's disease age 76.
3 Sep 1942
American musician, singer and songwriter Al Jardine, who co-founded
The Beach Boys
. He is best known as the band's rhythm guitarist, and for occasionally singing lead vocals, on singles such as 'Help Me, Rhonda' (1965), 'Then I Kissed Her' (1965) and 'Come Go with Me' (1978).
3 Sep 1934
Blues guitarist Freddie King.
Eric Clapton
covered his 'Have You Ever Loved A Woman' on the 'Layla' album. He died on 27th December 1976 of heart trouble and ulcers aged 42.