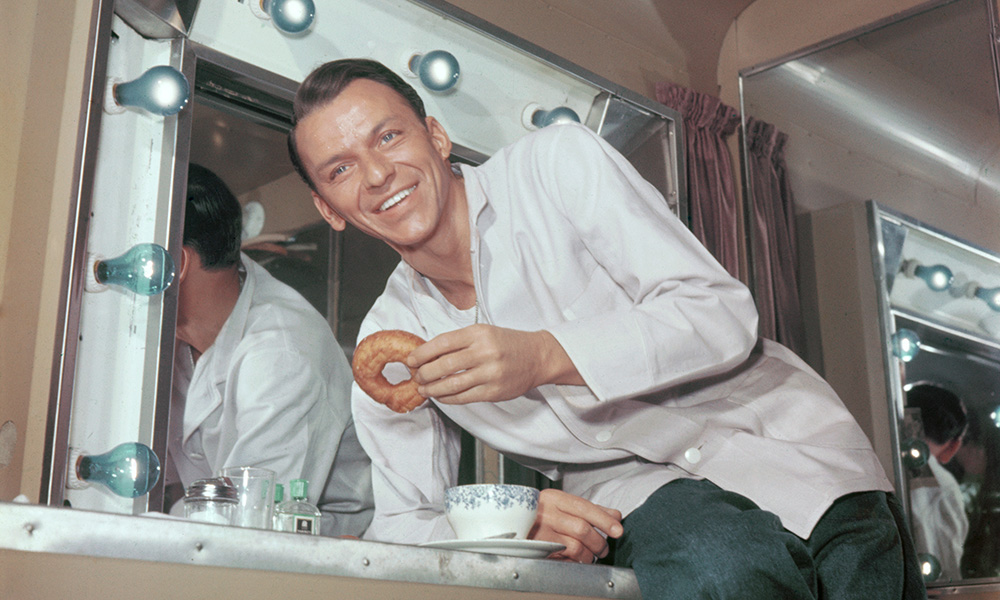 1. Forceps used during his birth caused permanent damage to his left earlobe, cheek and neck.
2. He got his first break in 1935 when his mother persuaded a local singing group, the 3 Flashes, to let him join. They later became known as the Hoboken Four.
3. Sinatra's debut as an entertainer came in 1935 at the age of 19, in a porn film. According to the 2011 biography of Frank Sinatra: The Boudoir Singer. Sinatra was paid $100 to appear in The Masked Bandit, wearing a mask, of course. After he became famous, Sinatra was said to have "called his friends in the mob" to stop the blue movie from ever surfacing.
4. During his short-lived marriage to actress Mia Farrow, Sinatra stunned Farrow when he served her with divorce papers in front of cast and crew of Rosemary's Baby.
5. He starred in 56 movies and television specials from 1944 to 1984 including several well-received movies: The Manchurian Candidate, From Here to Eternity, and The Man with the Golden Arm. He also acted in several TV shows including the critically acclaimed Our Town.
6. Sinatra refused to play in Las Vegas, Nevada, hotels and casinos where African-Americans could not entertain nor patronize. He was such a money-maker for the entertainment industry and had such clout that his efforts spurred increased racial desegregation in the state.
7. When his only son, Frank, Jr. was kidnapped and the kidnappers demanded that Frank, Sr. call from untraceable pay telephones, he began a life-long habit of carrying a roll of dimes (the cost of a pay-phone call at that time) in his pocket. He is reputed to have been buried with a small roll of dimes.
8. His cocktail of choice was a mix of four ice cubes, two fingers of Jack Daniel's whiskey, and a splash of water. "This is a gentlemen's drink," he once said. And if you want to hold the drink like Frank, don't touch the rim. Cup it in your hand, insulated by a cocktail napkin.
9. By the 1960s, Sinatra was bedding countless women, and even ran what amounted to a private brothel while in residence in Las Vegas. Sinatra hosted after-hours sex parties for the Rat Pack in a casino health club's steam rooms, inviting star-struck showgirls or hiring hookers.
10. He hated "Strangers in the Night". Sinatra called it "a piece of shit" and "the worst fucking song I've ever heard."
11. In 1946, Sinatra's debut release, The Voice of Frank Sinatra, helped introduce both the concept album and the box set. At a time when long-playing records were still novel, Sinatra issued a set of 78 rpm records with eight songs, all with a theme of lost love. Two years later, it became one of the first-ever pop music vinyl 10″ LPs. Sinatra would later make classic concept albums like Only The Lonely and In The Wee Small Hours for Capitol Records.
12. He turned down the title role of Dirty Harry that went to Clint Eastwood. During a fight scene in his 1962 movie The Manchurian Candidate, Sinatra badly injured his hand, ruining his career as an action hero. Later offered the title role as a badass cop in Dirty Harry, he had to turn it down because of the injury's lingering effects.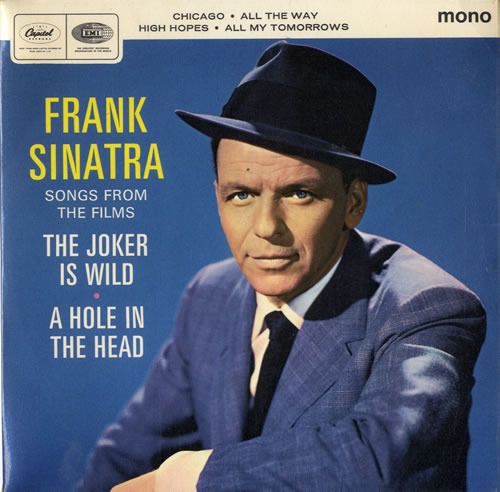 13. He was manic-depressive who attempted suicide four times. Frank described himself as an "18-carat manic depressive." Despondent during a career lull in the 1950s, Sinatra tried to kill himself by sticking his head in an oven. He attempted suicide three other times during his tumultuous romance with Ava Gardner.
14. Frank Sinatra owned a truck company where Elvis Presley worked as a young man.
15. He inadvertently named the cartoon Scooby Doo, about a mush-mouthed, mystery-solving dog after CBS executive Fred Silverman heard "Strangers in the Night" ( "dooby, dooby doo…" ) on an airplane.
16. He hated rock and roll and once called rock music "the most brutal, ugly, degenerate, vicious form of expression it has been my displeasure to hear." He said "Light My Fire" by The Doors was the worst record he ever heard.
17. Sinatra showered several times a day and obsessively shaved, brushed his teeth and gargled with mouthwash. He also constantly doused himself with lavender water in to mask the familiar morning-after scent of cigarettes and whiskey.
18. Frank Sinatra had at least one song included on the music charts each year from 1945 to 1995.
19. On March 13, 2008, the United States Postal Service issued a 42-cent stamp depicting Frank Sinatra.
20. He is one of the best-selling music artists of all time, having sold more than 150 million records worldwide.