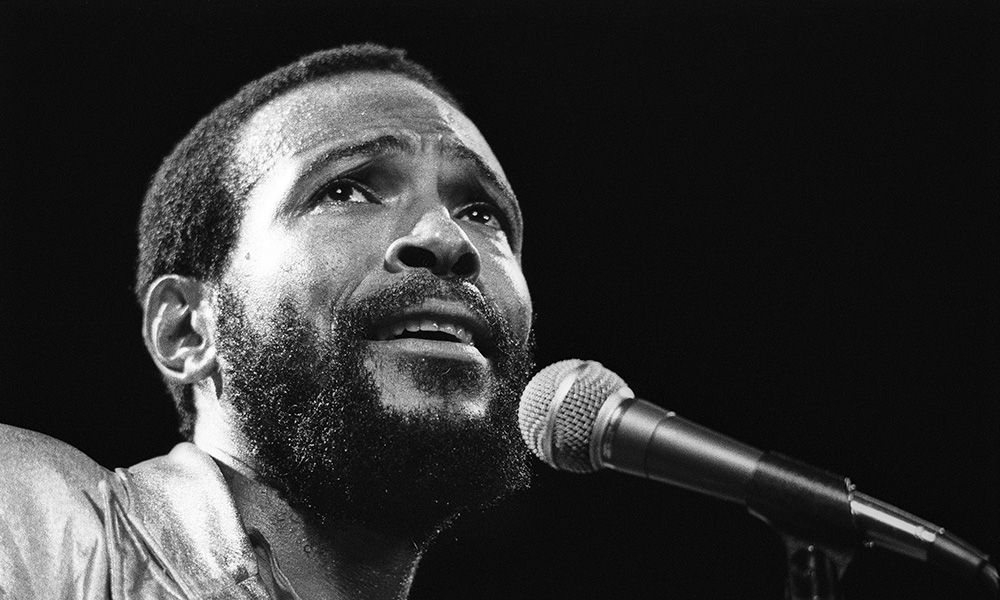 On 1st April 1984 Marvin Gaye was shot dead by his father at his parent's home in Los Angeles, California. The argument started after his parents squabbled over misplaced business documents, Gaye attempted to intervene, and was killed by his father using a gun he had given him four months before. Marvin Sr. was sentenced to six years of probation after pleading guilty to manslaughter. Charges of first-degree murder were dropped after doctors discovered Marvin Sr. had a brain tumour.
Born on April 2, 1939, in Washington, D.C., Marvin Gaye sang in his father's church and was raised under the strict control of his father, Reverend Marvin Gay Sr. Growing up he developed a love for R&B and doo-wop that would set the foundation for his career.
Gaye had started his career as a member of the doo-wop group The Moonglows in the late 1950s. He then ventured into a solo career after the group disbanded in 1960, signing with Motown Records subsidiary, Tamla. He started off as a session drummer, and as a road drummer for The Miracles. Gaye drummed on the Marvelettes hits, "Please Mr. Postman", Stevie Wonder's "Fingertips" and was one of two drummers behind Martha and the Vandellas' landmark hit, "Dancing in the Street".
Following his performances with the Motortown Revue Gaye became a solo artist in his own right, having early hits with "Pride and Joy", and the Top 30 hit, "Can I Get a Witness". Later in the '60s with the success of "Grapevine", he was ranked as the label's top-selling solo artist.
Gaye's version has since become a landmark in pop music. In 2004, it ranked number 80 on Rolling Stone's list of The 500 Greatest Songs of All Time. On the commemorative 50th Anniversary of the Billboard Hot 100 issue of Billboard magazine in June 2008, Gaye's version was ranked as the 65th biggest song on the chart. It was also inducted to the Grammy Hall of Fame for "historical, artistic and significant value".
"I Heard It Through the Grapevine" was written by Whitfield and Strong, who were the Rodgers and Hammerstein/Lennon and McCartney of soul music. Whitfield co-wrote and produced so many enduring hits for various Motown artists, including "Ain't Too Proud to Beg", "(I Know) I'm Losing You", "Cloud Nine", "I Can't Get Next to You", "War", "Ball of Confusion (That's What the World Is Today)", "Just My Imagination (Running Away with Me)", "Smiling Faces Sometimes", "Papa Was a Rollin' Stone", and "Car Wash". And Barrett Strong had been at the sharp end, as a former recording artist for Motown — he was the singer behind the label's breakthrough hit, "Money (That's What I Want)", which has been covered by so many artists, including The Beatles.
Like the rise of rock and roll, British pop, or the hippie movement in the '60s, the Motown sound was just as important and equally influential on music and culture.
"I Heard It Through the Grapevine" was first released on September 25, 1967, as Soul 35039 by Gladys Knight and the Pips, who recorded the third version of the song, it has since become a signature song for Marvin Gaye, who recorded his version prior to the Pips' but released it after theirs on October 30, 1968, as Tamla 54176.
The session featuring Gaye led to arguments between the producer and singer; Whitfield struggled to convince Gaye to perform the song in a high rasp, a move that had worked on David Ruffin during the recording of The Temptations' hit, "Ain't Too Proud to Beg". Whitfield was later described by several Motown employees as "cocky" and "arrogant" but "always got what he wanted out of the performer". Marvin eventually agreed to record it in Whitfield's key and the song later led to a change in the singer's vocals.
His 1971 album What's Going On is now considered a milestone of 1970's soul and pop and was the first collection of protest material from a major black pop singer, and its outspokenness surprised many fans who had learned to expect danceable love songs, rather than social commentary, from the Motown label.
His recordings for Motown in the 60s and 70s shaped that label's signature sound. His work with Motown gave him the titles 'Prince of Soul' and 'Prince of Motown'. Following his death, The New York Times described Gaye as someone who "blended the soul music of the urban scene with the beat of the old-time gospel singer and became an influential force in pop music".