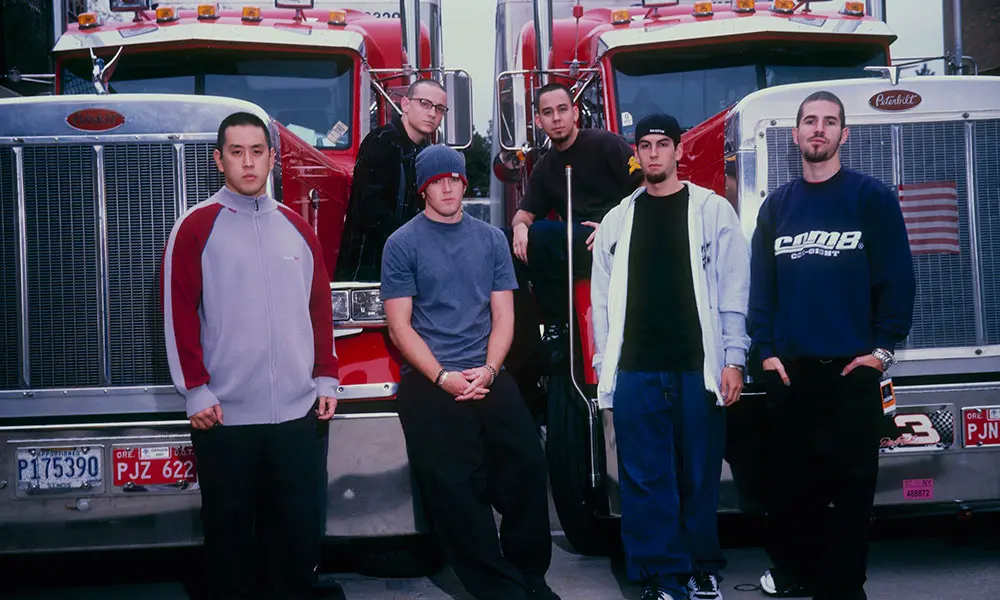 1. The band had two incarnations prior to Linkin Park. Three school friends – Mike Shinoda, Rob Bourdon, and Brad Delson founded the band Xero and recruited Joe Hahn, Dave "Phoenix" Farrell, and Mark Wakefield. Recording and producing songs in Shinoda's makeshift bedroom studio in 1996, they produced a 4-track demo tape called Xero.
2. Chester Charles Bennington was born on March 20, 1976, in Phoenix, Arizona. His mother was a nurse, while his father was a police detective who worked on child sexual abuse cases.
3. The band's first ever gig was at The Whisky a Go Go, in LA, which was also the launching pad for a plethora of legendary bands like Motley Crüe, The Doors and Guns 'N Roses.
4. Bennington first began singing with a band called Sean Dowdell and His Friends? They released an eponymous three-track cassette in 1993.
5. Linkin Park has sold more than 100 million albums worldwide.
6. Chester Bennington married Talinda Ann Bentley, a former Playboy model in 2006 with which he had three children.
7. They have won two Grammy Awards, six American Music Awards, four MTV Video Music Awards and three World Music Awards.
8. Rob Bourdon started to play Drums after watching an Aerosmith concert. His mother, Patty, is friends with Aerosmith drummer Joey Kramer, and Kramer gave Rob a kick pedal.
9. Linkin Park became the first rock band to achieve more than one billion YouTube hits. They hit the landmark with their 2009 single "New Divide", which acted as the lead-off single to the Transformers: Revenge Of The Fallen soundtrack scoring 131 million views on its own.
10. Chester Bennington worked at a Burger King in 1996. Brad Delson, meanwhile, was a bouncer at The Roxy on Sunset Strip in West Hollywood during the early days of the band.
11. Bennington and his wife Talinda were harassed by a cyberstalker named Devon Townsend for almost a year. Townsend was found guilty of tampering with the couple's email, as well as sending threatening messages, and was later sentenced to two years in prison.
12. Bennington suffered sexual abuse from an older male friend when he was seven years old. He was afraid to ask for help because he did not want people to think he was gay or lying, and the abuse continued until he was 13 years old.
13. In 2003, MTV2 named Linkin Park the sixth-greatest band of the music video era and the third-best of the new millennium.
14. In 2014, the band was declared as "The Biggest Rock Band in the World Right Now" by Kerrang! Magazine.
15. Chester Bennington appeared in cameo roles in several films, including Crank, Crank: High Voltage and Saw 3D.
16. Bennington formed his own band, Dead by Sunrise, as a side project in 2005. He became the lead singer of Stone Temple Pilots in 2013 but left in 2015 to focus solely on Linkin Park.
17. Playing live, guitarist Brad Delson can be seen wearing headphones. This is in an effort to protect his hearing.
18. The band settled with the name "Lincoln Park," after the public park, which Bennington regularly passed on his way in Santa Monica, California.
19. Mike Shinoda is an artist and graphic designer. He has painted several pieces of artwork, some of which have been featured in the Japanese American National Museum.
20. On July 20, 2017, Bennington was found dead at his home in Palos Verdes Estates, California. His death was ruled a suicide by hanging.
21. To date (2019) Linkin Park has released seven studio albums, three live albums, two compilation albums, two remix albums, three soundtrack albums, 12 video albums, 10 extended plays, 35 singles, 20 promotional singles, and 66 music videos.
Important Dates In The Life Of Linkin Park:
6 Aug 2019
Members of Korn, Tool, Judas Priest, Linkin Park and several other bands signed a brief in support of
Led Zeppelin
, whose years-long copyright case over the opening guitar riff of
'Stairway To Heaven'
was set to return to court. In response to the court order, 123 music-makers filed an amicus brief, aiming to "elucidate the effect of the panel's decision… on all songwriters, composers, musicians and producers in the United States and around the world". The lawsuit was originally filed in 2014 by the estate of the late Randy California, the singer/guitarist of Spirit and the composer of 'Taurus'.
24 Jul 2017
Linkin Park
released their first official statement after the death of frontman
Chester Bennington
the previous week. "Our hearts are broken. The shock waves of grief and denial are still sweeping through our family as we come to grips with what has happened," it read.
20 Jul 2017
Linkin Park lead singer
Chester Bennington
died aged 41. His body was found at a private home, Bennington apparently hanged himself. The singer was said to be close to Soundgarden vocalist Chris Cornell, who took his own life in May of this year. Formed in 1996, Linkin Park had sold more than 70 million albums worldwide and won two Grammy Awards.
7 Nov 2012
A woman died, and 19 others were injured, after scaffolding collapsed outside a
Linkin Park
concert in Cape Town, South Africa. The temporary scaffolding outside Green Point stadium came down in high winds just before the concert. The concert went ahead, with the band only learning of the death afterwards.
21 Feb 2008
A computer expert was jailed for two years for electronically stalking
Linkin Park
singer
Chester Bennington
. Devon Townsend worked at a US national security laboratory in New Mexico, where she used a computer to track Bennington, she admitted to obtaining family photos, accessing e-mail and voicemail, and threatening his wife Talinda.
15 Nov 2007
Jay-Z went to No.1 on the US album chart with American Gangster his 10th No.1 album. This made the rapper joint second with
Elvis Presley
for the most No.1 albums on the chart; only
The Beatles
have had more, with 19. Since 1998, all eight of Jay-Z's solo studio albums had hit No. 1, in addition to his Collision Course project with
Linkin Park
and his Unfinished Business collaboration with R. Kelly.
1 Nov 2007
Winners at this year's
MTV
Europe Music Awards held in Munich, Germany included Avril Lavigne who was named best solo artist, and her song Girlfriend was voted most addictive track. Muse won two awards for best UK and Ireland act and best headline act,
Linkin Park
won the award for best band of 2007, and German band Tokio Hotel took the prize for best international act.
Amy Winehouse
won the Artist Choice prize, an award chosen by her fellow musicians and The ultimate urban prize went to R&B star
Rihanna
.
4 Jul 2007
Former laboratory worker Devon Townsend admitted to a court in Albuquerque, New Mexico of stalking
Chester Bennington
lead singer with
Linkin Park. Townsend used US government computers to obtain his personal information, accessing Bennington's e-mail account and mobile phone voicemail. The court was told how she travelled to Arizona solely for the purpose of trying to see the singer and monitored Chester Bennington's voicemails as a means of trying to locate where he might be eating.
21 Jan 2004
As the third season of American Idol was aired on US TV a memo was leaked showing a list of songs banned from being performed at this year's auditions that included,
Elton John
's 'Candle In The Wind' and 'Fallin' by Alicia Keys. Also all songs by
Bruce Springsteen
,
Mariah Carey
, No Doubt, R. Kelly,
Tom Petty
, Korn and
Linkin Park
were not allowed after concerns over the cost of securing rights for the song's use, (or the composers not wanting their song's to be performed on the show).
28 Dec 2003
50 Cent's debut album, Get Rich Or Die Tryin' was named the biggest selling album in the US in 2003 with the album going platinum six times over. Outkast came second with Speakerboxxx / The Love Below and
Linkin Parks
Meteora was the third biggest seller. The Top 10 albums of 2003 in the USA accounted for around 30 million sales.