Tommy Lee – Never A Dull Moment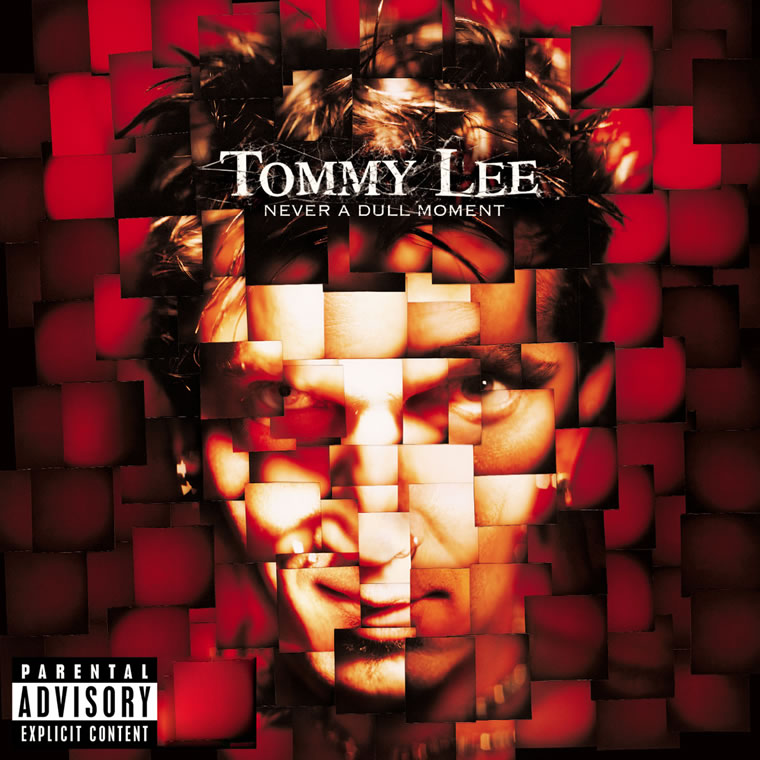 Here's a great pop quiz question for you: the singer married a mud wrestler, the bass player married a Playboy Bunny, and the drummer married an actress. Name the band.
Yes, who else could this be but Motley Crue.
Tommy Lee was born on 3rd Oct 1962 in Athens, Greece, as Thomas Lee Bass, the son of David Oliver Bass, a US Army serviceman of Welsh descent, and Vassiliki Papadimitriou, a former Miss Greece. His family moved to West Covina, California when little Tommy was one year old.
Whenever I think of Tommy Lee, I always, for some reason, think he was born at the wrong time. He should've been part of the 60s crowd, in a trio with Jimi Hendrix. Yes, I can see it now, Tommy on drums, Jimi on guitar, and let's have a think… I know! Phil Lynott from Thin Lizzy on bass. Now that would've been a great band. Also, you've noticed both Jimi and Phil are no longer with us. It's a miracle that Tommy still is!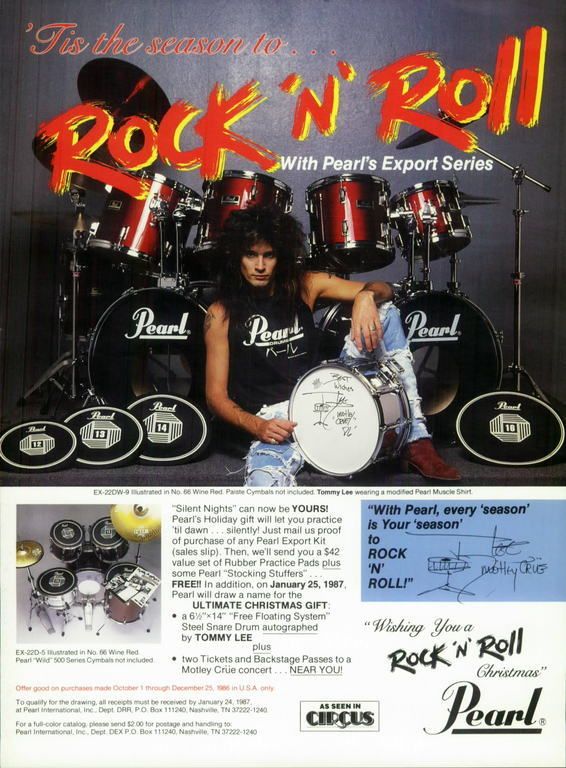 Growing up, Lee listened to all the great groups: Queen, Deep Purple, Led Zeppelin, Judas Priest, and KISS. After listening to KISS, his main drum influence became their drummer, Peter Criss.
His first successful band was Suite 19, and it was during this time he met future bandmate Nikki Sixx, who was forming a theatrical band that would specialize in anthemic heavy metal. Sixx was impressed by Lee's drumming; by that time he had changed his name to Tommy Lee and earned the nickname "T-bone" due to his 6′ 2″ height and his skinny physique. Shortly afterward, guitarist Mick Mars joined the band; he in turn recommended a singer Tommy had met while in high school, Vince Neil, who joined the group. Motley Crue was formed.
And they lived up to their name; their hard-living lifestyle saw all members have numerous brushes with the law, spending time in jail. Members suffered from alcoholism, had long addictions to drugs, and had countless escapades with women. Motley Crue made Ozzy Osbourne look like a vicar.
Anyway, back to Tommy. He became the Keith Moon of his generation, a real showman and a great drummer. Lee had some brilliant gimmicks. During one Motley Crue tour, his entire kit revolved and spun around. On another, Lee and his kit would float above the crowd while he continued to play. He also was legendary for mooning the crowd at nearly every show.
Like all great rock and roll stars, he's had his share of beautiful women; he married actress Heather Locklear (who later married Richie Sambora of Bon Jovi). He then famously married Baywatch bombshell Pamela Anderson in what appeared to be a match made in heaven. The pair got hitched just 96 hours after they first met.
And then we had the sex tape. Lee and Anderson had videotaped their sexual activities while on vacation. The video was stolen from their house by a workman who released it on the Internet. The tape became the first example of worldwide viral pornography. Around this time the couple were never out of the tabloids with their on/off relationship. After another break-up Lee once told Rolling Stone magazine, "We've only given it a try 800 times! 801, here we go!"
Pam later married Kid Rock, who was the cause of Tommy being kicked out of the 2007 MTV Video Music Awards ceremony after the two started a fight. Now never mind the sex tape, did anyone get that on film? I bet Tommy won!
Lee is probably more famous for the sex tape, his tattoos, and various rock and roll exploits, which is a shame because first and foremost Lee is a musician, and a great one. Lee also founded rap metal band Methods of Mayhem, as well releasing two solo albums and has appeared in various reality TV shows.
As I said, maybe he was born in the wrong time. In another life he could've been the drummer in Hendrix, Lynott and Lee (you see, it has a good ring to it!). They appeared at Woodstock, you know, in '69 where they blew everyone off stage. That was the day when Tommy met Janis Joplin for the first time and as we know, they married and had three lovely girls who went on the form the power trio, The Joplins.
Now, that I would like to see.
Important Dates In The Life Of Tommy Lee:
10 Sep 2007
Pamela Anderson's ex-husband Kid Rock was involved in an alleged assault on drummer
Tommy Lee
, (who was also married to the actress up until 1998). Police interviewed witnesses to a tussle involving the pair at the
MTV
Music Video Awards in Las Vegas. Lee was removed from the ceremony while Rock, was allowed to stay.
29 Jul 2006
Pamela Anderson married for the second time to US rapper Kid Rock, on a yacht off the French resort of St Tropez. The 39-year-old former Baywatch star divorced from rock star
Tommy Lee
in 1998, had recently got back together with Kid Rock, after a brief engagement ended in 2003. Anderson and Rock split after four months of marriage.
12 Oct 2005
Motley Crue drummer
Tommy Lee
suffered minor burns at a concert in Casper, Wyoming during a pyrotechnics explosion. Lee was treated at a local hospital for the injuries to his arm and face, which occurred while he was suspended from a wire 30 feet above the stage.
16 Jun 2001
Four-year-old Daniel Karven-Veres drowned in
Tommy Lee
's swimming pool while attending a birthday party for Lee's 5-year-old son, Brandon. His parents, James Veres and Ursula Karven, sued Lee for negligence, claiming they should have been told that a swimming pool was involved, (their son could not swim). Lee was cleared by a jury in April 2003.
26 May 2000
Drummer
Tommy Lee
was jailed for five days for drinking alcohol. Lee appeared in front of a LA court charged with violating his probation by consuming alcohol, an act that directly contravenes the terms of his parole.
11 Oct 1999
Motley Crue drummer
Tommy Lee
was released on $5000 bail after facing charges relating to a riot at a gig in North Carolina in 1997. Lee allegedly incited the crowd to attack a guard and had also poured a drink over his head.
20 May 1998
Tommy Lee
from Motley Crue was sentenced to six months jail after being found guilty of spousal abuse.
15 Oct 1996
Motley Crue drummer
Tommy Lee
was charged with assault for attacking a cameraman who was trying to take pictures of Lee and his wife Pamela Anderson Lee outside an L.A. club. After pleading no contest, Lee was sentenced to four months in prison.
8 May 1996
A Los Angeles judge ruled against
Tommy Lee
and wife Pamela Anderson in their bid to keep Penthouse magazine from publishing still photos from an X-rated home movie that was stolen from their home.
19 Feb 1995
Motley Crue drummer
Tommy Lee
married Baywatch actress Pamela Anderson on a Cancun beach, Mexico, the bride wore a white bikini. Anderson and Lee who married only four days after meeting had videotaped their sexual activities while on vacation which was later stolen and released on the Internet. After suing the video company who released the tape, the Lees entered into a confidential settlement agreement. The couple divorced in 1998.
7 Apr 1990
Motley Crue's
Tommy Lee
was injured when performing a stunt during a concert, falling 20 feet from a lighting rig.
25 Mar 1990
Motley Crue's
Tommy Lee
was arrested for mooning at the audience during a gig in Augusta. Lee was charged with indecent exposure.
10 May 1986
Motley Crue drummer
Tommy Lee
married TV star Heather Locklear in a courtyard in Santa Barbara California with five hundred guests. Tommy wore a white leather tuxedo.
24 Nov 1984
Motley Crue drummer
Tommy Lee
married his girlfriend, nude model Candice, (Elaine Margaret Starchuk). The marriage lasted one month. Lee has also been married to actress Heather Locklear and the former Playboy Playmate Pamela Anderson.
28 Jan 1984
Backstage after a Motley Crue show in Buffalo, New York,
Tommy Lee
found out that his girlfriend has posed for the current issue of Penthouse magazine without his knowledge, after a fan passed comment on the pictures. Tommy punched the fan unconscious with one hit, Motleys manager Doug Thaler later convinced the fan not to press any charges.
17 Jan 1981
Motley Crue formed when bass guitarist Nikki Sixx left the band London and began rehearsing with drummer
Tommy Lee
and vocalist, guitarist Greg Leon, (who later left). Sixx and Lee then added guitarist Bob "Mick Mars" Deal. Vince Neil accepted an offer to join (after turning them down) in April of this year.
7 Mar 1980
The film Coal Miner's Daughter, the biography of Loretta Lynn and starring Sissy Spacek opened. Spacek won the Academy Award for Best Actress for her portrayal of Lynn;
Tommy Lee
Jones and Beverly D'Angelo also play leading roles in the film, which was a huge success with critics and at the box office.