Here's a great pop quiz question for you: the singer married a mud wrestler, the bass player married a Playboy Bunny, and the drummer married an actress. Name the band.
Yes, who else could this be but Motley Crue.
Tommy Lee was born on 3rd Oct 1962 in Athens, Greece, as Thomas Lee Bass, the son of David Oliver Bass, a US Army serviceman of Welsh descent, and Vassiliki Papadimitriou, a former Miss Greece. His family moved to West Covina, California when little Tommy was one year old.
Whenever I think of Tommy Lee, I always, for some reason, think he was born at the wrong time. He should've been part of the 60s crowd, in a trio with Jimi Hendrix. Yes, I can see it now, Tommy on drums, Jimi on guitar, and let's have a think… I know! Phil Lynott from Thin Lizzy on bass. Now that would've been a great band. Also, you've noticed both Jimi and Phil are no longer with us. It's a miracle that Tommy still is!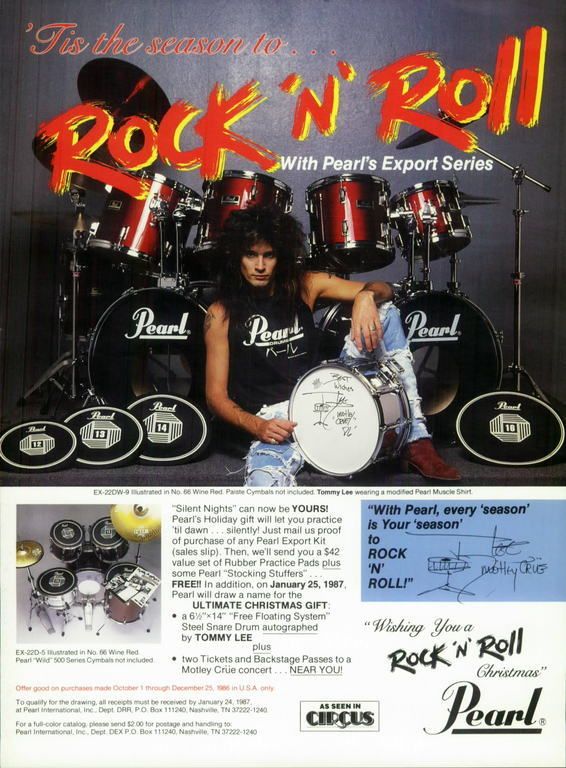 Growing up, Lee listened to all the great groups: Queen, Deep Purple, Led Zeppelin, Judas Priest, and KISS. After listening to KISS, his main drum influence became their drummer, Peter Criss.
His first successful band was Suite 19, and it was during this time he met future bandmate Nikki Sixx, who was forming a theatrical band that would specialize in anthemic heavy metal. Sixx was impressed by Lee's drumming; by that time he had changed his name to Tommy Lee and earned the nickname "T-bone" due to his 6′ 2″ height and his skinny physique. Shortly afterward, guitarist Mick Mars joined the band; he in turn recommended a singer Tommy had met while in high school, Vince Neil, who joined the group. Motley Crue was formed.
And they lived up to their name; their hard-living lifestyle saw all members have numerous brushes with the law, spending time in jail. Members suffered from alcoholism, had long addictions to drugs, and had countless escapades with women. Motley Crue made Ozzy Osbourne look like a vicar.
Anyway, back to Tommy. He became the Keith Moon of his generation, a real showman and a great drummer. Lee had some brilliant gimmicks. During one Motley Crue tour, his entire kit revolved and spun around. On another, Lee and his kit would float above the crowd while he continued to play. He also was legendary for mooning the crowd at nearly every show.
Like all great rock and roll stars, he's had his share of beautiful women; he married actress Heather Locklear (who later married Richie Sambora of Bon Jovi). He then famously married Baywatch bombshell Pamela Anderson in what appeared to be a match made in heaven. The pair got hitched just 96 hours after they first met.
And then we had the sex tape. Lee and Anderson had videotaped their sexual activities while on vacation. The video was stolen from their house by a workman who released it on the Internet. The tape became the first example of worldwide viral pornography. Around this time the couple were never out of the tabloids with their on/off relationship. After another break-up Lee once told Rolling Stone magazine, "We've only given it a try 800 times! 801, here we go!"
Pam later married Kid Rock, who was the cause of Tommy being kicked out of the 2007 MTV Video Music Awards ceremony after the two started a fight. Now never mind the sex tape, did anyone get that on film? I bet Tommy won!
Lee is probably more famous for the sex tape, his tattoos, and various rock and roll exploits, which is a shame because first and foremost Lee is a musician, and a great one. Lee also founded rap metal band Methods of Mayhem, as well releasing two solo albums and has appeared in various reality TV shows.
As I said, maybe he was born in the wrong time. In another life he could've been the drummer in Hendrix, Lynott and Lee (you see, it has a good ring to it!). They appeared at Woodstock, you know, in '69 where they blew everyone off stage. That was the day when Tommy met Janis Joplin for the first time and as we know, they married and had three lovely girls who went on the form the power trio, The Joplins.
Now, that I would like to see.