December 28th: The Biggest Music Headlines
Scroll down the page to see all the music headlines, stories and events for December 28 throughout music history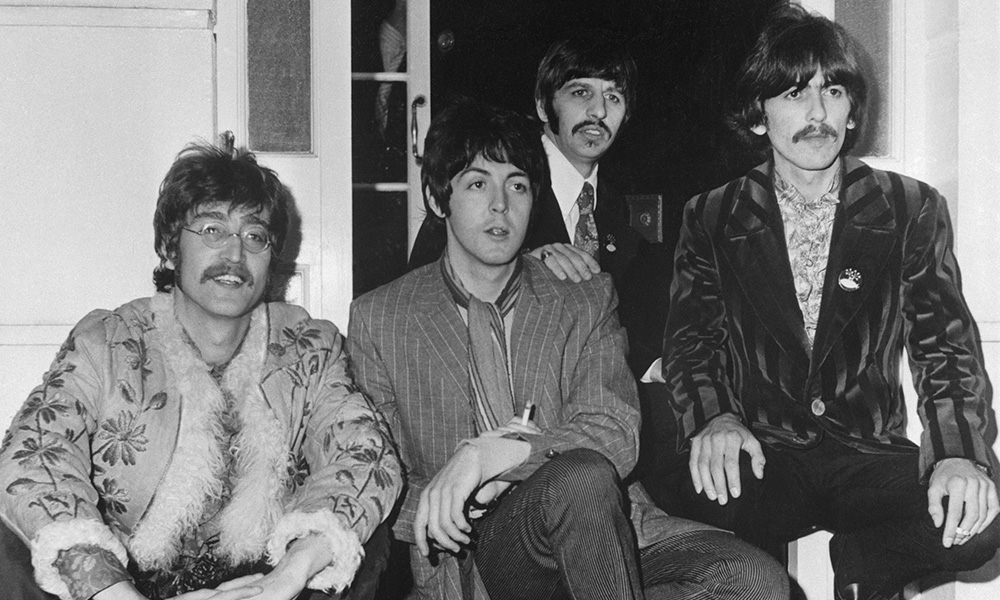 ABBA Explores Digital Horizons With 'The Visitors'
On this day in music, December 28, 1968, The Beatles topped the Billboard 200 with their self-titled ninth studio album, better known as The White Album. The LP earned the nickname thanks to its plain white jacket cover, which contained no images or fonts other than the band's name. The influential title features an impressively diverse collection of 30 songs (19 of which were written during the band's well-documented retreat at a Transcendental Meditation course in Rishikesh, India,) including "Back in the U.S.S.R.," "While My Guitar Gently Weeps," "Revolution 9," and "Helter Skelter." Since its release, The White Album has been certified 24x Platinum in the US and has long ranked as one of the greatest albums of all time.
In 2003, 50 Cent's debut, Get Rich Or Die Tryin', was named the year's biggest-selling US album. Featuring collaborations with 50's label bosses, Eminem and Dr. Dre, the LP sold over 872,000 copies in its first week.
In 2015, Lemmy Kilmister, the celebrated frontman and founder of Motörhead, died at the age of 70. Best known by his first name, Lemmy was the only continuous member of the legendary metal band during its 40-year period.
In 1968, the Miami Pop festival kicked off at Gulfstream Park, a horse racing track just north of the South Florida city. The three-day event marked the first major rock festival held on the East Coast and boasted an impressive line-up, including The Jimi Hendrix Experience, Chuck Berry, The McCoys, Joni Mitchell, Fleetwood Mac, and Marvin Gaye.
In 1983, in a tragic twist of irony, 39-year-old Beach Boys drummer Dennis Wilson drowned. Wilson, who co-founded the best-selling group in 1961, alongside his brothers Brian and Carl, was the only member of the band that actually surfed, and exemplified the Southern California lifestyle that the Beach Boys sang about. In addition to serving as one of the group's lyricists and vocalists, Wilson also released two solo albums and appeared in the underground film sensation, Two-Lane Blacktop.
Looking for more things that happened on this day in music?
Keep scrolling for all of the headlines for December 28.
BORN ON DECEMBER 28:
1915: Roebuck "Pops" Staples (The Staple Singers)
1946: Edgar Winter
1950: Alex Chilton (Big Star)
1953: Richard Clayderman
1958: Joe Diffie
1978: John Legend
Looking for more artists born on this day?
Keep scrolling for all of our December 28 birthdays.
---
What to find another day?
---
December 28th
28 Dec 2021
Dr. Dre's divorce was settled, with the rapper-producer agreeing to pay his ex-wife, Nicole Plotzker-Young, $100 million - more than one-fifth of the rap icon's fortune. Young was required to move out of their Malibu beach house by the end of the month but would keep a Rolls Royce, Range Rover, Escalade limousine, and Spyder motorcycle as well as all of her jewellery. They were married from 1996-2020.
28 Dec 2015
Lemmy, lead vocalist and bassist with Motörhead died at his home in Los Angeles, California, four days after his 70th birthday following a short battle with an extremely aggressive cancer. Lemmy played in several rock groups in the 1960s, including the Rockin' Vickers and worked as a roadie for
Jimi Hendrix
and the Nice, before joining the space rock band Hawkwind in 1971, singing lead on their hit 'Silver Machine'.
28 Dec 2015
John Bradbury, the longtime drummer for the British band the Specials, died aged 62. He joined the band in 1979 after the original drummer left and was made a permanent member after playing at the recording session for the single 'Gangsters.'
28 Dec 2011
Sinead O'Connor
announced the end of her marriage to therapist Barry Herridge after only 16 days. O'Connor admitted that they had "made a mistake rushing into getting married". This was the Irish singers fourth marriage.
28 Dec 2005
Pink Floyd
were voted the greatest rock stars ever in a survey of 58,000 listeners from UK radio station Planet Rock.
Led Zeppelin
were voted into second place, 3rd was The
Rolling Stones
, 4th
The Who
, 5th,
AC/DC
, 6th,
U2
, 7th,
Guns N' Roses
, 8th,
Nirvana
, 9th,
Bon Jovi
and in 10th place
Jimi Hendrix
. Listeners also named the 1970s as the golden age of rock, followed by the 1960's.
28 Dec 2003
50 Cent's debut album, Get Rich Or Die Tryin' was named the biggest selling album in the US in 2003 with the album going platinum six times over. Outkast came second with Speakerboxxx / The Love Below and
Linkin Parks
Meteora was the third biggest seller. The Top 10 albums of 2003 in the USA accounted for around 30 million sales.
28 Dec 1998
UK radio station BBC
Radio 1
aired the 100 National Anthems, songs voted by listeners. At No.5
Radiohead
, 'Creep', No.4 Underworld 'Born Slippy', No.3 The Verve 'Bitter Sweet Symphony', No.2
Nirvana
'
Smells Like Teen Spirit
' No.1 Massive Attack 'Unfinished Sympathy'.
28 Dec 1993
Canadian singer Shania Twain married record producer Mutt Lange. The couple separated in 2008 after 14 years of marriage.
28 Dec 1991
28 Dec 1983
Having made two successful dives below a friend's yacht to find items he'd drunkenly thrown off his own boat three years before,
The Beach Boys
Dennis Wilson took one last dive into the Pacific and never returned from the boat moored in Marina Del Rey, California. With the help of President Reagan he was given a burial at sea, normally reserved for Naval personnel. Dennis was the only genuine surfer in The Beach Boys.
28 Dec 1978
Rolling Stone magazine voted
Some Girls
by The
Rolling Stones
'Album of the Year.' The cover designed by Peter Corriston, featured The
Rolling Stones
in garish drag alongside select female celebrities and lingerie ads. The cover immediately ran into trouble when Lucille Ball, Farrah Fawcett, Liza Minnelli (representing her mother Judy Garland), Raquel Welch, and the estate of Marilyn Monroe who all threatened legal action.
28 Dec 1976
Blues guitarist Freddie King died of heart trouble and ulcers aged 42.
Eric Clapton
covered his 'Have You Ever Loved A Woman' on his Layla album. Major influence on British and American blues-rock musicians such as Jimmy Vaughan, Ronnie Earl, Peter Green and
Eric Clapton
.
28 Dec 1974
Helen Reddy went to No.1 on the US singles chart with 'Angie Baby', the singers third US No.1. The song was turned down by Cher.
28 Dec 1972
28 Dec 1968
The Beatles
went to No.1 on the US album chart with the The
White Album
the group's 12th US No.1 album. A double album, its plain white sleeve has no graphics or text other than the band's name embossed, which was intended as a direct contrast to the vivid cover artwork of the band's earlier
Sgt. Pepper
's. No singles were issued from the album in Britain and the United States, the songs
'Hey Jude'
and 'Revolution' originated from the same recording sessions and were issued on a single in August 1968.
28 Dec 1968
The three day Miami Pop festival took place, the first major rock festival held on the East Coast of the US, with The
Jimi Hendrix Experience
,
Chuck Berry
, The McCoys,
Joni Mitchell
,
Fleetwood Mac
,
Marvin Gaye
, The Turtles, The Box Tops, Steppenwolf, Three Dog Night, Pacific Gas and Electric,
Procol Harum
, Canned Heat,
Iron Butterfly
and
Grateful Dead
.
28 Dec 1968
Pink Floyd
appeared at the two day festival Flight To Lowlands Paradise II, Margriethal-Jaarbeurs, Utrecht, The Netherlands, (replacing The
Jimi Hendrix Experience
). Other acts appearing included Jethro Tull,
Jeff Beck
, The Pretty Things and the Bonzo Dog Doo-Dah Band.
28 Dec 1961
Danny Williams was at No.1 on the UK singles chart with 'Moon River', the Oscar-winning song was from the film Breakfast At Tiffany's. The Tokens were at No.1 on the US singles chart with 'The Lion Sleeps Tonight.'
Born on this day in music
28 Dec 1978
John Legend (John Stephens), singer, songwriter, 2006 US No.3 & UK No.10 album 'Once Again.' Scored the 2014 US No.1 single 'All Of Me'.
28 Dec 1977
US songwriter LaShawn Daniels, who co-wrote such hits as Destiny's Child's Grammy-winning 'Say My Name' and Lady Gaga's 'Telephone'. He had also worked with artists including
Whitney Houston
,
Michael Jackson
, Brandy and Toni Braxton. Daniels died in a car crash in South Carolina on 3 September 2019 aged 41.
28 Dec 1971
Anita Dels, vocals, 2 Unlimited, (1993 UK No.1 single 'No Limit').
28 Dec 1964
Paul Wagstaff, Black Grape, (1995 UK No.8 single 'In The Name Of The Father').
28 Dec 1958
Grammy-winning country music star Joe Diffie. He charted 35 singles on the Billboard Hot Country Songs chart, five of which peaked at No.1. He also co-wrote singles for Holly Dunn, Tim McGraw, and Jo Dee Messina, and recorded with Mary Chapin Carpenter, George Jones, and Marty Stuart. He died on 29 March 2020 age 61 from complications of COVID-19.
28 Dec 1954
Rosie Vela, US singer songwriter, (1987 UK No.27 single 'Magic Smile').
28 Dec 1953
Richard Clayderman, French pianist who has sold over 70 million albums world-wide, biggest UK hit is the 1982 UK No.2 album 'Richard Clayderman.'
28 Dec 1950
Alex Chilton, guitar, vocals, with The Box Tops who had the 1967 US No.1 & UK No.5 single 'The Letter'. He formed Big Star in 1971. In the 1980s both
R.E.M.
, and the Replacements cited Big Star group as a major influence. Chilton died in hospital of heart problems in New Orleans on March 17th 2010 aged 59.
28 Dec 1947
Dick Diamonde, The Easybeats, (1966 UK No.6 & 1967 US No. 16 single 'Friday On My Mind').
28 Dec 1946
Edgar Winter, Edgar Winter Group, keyboards, vocals, (1973 US No.1 & UK No.18 single 'Frankenstein').
28 Dec 1943
English musician and singer Chas Hodges, who had worked with British producer Joe Meek as a session musician, backing Jerry Lee Lewis and Gene Vincent. Hodges later joined Heads Hands and Feet, (with guitarist Albert Lee). With Chas & Dave he scored the 1982 UK No.2 single 'Ain't No Pleasing You'. He also played piano for short-lived supergroup the Rockers, which featured Roy Wood, Phil Lynott and John Coghlan. He died from pneumonia on 22 September 2018, aged 74.
28 Dec 1942
American musician and record producer Allan Schwartzberg who has been a member of the rock band Mountain, Peter Gabriel's band, and toured with Linda Rondstadt. He has also played on hits such as Gloria Gaynor 'Never Can Say Goodbye' and worked with many artists including
John Lennon
, Diana Ross,
James Brown
, Alice Cooper,
Frank Sinatra
, Roxy Music, Rod Stewart and Robert Palmer.
28 Dec 1938
Charles Neville, sax, The Neville Brothers, (1989 UK No.47 single 'With God On Our Side').
28 Dec 1936
American singer Young Jessie who was a member of The Coasters. In 1955 he wrote and recorded the single 'Mary Lou,' later covered by Ronnie Hawkins, Steve Miller Band, Bob Seger, Gene Clark and
Frank Zappa
. He died on 27 Apr 2020 age 83.
28 Dec 1932
American rockabilly singer Dorsey Burnette. With his younger brother Johnny Burnette he was a founder member of The Rock and Roll Trio. He is also the father of country musician and
Fleetwood Mac
member Billy Burnette. He died age 46 from a heart attack on 19 August 1979.
28 Dec 1921
Johnny Otis, (1957 UK No.2 single 'Ma, He's Making Eyes At Me', 1958 US No.9 single 'Willie And The Hand Jive').
28 Dec 1915
Roebuck 'pop' Staples, vocals, The Staple Singers, (1975 US No.1 single 'Let's Do It Again'). Died 19th December 2000.