August 13th: The Biggest Music Headlines
Scroll down the page to see all the music headlines, stories and events for August 13 throughout music history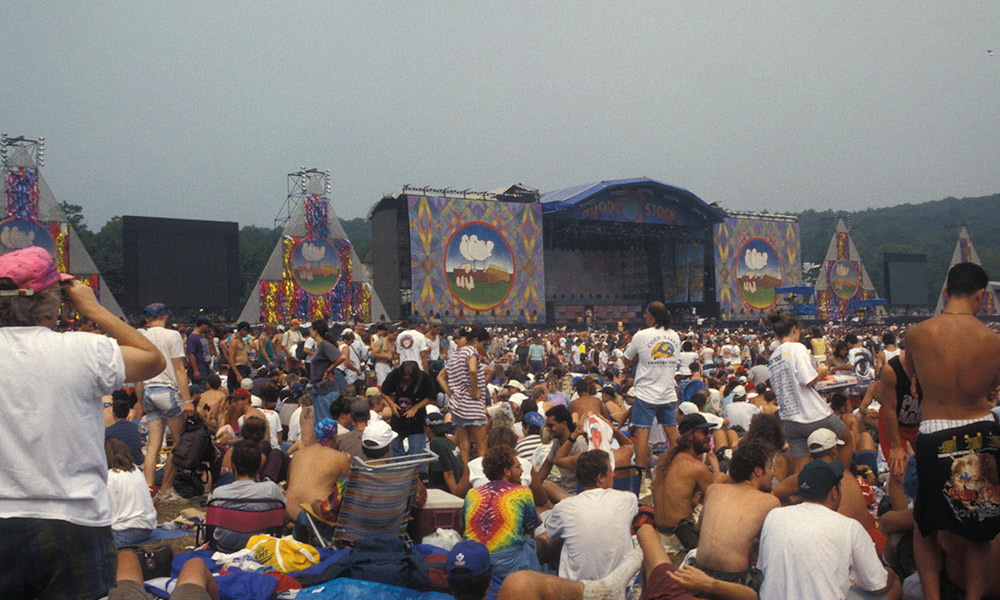 Woodstock '94 Brings The Music… And The Mud
On August 13, 1994, the first full day of music kicked off at Woodstock '94. Billed as "2 More Days of Peace & Music," the event commemorated the 25th anniversary of the legendary 1969 festival. More than 350,000 fans traveled to Saugerties, NY, where they enjoyed sets by Aerosmith, The Cranberries, Metallica, Nine Inch Nails, Salt-N-Pepa, Blind Mellon, Sheryl Crow, and Primus, plus performances by many of the original acts from 1969, including Joe Cocker, Crosby, Stills, & Nash, The Band, and Country Joe McDonald. Also on the setlist? Lots of rain and even more mud.
In 1952, blues singer Big Mama Thornton recorded the original version of "Hound Dog." The song, penned by Jerry Leiber and Mike Stoller, would soon top Billboard's R&B chart for seven weeks and sell nearly two million copies.
In 1965, Jefferson Airplane played their first public performance at The Maxtrix in San Francisco.
Two years later, in 1967, Fleetwood Mac made their live debut at the National Jazz and Blues Festival in Windsor, England. They shared the bill with Cream, Small Faces, Pink Floyd, Donovan, and Jeff Beck, among others.
In 1966, The Beatles' Revolver began its seven-week run at the top of the UK Albums chart. The band's seventh studio album would also spend three weeks at No.1 in the US. Considered to be one of the most innovative albums in pop music history, Revolver includes such enduring songs as "Eleanor Rigby," "Yellow Submarine," "Here, There and Everywhere," and the highly unique "Tomorrow Never Knows," which found the band experimenting with a variety of electronic elements and production techniques (including sampling and reversed recordings).
And in 1964, The Supremes recorded "Baby Love." Written and produced by Motown's in-house team of Holland–Dozier–Holland (Lamont Dozier and brothers Brian and Eddie Holland), the song was released on September 17th and eventually became a No.1 hit on both the US and UK pop charts.
Looking for more things that happened on this day in music?
Keep scrolling for all of the headlines for August 13.
BORN ON AUGUST 13:
1951: Dan Fogelberg (singer-songwriter)
1958: Fergal Sharkey (The Undertones)
1984: Diamond Blue Smith (Pretty Ricky)
1984: James Morrison (singer-songwriter)
Looking for more artists born on this day?
Keep scrolling for all of our August 13 birthdays.
---
What to find another day?
---
August 13th
13 Aug 2021
US singer-songwriter Nanci Griffith died at the age of 68. In 1994 she won a Grammy Award for the album Other Voices, Other Rooms as well as recording duets with many artists, among them Emmylou Harris, John Prine, Don McLean, Jimmy Buffett, Adam Duritz (singer of Counting Crows), Darius Rucker (lead singer of Hootie & the Blowfish) and Willie Nelson.
13 Aug 2017
David Bowie
made a posthumous appearance in the TV series Twin Peaks: The Return. The late singer, who made a cameo appearance as a deranged FBI agent in the cult classic's 1991 prequel, Fire Walk With Me, was supposed to return for the show's revival but died before filming. Director David Lynch used archive footage from the movie to bring Bowie to life in the episode.
13 Aug 2014
'Rude' the debut single by Canadian band Magic! was at No.1 on the US singles chart. It became the ninth best-selling song of 2014, with global sales of 8.6 million units, and won the Juno Award for Single of the Year.
13 Aug 2013
Jon Brookes, the drummer with The Charlatans died aged 44. He had suffered a seizure on tour with the band in 2010 and had been receiving treatment for a brain tumour. Another original band member, keyboardist Rob Collins, died in a car accident in 1996.
13 Aug 2007
Amy Winehouse
pulled out of two
Rolling Stones
gigs in Hamburg Germany citing exhaustion, British group Starsailor replaced Winehouse for the shows.
13 Aug 2004
'Angels' by Robbie Williams was voted the best single which should have been a No.1 but never was, in a poll for VH1. The ballad, which reached No.4 in December 1997, beat Savage Garden's 'Truly, Madly, Deeply' and
Aerosmith
's 'I Don't Want To Miss A Thing.' Other songs said to have deserved a No.1 included
Madonna
with 'Ray of Light', 'Beautiful Stranger', 'Crazy For You' and 'Material Girl',
Bon Jovi
with 'Always' and
Oasis
with 'Wonderwall' and 'Live Forever'. Sir Cliff Richard's hit 'Millennium Prayer' was voted the worst No.1 single of all time.
13 Aug 2002
Adam Ant pleaded guilty to threatening drinkers at The Prince Of Wales Pub in London in January of this year. The former 1980s pop star had returned to the bar with a starting pistol after being refused entry. He had also thrown a car alternator through the window of the pub.
13 Aug 1999
Ex Guns N' Roses member Slash was arrested accused of assaulting his girlfriend at his Sunset Boulevard recording studio by Los Angeles County sheriff's deputies. He was released on bail.
13 Aug 1999
Mick Jagger
's marriage to model Jerry Hall was been declared null and void at the High Court in London. Neither Jagger nor Hall were present for the 30-minute hearing before Mr Justice Connell. After hearing evidence on behalf of Hall the judge ruled their "marriage" in Bali in 1990 was not valid either in Indonesia or under English law, and a decree of nullity was granted to Hall. The annulment avoided what had been expected to be a long and costly court battle, in which Ms Hall, 43, was reportedly seeking a £30m share of Jagger's wealth.
13 Aug 1994
Members from
Oasis
and The Verve were arrested after smashing up a hotel bar and breaking into a church to steal communion wine. Both bands had been appearing at Hulsfred Festival in Sweden.
13 Aug 1994
13 Aug 1992
Neil Diamond
played the first of six sold-out nights at Madison Square Garden in New York. Diamond would bring in over $40 million from touring this year, the second highest in the music industry.
13 Aug 1983
KC and the Sunshine Band were at No.1 on the UK singles chart with 'Give It Up'. The American disco group's only UK chart topper spent three weeks at No.1
13 Aug 1982
American soul singer Joe Tex died at his home in Navasota, Texas, following a heart attack, just five days after his 49th birthday. Had nine US Top 40 hits including the 1972 US No.2 single 'I Gotcha'.
13 Aug 1982
Major American record companies including CBS Atlantic and Warner Brothers all made staff cut-backs as the industry plunged into 'the worst shape in its history'.
13 Aug 1980
Four masked robbers broke in to Todd Rundgren's New York house and proceeded to steal Hi-Fi equipment and paintings after tying the musician up. It was reported that one of the intruders had been humming his hit 'I Saw The Light'.
13 Aug 1977
Yes scored their second UK No.1 album with their eighth studio album'Going For The One'. The album marked the return of keyboardist Rick Wakeman, who departed in 1974 over musical differences.
13 Aug 1971
Saxophonist King Curtis Ousley was stabbed to death by a vagrant on the front steps of his New York home. Ousley had worked with
John Lennon
and also played on The Coasters 'Yakety Yak'.
13 Aug 1971
Pink Floyd
played their first ever Australian date when they appeared at the Festival Hall in Melbourne. The group, who were on an Asia Pacific tour, played just one other date in Australia - Sydney, two nights later.
13 Aug 1971
John Lennon
flew from Heathrow Airport to New York, he never set foot on British soil again.
13 Aug 1967
13 Aug 1966
Lovin Spoonful started a three week run at No.1 on the US singles chart with 'Summer In The City', it made No.8 in the UK. The song features a series of car horns during the instrumental bridge, starting with a Volkswagen Beetle horn, and ends up with a jackhammer sound, in order to give the impression of the sounds of the summer in the city.
13 Aug 1966
Revolver
,
The Beatles'
seventh album release in three years, started a seven-week run at No.1 on the UK charts. It spent a total of 34 week's on the UK chart and was also a US No.1. The title "
Revolver
", like
Rubber Soul
before it, is a pun, referring both to a kind of handgun as well as the "revolving" motion of the record as it is played on a turntable.
13 Aug 1965
Jefferson Airplane made their live debut at San Francisco's Matrix Club. The photograph of the members of Jefferson Airplane that was featured on the front cover of their best-known album, Surrealistic Pillow (1967), was taken inside the Matrix.
13 Aug 1965
Mike Smith, lead singer of The Dave Clark Five, suffered two broken ribs when he was pulled off the stage by fans. The group were in Chicago at the beginning of a US tour.
13 Aug 1965
The Beatles
arrived at Kennedy International Airport for a tour of North America. The set list for the tour was 'Twist and Shout', 'She's a Woman', 'I Feel Fine', 'Dizzy Miss Lizzie', 'Ticket to Ride', 'Everybody's Trying to Be My Baby', 'Can't Buy Me Love', 'Baby's in Black', 'Act Naturally', 'A Hard Day's Night', 'Help!', 'I'm Down' and 'I Wanna Be Your Man.' The tour was not a happy one for
The Beatles
,
John Lennon
took to screaming off-microphone obscenities at the audiences.
13 Aug 1964
Manfred Mann were at No.1 on the UK singles chart with 'Do Wah Diddy Diddy', the bands first of three UK No.1's. The song which was written by Jeff Barry and Ellie Greenwich was originally recorded in 1963 by the American vocal group The Exciters.
13 Aug 1964
The
Supremes
recorded 'Baby Love', written and produced by
Motown
's main production team Holland–Dozier–Holland, the song went on to be the group's first UK No.1 and second US chart topper. It was also the second of five
Supremes
songs in a row to go to No.1 in the United States.
13 Aug 1952
The original version of 'Hound Dog' was recorded by Willie Mae (Big Mama) Thornton. It would become the first hit for the song-writing team of Jerry Leiber and Mike Stoller and went on to top the Billboard R&B chart for seven weeks, selling nearly two million copies.
Born on this day in music
13 Aug 1984
James Morrison, UK singer, songwriter, and guitarist, (2006 UK No.1 album 'Undiscovered').
13 Aug 1984
Diamond Blue Smith, singer, from American R&B/hip hop group Pretty Ricky who scored the 2007 US No.1 album Late Night Special.
13 Aug 1959
American radio/television personality, comedian Danny Bonaduce who with The Partridge Family had the 1970 US No.1 single 'I Think I Love You', and the 1972 UK No.3 single 'Breaking Up Is Hard To Do'.
13 Aug 1959
Mark Nevin, singer, songwriter, from British folk and soft rock band, Fairground Attraction who had the 1988 UK No.1 single 'Perfect'.
13 Aug 1959
Michael Bradley, bassist, The Undertones, (1980 UK No.9 single 'My Perfect Cousin').
13 Aug 1958
Feargal Sharkey, singer, The Undertones, (1980 UK No.9 single 'My Perfect Cousin'). Solo, (1985 UK No.1 single 'A Good Heart', a song written by Maria Mckee).
13 Aug 1951
Dan Fogelberg, US singer songwriter, (1979 album 'Phoenix'). Worked with Joe Walsh, Jackson Browne, Randy Newman. Fogelberg died on 16th Dec 2007 at his home in Maine at the age of 56 of prostate cancer.
13 Aug 1949
Cliff Fish, bass, from Paper Lace who scored the 1974 UK No.1 single 'Billy Don't Be A Hero', and the 1974 US No.1 single 'The Night Chicago Died'.
13 Aug 1940
John Stokes, The Bachelors, (1964 UK No.1 single 'Diane', plus 16 other UK Top 40 singles).