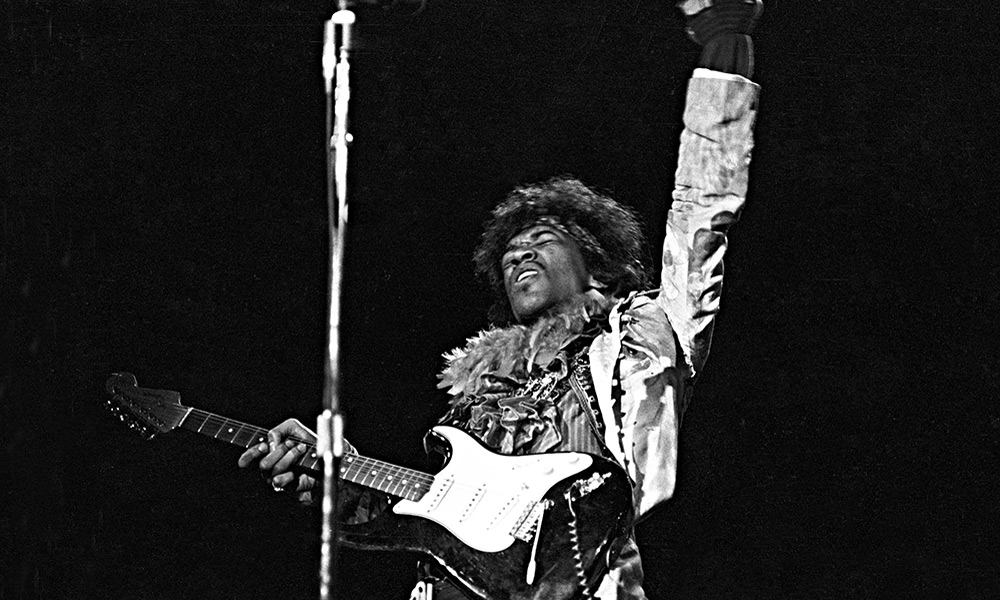 On 18th Sept 1970, Jimi Hendrix was pronounced dead on arrival at St. Mary Abbot's Hospital in London at the age of 27 after choking on his own vomit. Hendrix left the message 'I need help bad man', on his managers answer phone earlier that night. Rumors and conspiracy theories grew up around Hendrix's death. Eric Burdon claimed Jimi had committed suicide, but that's contradicted by reports that he was in a good frame of mind. In 2009, a former Animals roadie published a book claiming that Jimi's manager had admitted to him that he arranged the murder of Hendrix, since the guitarist wanted out of his contract.
It was barely four years from coming into the spotlight at the Scotch of St James in London to his dying in a west London hotel room. But in that time Jimi Hendrix lit up music and perhaps did more than any other musician apart from The Beatles to open people's eyes, ears and minds to what was possible. Certainly, no one did as much with a guitar, whether it was getting sounds out of it, setting it on fire or using it as a manifestation of his sexual desire.
Between September 1966 and September 1970, Jimi Hendrix played over 600 shows. That Jimi died so young is ultimately a tragedy. That he brightened up so many lives with his unforgettable performances on stage is something to be savoured.
Jimi Hendrix was born Johnny Allen Hendrix on 27 November 1942, at Seattle's King County Hospital. Jimi took an interest in music at an early age, drawing influence from B.B. King, Buddy Holly, Muddy Waters, Howlin' Wolf and Robert Johnson. He was also particularly fond of Elvis Presley. The 15-year-old went to see the King of Rock'n'Roll perform when he played a show in Jimi's hometown of Seattle in 1957.
By the summer of 1958, his father had purchased him a five-dollar, second-hand acoustic guitar from one of his friends. Shortly thereafter, Jimi joined his first band, The Velvetones. After a three-month stint, he left to pursue his own interests. The following summer Jimi became the proud owner of his first electric guitar, a Supro Ozark 1560S, and used it when he joined The Rocking Kings.
After a run-in with the law, facing two years in jail for riding in stolen cars, he opted to enlist in the US Army in 1961 and was assigned to the 101st Airborne Division stationed at Fort Campbell, Kentucky. He was discharged in 1962 due to an ankle injury. But the medical discharge didn't tell the full story. Jimi's platoon sergeant, James C. Spears, filed a report in which he stated, 'He has no interest whatsoever in the Army … It is my opinion that Private Hendrix will never come up to the standards required of a soldier. I feel that the military service will benefit if he is discharged as soon as possible.' On 31 May 1962, Captain Gilbert Batchman signed a report which alleged, among other things, 'Little regard for regulations, apprehended masturbating in platoon area while supposed to be on detail.' Jimi later claimed he had received a medical discharge after breaking his ankle during his 26th parachute jump. The military's loss was the music world's gain.
In 1962 he was living initially in Clarksville, Tennessee before moving with ex-army buddy Billy Cox to Nashville, playing a club called the Del Morocco in a group called The Kasuals, with Cox on bass. In December, Jimi moved to Vancouver to live with his grandmother. He then returned to Nashville via Biloxi before, in 1963, being invited to New York. He spent most of 1964 playing with The Isley Brothers, but quit when the tour reached Nashville. Jimi said, 'You get very tired playing behind other people all the time, you know. So I quit them in Nashville somewhere.' He joined Sam Cooke's package tour in November 1964 but, after missing the tour bus in Kansas City, made his way to Atlanta, Georgia, where he joined Little Richard's band. Jimi's younger brother Leon recalled to Mojo magazine how the pair had already met Little Richard in 1959: 'His mom and sister lived in Seattle. I took a bunch of greens over to a neighbour's house, Mrs Penniman, saw this black limo and Little Richard. I ran home to get Jimi, we rode bikes up there and sat in awe at him preaching at the Goodwill Baptist Church.'
Prior to his rise to fame, Jimi recorded 24 singles as a backing guitarist with American R&B artists, such as The Isley Brothers and Little Richard. Other studio work included that with Don Covay and The Goodtimers (1964, 'Mercy, Mercy'), Frank Howard and The Commanders (1965, 'I'm So Glad'), Rosa Lee Brooks (1965 'My Diary'), and in 1966 he appeared on singles by Curtis Knight ('How Would You Feel'), Lonnie Youngblood ('Go Go Shoes'), The Icemen '(My Girl) She's a Fox'), and Jimmy Norman ('You're Only Hurting Yourself').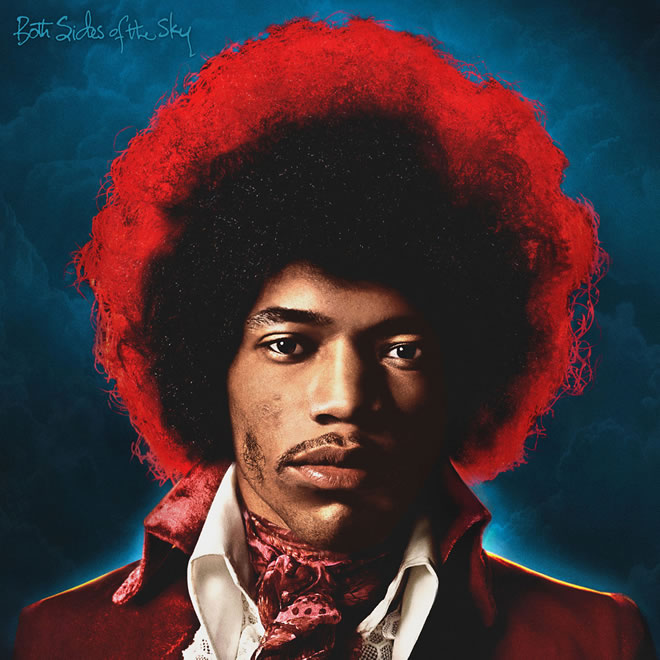 Throughout the latter half of 1965, and into the first part of 1966, Jimmy played the rounds of smaller venues throughout Greenwich Village, catching up with Animals' bassist Chas Chandler during a July performance at Cafe Wha? Chandler was impressed with Jimi's performance and returned again in September 1966 to sign Hendrix to an agreement that would have him move to London to form a new band.
Following Hendrix's arrival in London, Chandler began recruiting members for a band designed to highlight the guitarist's talents, the Jimi Hendrix Experience. Hendrix met Noel Redding at an audition for the New Animals, where Redding's knowledge of blues progressions impressed Hendrix, Chandler then began looking for a drummer and soon after, he contacted Mitch Mitchell through a mutual friend.
The Experience's first single, 'Hey Joe,' spent ten weeks on the UK charts, peaking at No.6 in early 1967. The debut single was quickly followed by the release of a full-length album Are You Experienced, a psychedelic musical compilation featuring anthems of a generation.
Touring the UK with Pink Floyd in 1967, Jimi stole the show every night. A review in the Coventry Evening Telegraph said: "More than 3,000 youngsters attended two houses at the Coventry Theatre. He [Hendrix] can play guitar with his teeth, lying on the stage, or behind his back – and do it better than most in a more conventional position. The result was a stunning, completely individual performance, which included hits like 'Hey Joe', 'The Wind Cries Mary' and 'Purple Haze' and the wildest version yet of 'Wild Thing'.
Although popular in Europe, the Experience's first U.S. single, 'Hey Joe', failed to reach the Billboard chart upon its release in 1967, the group's fortunes improved when Paul McCartney recommended them to the organizers of the Monterey Pop Festival. Rolling Stone's Alex Vadukul wrote: 'When Jimi Hendrix set his guitar on fire at the 1967 Monterey Pop Festival he created one of rock's most perfect moments. Standing in the front row of that concert was a 17-year-old boy named Ed Caraeff. Caraeff had never seen Hendrix before nor heard his music, but he had a camera with him and there was one shot left in his roll of film. As Hendrix lit his guitar, Caraeff took a final photo. It would become one of the most famous images in rock and roll.'
Jimi Hendrix built his own recording studio, Electric Lady Studios in New York City. The name of this project became the basis for his most demanding musical release, the 1968 double album Electric Ladyland, the Experience's most commercially successful release and their only number one album.
By 1969, Hendrix was the world's highest-paid rock musician. In playing the Woodstock Music & Art Fair in August 1969, Jimi joined forces with an eclectic ensemble called Gypsy Sun & Rainbows featuring Jimi Hendrix, Mitch Mitchell, Billy Cox, Juma Sultan, and Jerry Velez. Hendrix's performance featured a rendition of the U.S. national anthem, 'The Star-Spangled Banner', during which he used copious amounts of amplifier feedback, distortion, and sustain to replicate the sounds made by rockets and bombs. Immortalized in the 1970 documentary film, Woodstock, his guitar-driven version would become part of the sixties Zeitgeist.
During the first half of 1970, Hendrix sporadically worked on material for what would have been his next LP. Many of the tracks were posthumously released in 1971 as The Cry of Love. When the European leg of the Cry of Love tour began, Hendrix was longing for his new studio and creative outlet, and was not eager to fulfill the commitment. On September 2, 1970, he abandoned a performance in Aarhus after three songs, stating: "I've been dead a long time". Four days later, he gave his final concert appearance, at the Isle of Fehmarn Festival in Germany.
The following fans' accounts of attending a Jimi Hendrix concert are taken from the This Day in Music book Jimi Hendrix – The Day I Was There which contains over 500 stories from people that saw Jimi Hendrix live. Available in print and all digital formats.
ORFORD CELLAR
25 JANUARY 1967, NORWICH, UK
I WAS THERE: RICHARD PILCH, AGE 20
I was well into my music, especially live bands at the Orford Cellar. It was a small club, maybe 250 capacity, down some very old wooden steps which nowadays would be deemed a fire hazard. There was a small wooden stage and it was always dark in there. In one corner there were always US servicemen and 'ladies of the night'. There was a small bar run by Duoro and Jenny Potter, also acting as a cloakroom. I remember reading in the Eastern Daily Press that the Jimi Hendrix Experience were due to appear. He had a hit record out, 'Hey Joe', at the time. It wasn't until March that 'Purple Haze' was released.
In those days you couldn't buy a ticket in advance and you had to queue up. You could become a club member for a year for about 10 shillings (50p). The cost to get in was around 7/6 (37p). My friend and I got there as early as we could and already the queue was snaking around the block. We slowly got nearer and nearer, and with about 10 more people to go the bouncer said, 'That's it lads -no more room'. Fortunately, we knew the bouncer, Charlie, quite well so he wandered back and said, 'Hang about lads. I'll let you in when the crowd has gone.'
It was unbelievably crammed and there was no support, just a disco. It got hotter and hotter. Howard Platt, the promoter, came on about eight and said Jimi wasn't sure if he was going to do one set or two. We later found out Jimi wasn't there. The walls were starting to get very wet, condensation running down them. In Noel Redding's autobiography he states that the Norwich gig was the hottest he had ever played. Hendrix eventually came on about 9.45pm and by this time we were soaked in sweat. He was very loud but wonderful. We stood about four metres away from the band. What a brilliant night. He didn't have a huge repertoire and played a lot of blues. He did it all, playing with his teeth, behind his back, between his legs. During the last number, everything was turned up to 11 and the guitar smashing began. Because we were so near the front we could have picked up any piece of that guitar and sold it now on eBay, but hindsight's a wonderful thing. So we went home, our ears ringing, saying how much we'd remember this night in years to come. I was lucky enough to see Hendrix twice more, once in Dereham in Norfolk and on the bill at a concert in Boston, Lincolnshire, which also included Pink Floyd, The Move, Geno Washington, and Cream. All for £1!
ROUNDHOUSE
22 FEBRUARY 1967, LONDON, UK
I WAS THERE: VALERIE DUNN
I'd just started art school. We had rag week on and thought it would be really good if we could kidnap Jimi Hendrix. When we went to see him at the Roundhouse, we managed to get to the side of the stage before he went on stage and asked him, 'Look, it's our rag week. Would you mind if we just sort of kidnapped you?' He was so sweet. He just turned around and said, 'Guys, I would absolutely love you to, but really don't think it would be possible.' Then he went on stage and that was that. He politely declined.
To see him at the Roundhouse in those days – because it's a small venue – it was absolutely brilliant. Everything was so intimate. And you could talk to them.
WINTERLAND
4 FEBRUARY 1968, SAN FRANCISCO, CALIFORNIA
I WAS THERE: STEPHAN MIRAMON
I saw Jimi with The Soft Machine at Winterland. I came into the venue as dozens of multi-coloured balloons came down from the ceiling. I kicked one of them to the stage and Jimi kicked it back at the crowd. It was a special moment, as was the show that night. Everyone's jaw dropped. It was standing room only and I worked my way to the front. I was captivated by his presence and showmanship. It's a night I'll never forget, fuelled by some of the best LSD around. I couldn't go home that night, since I still lived with my parents and was too high to deal with the re-entry. I opted to
sleep on the beach. It was cold but magical, as was the show.
ATLANTA INTERNATIONAL
POP FESTIVAL
4 JULY 1970, BYRON, GEORGIA
I WASTHERE: MICHAEL PETRUZZI
In 1969 and 1970 I went to the Atlanta Pop Festivals. The '69 show was a blur. But the '70 show was great. Being in Georgia, reworks were everywhere. We were ducking the reworks. There were Roman candle duels. I remember meeting a girl on the way from the campground to the stage area. She had a medics' shirt on. We started chatting and ending up in the middle of the crowd, standing on a VW Beetle. We jumped up and down during Jimi's performance and then I remembered we were on top of some person's car. What was a VW doing in the middle of the crowd? I want to apologise to the owner of that VW.