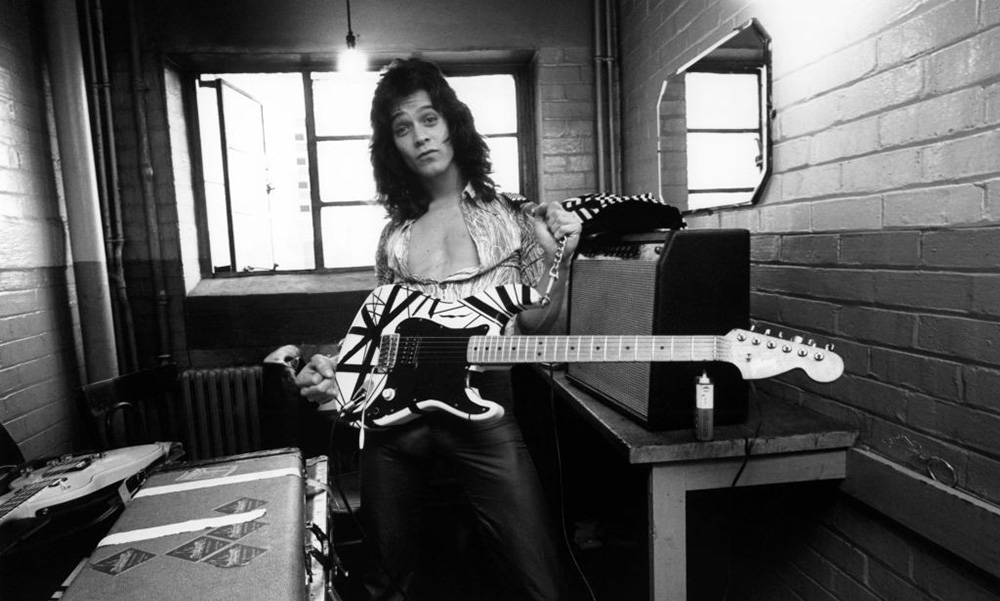 Jan Van Halen brought his family over to Pasadena, California, from the Netherlands in 1962. In those days, some 3,000 to 4,000 people would board a single ship for the weeklong voyage to the United States. With $50, a piano and the clothes on their backs he can scarcely have imagined the mayhem his offspring would wreak during the forthcoming decades on American popular culture.
Eddie Van Halen was born in Amsterdam, the capital of Netherlands on January 26, 1955. Age 6 his family moved from the Netherlands to the United States, settling in Pasadena, in the northeast of Downtown Los Angeles. Eddie and his older brother, Alex Van Halen, became naturalized US citizens.
The brothers learned to play the piano as children. Van Halen was never taught to read music; instead, he would watch recitals of Bach or Mozart and improvise. From 1964 through 1967, he won first place in the annual piano competition held at Long Beach City College. His parents wanted the boys to be classical pianists, but Van Halen gravitated towards rock music. Consequently, when Alex began playing the guitar, Eddie bought a drum kit for himself. However, after he heard Alex's performance of the Surfaris' drum solo in "Wipe Out", he gave Alex the drums and switched to the guitar.
Van Halen once claimed that he had learned almost all of Eric Clapton's solos note for note. "I've always said Clapton was my main influence," he said, "but Jimmy Page was actually more the way I am, in a reckless-abandon kind of way."
Van Halen and his brother Alex formed their first band with three other boys, calling themselves The Broken Combs, performing lunchtime gigs at Hamilton Elementary School in Pasadena. The brothers later attended Pasadena City College, as did the future Van Halen vocalist David Lee Roth.
In 1977, Kiss' Gene Simmons financed a 29-track Van Halen demo tape, entitled 'Zero' at Village Recorder studios in Los Angeles and with post-production overdubs completed at Electric Lady Studios in New York. Simmons even suggested changing their name to Daddy Longlegs. However, a very disappointed Simmons could do no more once Kiss management opined that VH "had no chance of making it" Later on the strength of Simmons' recommendation, Mo Ostin and Ted Templeman signed Van Halen to Warner Records releasing the band's debut the following year.
With their 1978 eponymous debut (recorded at Sunset Sound Recorders, Hollywood), Van Halen simultaneously rewrote the rules of rock guitar and hard rock in general. Eddie redefined what the electric guitar could do, developing a blindingly fast technique with a variety of self-taught two-handed tapping, hammer-ons, pull-offs, and effects.
Halen's 1978 instrumental solo "Eruption", (voted No.2 in Guitar World's 100 Greatest Guitar Solo's), showcased a solo technique called tapping, using both left and right hands on the guitar neck. Simply 102 seconds of molten-hot finger work, as Eddie attacks the fret-board, incorporating both classical scales and his tapping technique.
It was watching Led Zeppelin at the Los Angeles Forum in the early 1970s that changed his guitar playing forever. Eddy had a light bulb moment as Jimmy Page played the solo from "Heartbreaker", using both hands to tap out notes on the neck of the guitar. For Page, it was just one of his many live performance tricks, but Eddie took the technique and refined it, enabling him to play a seemingly impossible flurry of notes and pinched harmonics.
"It's like having a sixth finger on your left hand," he explained. "Instead of picking, you're hitting a note on the fretboard. "Eruption", was originally the guitarist's warm-up exercise, but when producer Ted Templeman overheard it, he wanted it on the album.
Within three months their debut album had gone gold, and five months later it went platinum. It would eventually sell over six million copies,
By the early 1980s, Van Halen was one of the most successful rock acts of the time. The album 1984 went five-times Platinum a year after its release. The lead single "Jump" became the band's first and only No.1 pop hit and garnered them a Grammy nomination.
Van Halen stood out from the pack. A different beast to Kiss and a long way from the British rock of Deep Purple, Black Sabbath and Zeppelin. The original Van Halen recorded four more platinum albums over the next five years, often within 12 to 14 days and immediately returning to the road to tour.
Released on New Year's Day, their sixth studio album 1984 rocketed to number two on the strength of the number one single "Jump." The album was held off the number position by Michael Jackson's Thriller, on which Eddie Van Halen made a guest appearance.
Eddie wrote the synth line for "Jump" circa 1981 but the other members of the band rejected it. In 1983, producer Ted Templeman asked Roth to take a listen to the unused song idea. Riding around in the back of his 1951 Mercury, with band roadie Larry Hostler driving, Roth listened repeatedly to the tune. To come up with a lyric for it, he remembered seeing a TV news report the night before about a suicidal jumper. Roth thought that one of the onlookers of such an event would inevitably yell "go ahead and jump".
At the peak of their success, Van Halen suddenly found themselves in crisis when Roth, seemingly unhappy at Eddie's burgeoning profile, quit in 1985 to pursue a solo career. However, the other three quickly recruited Sammy Hagar, and were relieved when their first post-Roth album, 5150 (1986), held the American No. 1 slot for four weeks. OU812 (1988) and For Unlawful Carnal Knowledge (1991) continued the Hagar-flavoured multi-platinum streak, with the live album Right Here, Right Now (1993) also doing good business.
Changes with singers are a complicated read: Sammy Hagar replaced Roth after the vocalist fell out with Van Halen in 1985. Hagar stayed with the band longer than Roth, helping the group remain a fixture on the top of the charts through the late '80s and early '90s. Halfway through the '90s the tensions between Hagar and Eddie began to arise. As the group prepped a greatest-hits album, Hagar was fired and Roth was brought back on to sing two cuts on the compilation. He was subsequently replaced by Gary Cherone, from Extreme, who lasted one album before quitting. After a half-decade hiatus, the band mounted a reunion tour with Hagar, who left in 2005 only to be replaced by Roth, the reunion lead to a new album called A Different Kind of Truth in 2011.
The band sold more than 80m albums worldwide. Eleven of their studio albums reached the US Top 10, and four reached No 1. In 2012, Van Halen was ranked top of Guitar World magazine's list of 100 Greatest Guitarists of All Time.
Van Halen engaged in countless projects outside of his eponymous band, he contributed the guitar solo to "Beat It", for Michael Jackson's Thriller, which became the biggest selling album of all time. Solo work and partnerships with his brother on film soundtracks as well as musical collaborations with Kiss bassist Gene Simmons, Nicolette Larson, Brian May, Sammy Hagar, Black Sabbath, Roger Waters, Toto guitarist Steve Lukather, and LL Cool J. In addition, Van Halen made cameo appearances in the music video for Frank Sinatra's "L.A. Is My Lady", an episode of Café Americain starring his then-wife Valerie Bertinelli, and an episode of Two and a Half Men.
Van Halen struggled with alcoholism and drug abuse. He began smoking and drinking at the age of 12, and he stated that he eventually needed alcohol to function. He entered rehabilitation in 2007 and later shared in an interview that he had been sober since 2008. In 1980, he met actress Valerie Bertinelli at a Van Halen concert in Shreveport, Louisiana. They married in California eight months later on April 11, 1981 and had one son, Wolfgang in 1991. In 2005, Bertinelli filed for divorce in Los Angeles after four years of separation.
Speaking at the Smithsonian's National Museum of American History in 2015, Van Halen discussed his life and the American Dream, saying "We came here with approximately $50 and a piano, and we didn't speak the language. Now look where we are. If that's not the American dream, what is?"
Eddie Van Halen died of a stroke at Saint John's Health Center in Santa Monica, California on 6 October 2020, at the age of 65.
Halen's death certificate issued in December 2020 cited his immediate cause of death as a cerebrovascular accident, or a stroke. He also had several underlying causes, including pneumonia, the bone marrow disorder myelodysplastic syndrome and lung cancer. The certificate also listed a number of "other significant conditions", including skin cancer on his head and neck and an irregular heart rate.
Rage Against The Machine's Tom Morello was one of many musicians that gave glowing tributes. "Eddie Van Halen was the Mozart of our generation. He had the kind of talent that maybe comes around once a century."
Important Dates In The Life Of Eddie Van Halen:
6 Oct 2020
Eddie Van Halen
, the revered guitarist and co-founder of the rock band Van Halen died at the age of 65, the Dutch-American musician had been receiving treatment for throat cancer. Halen, whose full name was Edward Lodewijk Van Halen, and his brother Alex Van Halen began performing together as teens, but formed the core of what would later become Van Halen after meeting David Lee Roth in the early seventies. Van Halen have sold more than 80 million worldwide, making them one of the best-selling groups of all time.
5 Apr 2012
Jim Marshall, who made rock 'n' roll rawer and noisier by inventing the Marshall amplifier died at a hospice in London, aged 88. His amplifiers and speakers known as 'Marshall stacks' were used by
Jimi Hendrix
,
Eric Clapton
,
Jimmy Page
and almost every other major rock guitarist in the '60s and '70s and by the next generation of guitarists as well, including
Kurt Cobain
,
Eddie Van Halen
and
Slash
.
14 Dec 2004
The funeral took place in Arlington, Texas for Damageplan and Pantera guitarist Dimebag Darrell,
Eddie Van Halen
, placed Darrell's original black and yellow stripes guitar into the KISS Kasket he was buried in. Several thousand fans and friends gathered at the Arlington Convention Center in Arlington, to mourn the guitarist's death. Darrell was shot five times in the back of the head during a gig at the Alrosa Villa Club in Columbus on 8th Dec 04 by a mentally ill former US Marine. Damageplan's drum technician, John Brooks, and tour manager, Chris Paluska, were both injured in the incident.
24 Mar 1986
Van Halen
released their seventh studio album 5150 (pronounced fifty-one-fifty) which became their first album to top the US chart. The first of four albums to be recorded with lead singer Sammy Hagar, who replaced David Lee Roth was named after Eddie Van Halen's home studio, 5150, in turn named after a California law enforcement term for a mentally disturbed person.
30 Apr 1983
Michael Jackson
started a three week run at No.1 on the US singles chart with 'Beat It', his fifth solo US No.1. The third single from the singer's
Thriller
album featured
Eddie Van Halen
on the song's distinctive overdriven guitar solo, but Halen was prevented by his record label from appearing in the music video.
30 Nov 1982
Michael Jackson
's
Thriller
album was released. It spent 190 weeks on the UK album chart became the biggest selling pop album of all time, with sales over 66 million copies. Seven singles were released from the album, including 'Beat It', which featured guitarists
Eddie Van Halen
and Steve Lukather on 'Billie Jean'.
11 Apr 1981
Eddie Van Halen
married actress Valerie Bertinelli, co-star of the 1980s television hit, One Day at a Time. The two had met eight months earlier when Bertinelli's brother took her to a Van Halen concert in Shreveport, Louisiana.
10 Feb 1978
Van Halen
released their self-titled debut studio album. Peaking at No.19 on the Billboard 200 the album went on to sell more than 10 million copies in the US. The album contains some of Van Halen's most well-known songs, including 'Runnin' with the Devil', 'Ain't Talkin' 'bout Love', 'Jamie's Cryin'', and their cover of The Kinks' 'You Really Got Me'. The 1 minute and 42 second Eddie Van Halen instrumental 'Eruption' featured on the album is considered one of the best electric guitar solos of all time and popularised the technique of two-handed tapping.