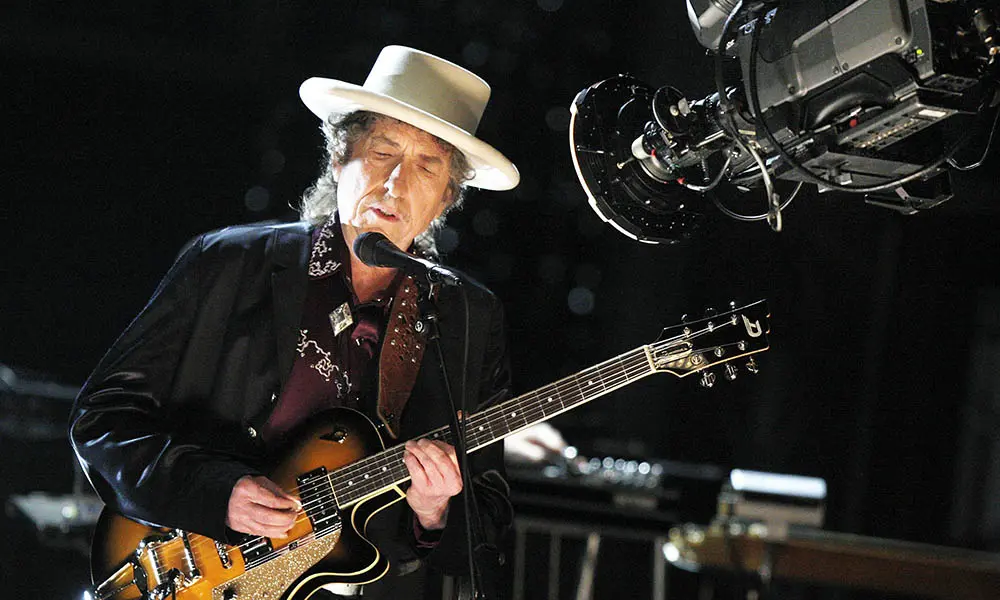 On 13th Feb 1969, Bob Dylan recorded versions of "Lay, Lady, Lay", at Columbia Recording Studios in Nashville, Tennessee. "Lay Lady Lay" was originally written for the soundtrack of the movie Midnight Cowboy, but wasn't submitted in time to be included in the finished film. The song has gone on to become a standard and has been covered by numerous bands and artists over the years, including The Byrds, Ramblin' Jack Elliott, The Everly Brothers, Neil Diamond, Melanie, The Isley Brothers, Duran Duran, Hoyt Axton and Isaac Hayes amongst others.
His vast influence on music is matched only by Elvis Presley and The Beatles, (and even the Beatles' shift toward introspective songwriting wouldn't have happened without his towering influence). Dylan's gift was to marry poetic lyrics with catchy tunes, and as a vocalist, he broke the notion that a singer must have a conventionally good voice in order to perform, redefining the vocalist's role in popular music in the process.
With his contemporaries, including McCartney, Jagger, Richards and Paul Simon, now also in their 70's, the old troubadour is still working as hard as any of them. In the 20 years up to 2010, he performed 2,045 concerts, although he now made his shows so idiosyncratic that not more than half the audience could probably tell which particular Dylan classic he was performing at any given time.
Robert Zimmerman was born on 24th May 1941, in St. Mary's Hospital in Duluth, Minnesota. He lived in Duluth until age six, when his father was stricken with polio and the family returned to his mother's hometown, Hibbing, where Zimmerman spent the rest of his childhood.
Bob spent much of his youth listening to the radio – first to blues and country stations and later, to early rock and roll. He formed several bands while he attended Hibbing High School, including The Shadow Blasters and The Golden Chords. In his 1959 school yearbook, Robert Zimmerman listed as his ambition "To follow Little Richard", with whom he was obsessed.
Following his graduation in 1959, he began studying art at the University of Minnesota in Minneapolis. While at college, he began performing folk songs at coffeehouses under the name Bob Dylan, taking his last name from the Welsh poet Dylan Thomas.
Finding his way to New York City in January of 1961, Dylan immediately made a substantial impression on the folk community. Initially inspired by the songs of Hank Williams, Woody Guthrie and Robert Johnson, Dylan incorporated in his early song lyrics a variety of political, social and philosophical, as well as literary influences, while drawing on many traditional folk song forms and melodies, including highly topical and witty 'talking blues' tales. They defied existing pop music convention, sometimes extended over many verses, appealing, along with the young Dylan's persona, sometimes world-weary, sometimes mischievous, to the then-burgeoning alternative music scene, almost entirely folk-based.
Columbia Records A&R man John Hammond sought out Dylan on the strength of a review, and signed the songwriter in late 1961, producing Dylan's eponymous debut album, a collection of folk and blues standards that surprisingly boasted only two original songs. Over the course of 1962 Dylan began to write a large batch of original songs, many of which were political protest songs in the vein of his Greenwich Village contemporaries. These songs were showcased on his second album, 'The Freewheelin' Bob Dylan'.
Between April 1962 and April 1963 he claimed to have written more than 100 songs, being so prolific in this period that he said he was afraid to go to sleep at night, for fear he would miss a song.
The following fans' accounts of seeing Bob Dylan live are taken from the This Day in Music book Bob Dylan – The Day I Was There.
GERDES FOLK CITY
MAY 1961, NEW YORK CITY, NEW YORK
I WAS THERE: BONNIE BEECHER
He came to my apartment and said, 'It's an emergency! I need your help! I gotta go home an' see my mother!' He was talking in the strangest Woody Guthrie-Oklahoma accent. I don't know if she was sick, but it was an unexpected trip he had to make up to Hibbing and he wanted me to cut his hair. He kept saying, 'Shorter! Shorter! Get rid of the sideburns!' So I did my very best to do what he wanted and then in the door came Dave Morton, Johnny Koerner, and Harvey Abrams. They looked at him and said, 'Oh my God, you look terrible! What did you do?' And Dylan immediately said, 'She did it! I told her just to trim it up a little bit but she cut it all off. I wasn't looking in a mirror!' And then he went and wrote that song 'Bonnie, why'd you cut my hair? Now I can't go nowhere!' He played it that night in a coffeehouse and somebody told me recently that they had been to Minnesota and somebody was still playing that song, 'Bonnie, Why'd You Cut My Hair?' It's like a Minnesota classic! And so I've gone down in history!
JONES STREET
FEBRUARY 1963, NEW YORK CITY, NEW YORK
I WAS THERE: DEEANNE HUNSTEIN
The reason my husband Don was taking pictures at that time was because Columbia Records had already issued Bob Dylan's very first album and they knew he was on the road to being a popular artist and they had no pictures. So, they said to Don, who was on the staff there, go down and take some pictures of him.
Don went over to Dylan's apartment, where the singer was living with his then girlfriend Suze Rotolo. They were young, I think she was 18. They had a little apartment in a brownstone, up on the fifth floor walk-up. So, he took a bunch of pictures, then they went outside and it was a very cold and nasty day with a lot of snow in the street.
As they walked toward him, Don started shooting o pictures and because it was so cold out there they didn't want to do it for very long. So he did one roll of black and white and one roll of colour. He just did it in a very short time as it was a very cold day. It just so happened when he turned over what he thought were some of the best pictures with the art department, they really loved that picture of the two of them walking down the street. It became the cover for The Freewheelin' Bob Dylan.
An awful lot of people know that picture and didn't connect it with Don's name. I think that the album cover does give him credit but people never paid much attention to album cover photos or the photographers. That still remains one of the most popular pictures and a lot of people want it. A lot of people write the story, what that picture means to them. They say, yes, it brings back part of their youth. Even young people today, they look back, it says to them here are these young people walking in the middle of a harsh environment. It has become a kind of symbol of youth starting o in a harsh environment, but with hope for the future.
MONTEREY FOLK FESTIVAL
18 MAY, 1963, MONTEREY, CALIFORNIA
I WAS THERE: BARBARA DANE
He went down very badly. He didn't play for very long, and it felt like he was on for an hour. I think people were laughing. Even though he did three of his hardest-hitting protest songs, 'Talkin' John Birch Paranoid Blues,' 'A Hard Rain's a-Gonna Fall' and 'Masters of War,' the response was so bad it prompted Joan Baez to walk out unannounced and admonish the audience. She wanted everyone to know that this young man had something to say. He was singing about important issues, and he was speaking for her and everyone who wanted a better world. They should listen, she said – she ordered them. Listen! They performed Dylan's 'With God on Our Side' together, their voices an odd match, the tension between their styles made their presence together all the more compelling. They left the stage with people cheering.
CIVIC CENTER
12 DECEMBER, 1965, SAN JOSE, CALIFORNIA
I WAS THERE: GHRAYDON WALLICK, AGE 19
In 1965 I saw Bob Dylan once more. Earlier in the day I had run away from an angry Marine Sergeant who was lying and trying to shanghai me into the Vietnam War. So it was a day of contrasts for sure.
I arrived at the Civic a couple of hours early because I had painted a portrait of Dylan (from a photo on one of his early album covers) and I wanted to give it to him. In those innocent times, crowd security had a softer face and this one was attached to a kindly old man. Without so much as a metal detector wand or weapons pat down, he said, 'follow me', then dutifully led me from the ticket window, through the front doors, down the centre isle of the auditorium, up the steps to the stage, across the stage, down the steps to the back stage, to a back stage door. He pointed with his thumb and said, 'I think he's in there'. Then he walked away leaving me, a 19-year old kid on the opposite side of the door from my hero. I was kind of confused but thought, 'What the Hell'. I knocked on the door. A very nervous (paranoid actually) voice said, 'Who's there? What do you want?' I replied 'My name is Grady and I have something for Bob Dylan.' He shot back, 'Slide it under the door man'. 'It's a painting in a frame. It won't go under the door,' I informed him. 'OK, OK, hold on a minute man,' sounds of many anxious feet shuffling away at speed. In those times even a stray marijuana seed in your pocket could land in you in prison.
A few moments later, the door opens a crack and a paranoid young man grabs the painting from my outstretched hand and quickly slams the door shut. His 'thank you' was nearly clipped in two between the door's edge and frame. My, 'You're welcome' hit the door and bounced back at me sticking to the fresh barbs of my burr cut hairdo.
I was alone back stage so… I walked back across the stage and took a seat in the front row and centre and waited for the show to start. A few minutes later Dylan and the Band walked on stage and did sound checks and rehearsals. I was the only person in the huge auditorium and they were playing just for me. They did this for about ten minutes, then walked back off stage leaving me along with my grin aching from strain.
As the theatre eventually filled up I took my assigned seat further back from the stage. A young girl eventually came and sat down in her seat next to me. I couldn't help myself, I had to tell somebody. I told her what had just happened. She said, 'That's Amazing!' Then she informed me that it was her job to get the band sodas at the break and deliver them backstage for the band. Then she asked me if I wanted to help her. Out of the thousands of people who filled that auditorium that night I was sitting next to the one!
Of course I helped her and backstage I saw the same paranoid dude that took my painting. He looked at me and said, 'Who
are you?' I said, 'My name is Grady, I brought the painting for Dylan'. He said, 'Oh, the painting, he loves it man! He's in his dressing room looking at it right now!'
I didn't ever get to meet him but I saw my painting on top of the grand piano waiting for the roadies to pack it up. I left on a high. It's lasted for many decades.
Bob Dylan – The Day I Was There contains over 400 eyewitness accounts from fans who saw Dylan live in concert and worked with the great man. Available in print and all digital formats.