What Happened on the 22nd September in Music History
Scroll down the page to see all the music headlines, stories and events for September 22 throughout music history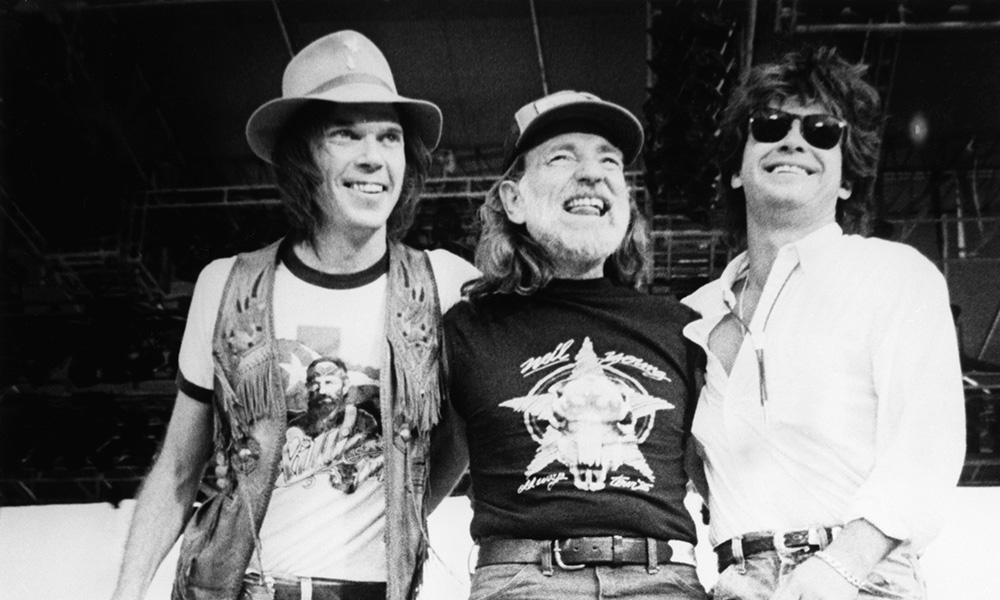 Neil Young, Willie Nelson, And John Mellencamp Organize The First Farm Aid
On September 22, 1985, the first Farm Aid concert was held at the Memorial Stadium in Champaign, IL. The star-heavy event featured performances by Bob Dylan, Billy Joel, Willie Nelson, John Mellencamp, Neil Young, B.B. King, Loretta Lynn, Roy Orbison, and Tom Petty, among many others. The inspiration behind Farm Aid came a few months earlier at the Live Aid concert, during which Dylan spoke about the crisis facing family farmers – many of whom were in danger of losing their farms due to massive mortgage debts. The impassioned speech inspired fellow singer-songwriters Willie Nelson, John Mellencamp, and Neil Young to organize the now long-running annual benefit concert. The inaugural event attracted roughly 80,000 music fans and raised over $9 million for US family farmers.
In 1969, Canadian-American roots-rockers The Band released their self-titled album. The project followed their 1968 smash debut, Music From The Big Pink, which included three songs written or co-written by their former boss, Bob Dylan. The Band, also known as The Brown Album, was viewed as a concept album of sorts, with songs focusing on the people, places, and traditions of a long-forgotten America.
In 1972, David Bowie kicked off the North American leg of his Ziggy Stardust tour. The run promoted the studio albums Hunky Dory, The Rise and Fall of Ziggy Stardust and the Spiders from Mars, and Aladdin Sane. Bowie was backed by his trusty group, the Spiders from Mars.
In 2001, "A Tribute to Heroes" was aired commercial-free on most of the major US TV networks. Featuring performances by Bruce Springsteen, Stevie Wonder, and U2, among others, the benefit supported victims of the 9/11 attacks and their families.
In 1958, Elvis Presley began his stint in the US Army. At the time of his enlistment, he was widely regarded as the most well-known name in the world of entertainment.
In 1991, Bryan Adams made chart history when "(Everything I Do), I Do It For You," spent sixteen consecutive weeks at the top of the UK singles chart, becoming the longest uninterrupted run at the time.
In 1990, Garth Brooks' album No Fences entered the US album chart. The title was eventually named the best-selling country album of all time.
In 2015, A US district judge ruled that the original copyright to "Happy Birthday" was invalid. Much to the delight of film and TV producers, the song could become public domain.
Looking for more things that happened on this day in music?
Keep scrolling for all of the headlines for September 22.
BORN ON SEPTEMBER 22:
1943: Toni Basil
1951: David Coverdale (Whitesnake)
1953: Richard Fairbrass (Right Said Fred)
1956: Debbie Boone
1957: Nick Cave
1958: Joan Jett
1975: Mystikal
1983: Will Farquarson (Bastille)
1991: Moneybagg Yo
Looking for more artists born on this day?
Keep scrolling for all of our September 22 birthdays.
---
What to find another day?
---
September 22nd
22 Sep 2021
American session musician, orchestra leader, and double bassist Bob Moore died age 88. He was a member of the Nashville A-Team during the 1950s and 1960s and performed on over 17,000 documented recording sessions, backing acts such as
Elvis Presley
,
Patsy Cline
,
Bob Dylan
and
Roy Orbison
.
22 Sep 2018
English musician and singer Chas Hodges died from pneumonia on aged 74. Hodges had worked with British producer Joe Meek as a session musician, backing Jerry Lee Lewis and Gene Vincent. He later joined Heads Hands and Feet, (with guitarist Albert Lee). With Chas & Dave he scored the 1982 UK No.2 single 'Ain't No Pleasing You'. He also played piano for short-lived supergroup the Rockers, which featured Roy Wood, Phil Lynott and John Coghlan.
22 Sep 2018
Paul McCartney
was at No.1 on the US chart with his 17th solo studio album Egypt Station. The name 'Egypt Station' is shared by one of McCartney's paintings from 1988, from which the cover art is derived. It became his first No.1 album in the US since 1982's Tug of War and his first to debut atop the Billboard 200.
22 Sep 2015
A US District Judge ruled that the original copyright to 'Happy Birthday' was invalid and the song would now be entirely in the public domain. The copyright was obtained by the Clayton F. Summy Co. from the song's writers, sisters Mildred and Patty Hill and bought for $15 million in 1988 by Warner / Chappell Music Inc.
22 Sep 2011
Research conducted by car maker SEAT found that
Queen
's '
Bohemian Rhapsody
' was the song most likely to be found on British iPods, with more than 40% of owners having the hit on their players.
The Beatles
had four songs in the list, a feat also matched by
Coldplay
. Other favourites included
U2
, The Killers and
Rihanna
.
22 Sep 2007
The Game was given a conditional discharge at Manhattan's Criminal Court after being charged with impersonating a police officer. Police said the star told a cab driver he was an undercover officer, ordering him to run several red lights. The rapper (real name Jayceon Taylor), claimed the cab driver noticed they were being followed and asked who was in the car, He said he told the driver they were the hip-hop police, and the driver decided on his own to run the red lights.
22 Sep 2007
Britney Spears
was charged with hit-and-run and driving without a valid licence after she was accused of hitting a parked car and driving away from a Los Angeles car park on 6 August. The owner of the car filed an accident report on 9 August at the North Hollywood Community Police Station. The city attorney's office did not know whether Ms Spears' car had been damaged, nor did he know the extent of damage to the other car.
22 Sep 2005
Jimmy Page
was made an honorary citizen of Brazilian city Rio de Janeiro for his work helping its street children. The
Led Zeppelin
guitarist had opened Casa Jimmy (Jimmy's House) in 1998 which had so far supported more than 300 children.
22 Sep 2004
Cat Stevens, who now went by the name of Yusuf Islam, was escorted from a diverted transatlantic flight and refused entry into America by FBI agents. His name showed up on a US watch list after United Airlines Flight 919 had taken off from London. The flight landed in Maine where Islam, who was traveling with his 21-year-old daughter, was detained and questioned.
22 Sep 2001
'A Tribute to Heroes' was aired commercial-free on most of the major US TV networks. The live program was organised to raise money following the terrorist attacks on the Pentagon and New York's World Trade Center.
Neil Young
,
Tom Petty
,
Paul Simon
,
Billy Joel
,
U2
, Limp Bizkit,
Bruce Springsteen
and
Pearl Jam
all performed. Manning the telephones to take pledges were celebrities including Jack Nicholson, Jim Carrey, Whoopi Goldberg, Goldie Hawn, Robin Williams, Meg Ryan, Cuba Gooding Jr., Kurt Russell, Adam Sandler and many more.
22 Sep 1999
Diana Ross was arrested on Concorde after an incident at Heathrow Airport. The singer claimed that a female security guard had touched her breasts when being frisked; Ross retaliated by rubbing her hands down the security guard.
22 Sep 1992
Def Leppard
were forced to cancel two US shows after their sound-equipment truck was found abandoned, after one of the bands driver's had attempted to rob a store. The driver was later charged of possessing drugs and criminal damage.
22 Sep 1991
Bryan Adams
made chart history when '(Everything I Do), I Do It For You', had its twelfth consecutive week as the UK No.1 single.
22 Sep 1990
Garth Brooks album 'No Fences' entered the US album chart. It went on to become the biggest selling country album of all time and sold over 13m copies in the first five years of release.
22 Sep 1990
Nirvana
played their biggest gig to date when they appeared at the Motor Sports International Garage in Seattle. Drummer Dave Grohl who would audition for the band in a few days time was in the audience of 15,000 people.
22 Sep 1985
The first Farm Aid benefit concert was held before a crowd of 80,000 people at the Memorial Stadium in Champaign, Illinois. Organized by Willie Nelson, John Mellencamp and
Neil Young
, the event had been spurred on by
Bob Dylan
's comments at
Live Aid
earlier in that year that he hoped some of the money would help American farmers. The star studded line-up of country stars included: Alabama, Hoyt Axton,
Glen Campbell
,
Johnny Cash
, Charlie Daniels Band, John Denver,
Bob Dylan
, John Fogerty, Vince Gill, Merle Haggard, Emmylou Harris, Waylon Jennings, George Jones, Kris Kristofferson, Loretta Lynn, Roger Miller, Nitty Gritty Dirt Band, Willie Nelson, Charley Pride, Bonnie Raitt, Kenny Rogers.
22 Sep 1981
American composer Harry Warren died aged 88. He wrote over 800 songs including 'I Only Have Eyes For You', (a hit for The Flamingos and
Art Garfunkel
), 'You Must Have Been a Beautiful Baby', 'Jeepers Creepers', 'That's Amore' and 'Chattanooga Choo Choo'. Warren's songs have been featured in over 300 films.
22 Sep 1979
Def Leppard
had their first major live review when UK music weekly Melody Maker reviewed a gig the band had played in Wolverhampton. With a 15 year-old drummer the band had just released their debut 3-track single.
22 Sep 1979
Gary Numan had his second and final UK No.1 single with 'Cars'. Also on this day Gary Numan went to No.1 on the UK album chart with 'The Pleasure Principle.'
22 Sep 1973
The
Rolling Stones
scored their eighth UK No.1 album when 'Goats Head Soup' started a two-week run at the top of the charts. Also a US No.1.
22 Sep 1972
22 Sep 1969
22 Sep 1969
The Band released their self-titled album, which peaked at No.9 on the US chart, and included the tracks; 'Rag Mama Rag', 'Up on Cripple Creek' and 'The Night They Drove Old Dixie Down'. In 2009, the album was preserved into the National Recording Registry because the album was 'culturally, historically, or aesthetically important, and reflects life in the United States.'
22 Sep 1967
The Doors
appeared on the Murray the K show on WPIX-TV in New York City performing 'People Are Strange' and 'Light My Fire.'
22 Sep 1965
San Francisco band The Great Society, featuring Grace Slick and her then-husband Jerry Slick on drums, made their live debut at The Coffee Gallery, North Beach, California.
22 Sep 1964
Herman's Hermits were at No.1 on the UK singles chart with the
Carole King
& Gerry Goffin song 'I'm Into Something Good', the group's only UK No.1.
22 Sep 1962
The Springfields (Dusty Springfield her brother Tom and their friend, Tim Field) had 'Silver Threads and Golden Needles', enter the US Top 20 and became the first British vocal group to chart that high in America.
22 Sep 1958
After receiving special permission from the US Army,
Elvis Presley
gave one last press conference at the Military Ocean Terminal in Brooklyn. He then joined the rest of the 3rd Armored Division on the USS General Randall for a voyage to Bremerhaven, Germany.
Born on this day in music
22 Sep 1991
DeMario DeWayne White Jr. known professionally as Moneybagg Yo, American rapper. His fourth album, A Gangsta's Pain, released in April 2021 became his first chart-topping album on the US chart.
22 Sep 1983
Will Farquarson, bass and guitar with Bastille who won a Brit award and had a No.1 U.K. album with Bad Blood.
22 Sep 1982
Billie, UK singer, actress, (1998 UK No.1 single 'Because We Want To'). Once married to former
Radio 1
, Virgin radio DJ and TV presenter Chris Evans.
22 Sep 1975
Mystikal, (Michael Tyler), US rapper, (2001 US No.1 & UK No.7 single 'Stutter').
22 Sep 1965
Adam Cairns, guitar, vocals with alternative metal band from Northern Ireland Therapy? who had the 1993 UK No.9 single 'Screamager'.
22 Sep 1958
Joan Jett, American rock guitarist, singer, songwriter, producer. Founding member of The
Runaways
and with Joan Jett & the Blackhearts scored the 1982 US No.1 & UK No.4 single 'I Love Rock 'n' Roll'. She is also known as the Godmother of Punk.
22 Sep 1957
Nick Cave, Australian singer, songwriter, who had the 1995 UK No.11 single with
Kylie Minogue
, 'Where The Wild Roses Grow'. Cave fronted the Birthday Party, one of the most extreme and confrontational post-punk bands of the early 1980s. In 2006, he formed the garage rock band Grinderman.
22 Sep 1957
Peter Jones, Public Image Ltd, (1983 UK No.5 single 'This Is Not A Love Song').
22 Sep 1956
Debby Boone, US singer. Daughter of 50s singer Pat Boone. Ten weeks at No.1 on the US singles chart with 'You Light Up My Life', in 1977. The longest stay at the top of the charts since Guy Mitchell's 'Singing The Blues. A No.48 in the UK.
22 Sep 1956
American musician Rhett Forrester best known as the lead singer for New York-based band Riot from 1981 until 1984. Forrester was shot and killed at a Northwest Atlanta intersection after he refused to give up his vehicle in an attempted carjacking, he was 37 years old.
22 Sep 1953
Richard Fairbrass, singer, Right Said Fred, (1991 US No.1 & UK No.2 single 'I'm Too Sexy', 1993 UK No.1 album 'Up').
22 Sep 1952
Mark Panker, Guitar, American Music Club, (1993 album 'Mercury').
22 Sep 1951
David Coverdale, English rock singer with Whitesnake who scored the 1987 US No.1 & UK No.9 single 'Here I Go Again'). Coverdale was the lead singer of
Deep Purple
from late 1973 to 15 March 1976.
22 Sep 1943
Toni Basil, US singer actress and dancer, (1982 US No.1 & UK No.2 single 'Mickey'). Basil worked as
David Bowie
's choreographer on his Diamond Dogs tour in 1974 and on his Glass Spider tour of 1987.
22 Sep 1942
English musician Mike Patto who was primarily notable as lead singer for Spooky Tooth and Boxer. He first became vocalist and frontman for The Bo Street Runners, who won a TV band competition Ready Steady Win during 1964. Patto died of throat cancer on 4 March 1979 aged 36.
22 Sep 1922
American singer Raymond Edwards from The Silhouettes. The doo wop/R&B groups single 'Get A Job' was a No.1 hit on the Billboard R&B singles chart and pop singles chart in 1958. The doo-wop revival group Sha Na Na derived their name from the song's lyrics. 'Get A Job' is included in the soundtracks of the film American Graffiti, Trading Places and Stand By Me. Edwards died on March 4th 1997.