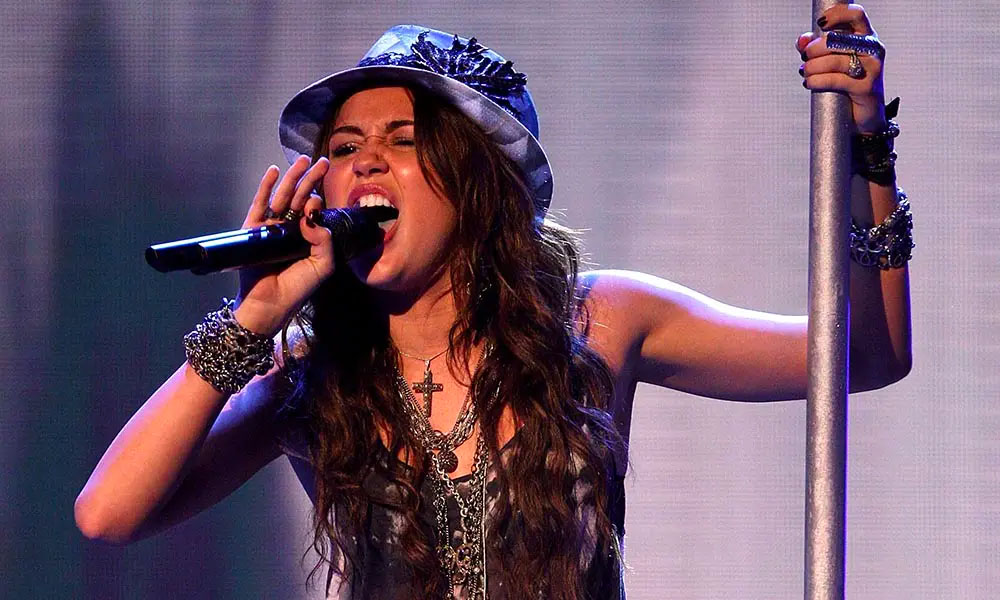 American singer, songwriter and actress Miley Ray Cyrus was born Destiny Hope Cyrus on November 23, 1992. Her parents nicknamed her "Smiley", which they later shortened to "Miley", because she often smiled as an infant.
Out of six siblings, Cyrus is the second daughter of country singer Billy Ray Cyrus. Her godmother is singer-songwriter Dolly Parton.
In 2001, when Cyrus was eight, she and her family moved to Toronto, Canada, while her father filmed the television series Doc. After Billy Ray Cyrus took her to see a 2001 Mirvish production of Mamma Mia! at the Royal Alexandra Theatre, Miley told him, "This is what I want to do, I want to be an actress." She began to take singing and acting lessons at the Armstrong Acting Studio in Toronto.
Cyrus attended Heritage Elementary School in Williamson County while she and her family lived in Thompson's Station, Tennessee. When she was cast in Hannah Montana, the family moved to Los Angeles and she attended Options for Youth Charter Schools studying with a private tutor on set.
Cyrus's first acting role was as Kylie in her father's television series Doc. In 2003, she received credit under her birth name for her role as "Young Ruthie" in Tim Burton's Big Fish. During this period she auditioned with Taylor Lautner for the feature film The Adventures of Sharkboy and Lavagirl in 3-D. Although she was one of two finalists for the role, she chose to appear in Hannah Montana instead
She has been dubbed the "Pop Chameleon", she has been recognized for her musical versatility and continual reinvention in her sound and style.
Cyrus became the subject of media and public scrutiny following her performance of "We Can't Stop" (2013) and "Blurred Lines" (2013) with Robin Thicke at the 2013 MTV Video Music Awards. Clad in a flesh-colored latex two-piece, she touched Thicke's crotch area with a giant foam finger and twerked against his crotch.
Over the years, Cyrus's song "Party in the U.S.A." gained popularity in American culture on holidays and historic events. A resurgence its popularity occurred in the wake of the killing of Osama bin Laden on May 2, 2011. The song's official YouTube video was flooded with comments regarding the killing of bin Laden and it was immediately deemed a celebratory anthem for the event.
Cyrus has been open about her recreational use of cannabis. She told Rolling Stone in 2013 that it was "the best drug on earth" and called it, a "happy drug". While accepting the Best Video Award at the 2013 MTV Europe Music Awards, Cyrus smoked what appeared to be a joint onstage; this was removed from the delayed broadcast of the show in the United States. Prior to undergoing vocal cord surgery in November 2019, and after her post-operative recovery, Cyrus has stated that she has stayed sober from the use of cannabis and alcohol.
She is an avid supporter of the City of Hope National Medical Center in California, having attended benefit concerts in 2008, 2009 and 2012. In 2008 and 2009, during her Best of Both Worlds and Wonder World Tours, for every concert ticket sold, she donated one dollar to the organization. Cyrus also supports over 40 other well-known charities.
"Wrecking Ball" (2013) debuted at number fifty on the Billboard Hot 100, and subsequently became Cyrus' first number-one song after the release of its controversial music video. Nine weeks later, the track returned to number one, and consequently had the largest gap between number-one sittings in Billboard Hot 100 history within a single chart run. The song was originally written with Beyoncé in mind.
As of 2023, Cyrus has sold over 55 million singles and 20 million albums worldwide.
In June 2017, Cyrus performed at One Love Manchester, along with Justin Bieber, the Black Eyed Peas, Coldplay, Katy Perry, Take That, Pharrell Williams, and Liam Gallagher. The televised benefit concert was organized by Ariana Grande following the Manchester Arena bombing on her concert two weeks earlier.
In November 2018, Cyrus and her then-partner Liam Hemsworth's home burned down in the Woolsey Fire in California. Several celebrities were among those who lost their houses, including Kim Basinger, Fred Durst, Daryl Hannah and Neil Young, and Robin Thicke.
Her accolades include nineteen Teen Choice Awards, four World Music Awards, three MTV Video Music Awards, two Billboard Music Awards, one People's Choice Award, a GLAAD Media Award, and 8 Guinness World Records.
"Flowers" the lead single from Cyrus's eighth studio album, Endless Summer Vacation (2023) was a massive commercial success, setting several records and becoming Cyrus' biggest hit. It broke the record as the most streamed song in a week on Spotify during both its first and second week, and broke the record as the fastest song in Spotify history to surpass one billion streams, doing so in 112 days. "Flowers" reached number one in 43 countries.