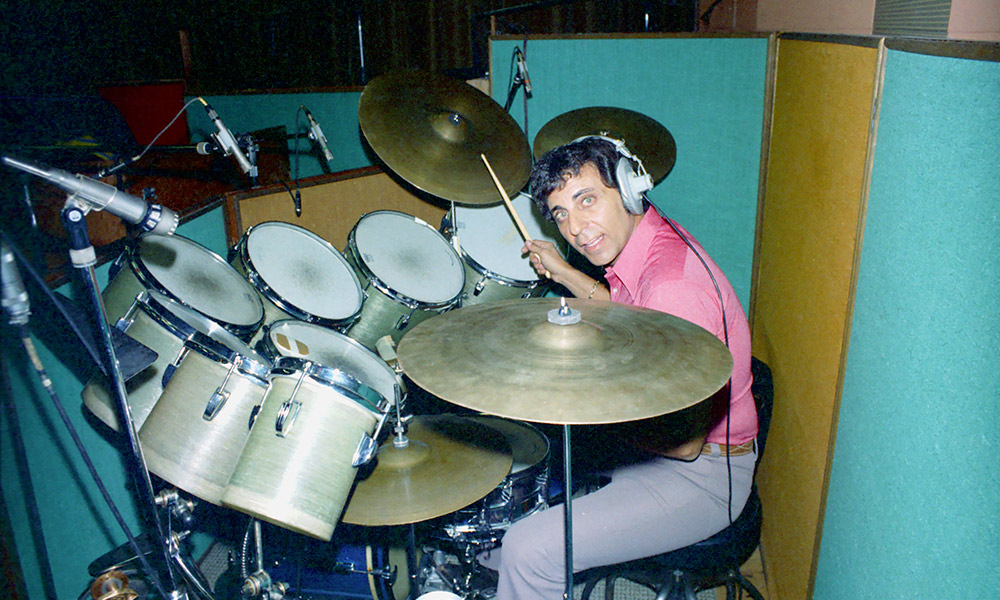 Hal Blaine may well be the most prolific drummer in rock and roll history. He's certainly played on more hit records than any drummer in the rock era, including 40 number one singles and 150 that made the Top Ten. His first number one single was in 1961, using a brush on the snare and a soft mallet on the tom-tom for Elvis Presley's 'Can't Help Falling in Love.'
From 1966 to 1971, Blaine was featured on six straight Grammy Record of the Year-winning singles: 'A Taste of Honey' by Herb Alpert and the Tijuana Brass; 'Strangers in the Night' by Frank Sinatra; 'Up, Up and Away' and 'Aquarius/Let the Sunshine In' by the 5th Dimension; and 'Mrs. Robinson' and 'Bridge Over Troubled Water' by Simon and Garfunkel.
He was a core member of the Wrecking Crew, the close-knit group of Los Angeles session musicians who in the early 1960s began dominating rock 'n' roll recording in Los Angeles. Along with guitarists like Glen Campbell and Tommy Tedesco, bassists like Carol Kaye and Joe Osborn, and keyboardists Leon Russell and Don Randi. Blaine claimed to have invented the name 'the Wrecking Crew' as he thought the musicians were a 'destructive force' in the conservative studio environment of the time.
His drumming can be heard on songs such as Presley's 'Return to Sender,' The Byrds' 'Mr. Tambourine Man,' The Beach Boys' 'Good Vibrations,' 'California Dreamin', The Mamas & the Papas, 'San Francisco (Be Sure to Wear Flowers in Your Hair)' Scott McKenzie, dozens of hits produced by Phil Spector, and the theme songs to 'Batman,' 'The Partridge Family' and dozens of other TV shows.
He was born Harold Simon Belsky in Holyoke, Massachusetts, on 5 February 1929, his family moved to California in 1943. He studied with Roy Knapp, the teacher of Benny Goodman's famed drummer Gene Krupa. He was active as a working musician for years, playing with Count Basie's big band and behind such pop talents as vocalists Patti Page and Tommy Sands, before breaking into session work. Blaine credited his New Orleans-bred contemporary Earl Palmer for his entrée among the top studio talent.
He was featured on the majority of Phil Spector's 'Wall of Sound' productions, including the Ronettes' 'Be My Baby,' which featured perhaps the most indelible drum introduction in rock 'n' roll history. He also appeared on many of the Beach Boys' best-known records (standing in for the L.A. band's Dennis Wilson), including the classic 1966 album Pet Sounds and the experimental single from that same year, 'Good Vibrations'. Blaine is also credited with popularising the 'disco beat' after he recorded a 'pshh-shup' sound by opening and closing the hi-hat at appropriate intervals on Johnny Rivers' 'Poor Side of Town'.
It is said Blaine is the most heard drummer in rock and roll history, claiming to have played on over 35,000 recoding sessions and over 6,000 singles. He died of natural causes on 11 March 2019 at his home in Palm Desert, California age 90.
Hal Blaine played drums on the 40 US number one hits listed below:
'Johnny Angel' – Shelley Fabares, April 7, 1962
'He's a Rebel' – The Crystals, November 3, 1962
'Surf City' – Jan & Dean, July 20, 1963
'I Get Around' – The Beach Boys, July 4, 1964
'Everybody Loves Somebody' – Dean Martin August 15, 1964
'Ringo' – Lorne Greene, December 5, 1964
'This Diamond Ring' – Gary Lewis & the Playboys, February 20, 1965
'Help Me, Rhonda' – The Beach Boys, May 29, 1965
'Mr Tambourine Man' – The Byrds, June 26, 1965
'I Got You Babe' – Sonny & Cher, August 14, 1965
'Eve of Destruction' – Barry McGuire, September 25, 1965
'My Love' – Petula Clark, February 5, 1966
'These Boots Are Made for Walkin' Nancy Sinatra, February 26, 1966
'Monday, Monday' – The Mamas and the Papas, May 7, 1966
'Strangers in the Night' – Frank Sinatra, July 2, 1966
'Poor Side of Town' – Johnny Rivers, November 12, 1966
'Good Vibrations' – The Beach Boys, December 10, 1966
'Somethin' Stupid' – Frank & Nancy Sinatra, April 15, 1967
'The Happening' – The Supremes, May 13, 1967
'Windy' – The Association, July 1, 1967
'Mrs. Robinson' – Simon & Garfunkel, June 1, 1968
'Dizzy' – Tommy Roe, March 15, 1969
'Aquarius/Let the Sunshine In' – The 5th Dimension, April 12, 1969
'Love Theme from Romeo and Juliet' – Henry Mancini, June 28, 1969
'Wedding Bell Blues' – The 5th Dimension, November 8, 1969
'Bridge Over Troubled Water' – Simon & Garfunkel, February 28, 1970
'(They Long to Be) Close to You' – The Carpenters, July 25, 1970
'Cracklin' Rosie' – Neil Diamond, October 10, 1970
'I Think I Love You' – The Partridge Family, November 21, 1970
'Indian Reservation' – The Raiders, July 24, 1971
'Song Sung Blue' – Neil Diamond, July 1, 1972
'Half Breed' – Cher, October 6, 1973
'Top of the World' – The Carpenters, December 3, 1973
'The Way We Were' – Barbra Streisand, February 2, 1974
'Annie's Song' – John Denver, July 27, 1974
'Thank God I'm a Country Boy' – John Denver, June 7, 1975
'Love Will Keep Us Together' – Captain & Tennille, June 21, 1975
'I'm Sorry'/'Calypso' – John Denver, September 27, 1975
'Theme from Mahogany (Do You Know Where You're Going To)' – Diana Ross, January 24, 1976