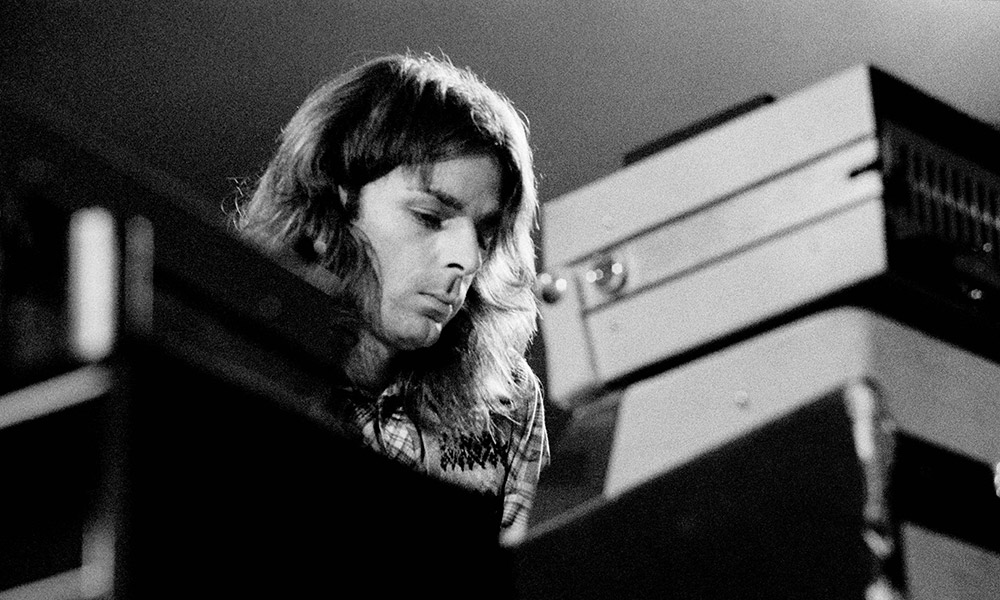 Most great groups have a 'quiet' one. The Beatles had George Harrison; Led Zeppelin had John Paul Jones. Both of these musicians were integral to the make-up of the group's dynamic. Both were great musicians whose musical contributions would sometimes go a little unnoticed but were vital in the group's output. As a keyboardist and songwriter, Richard Wright helped create the pioneering psychedelic sound that made Pink Floyd one of the world's greatest groups – he was also a 'quiet' one. His atmospheric, dreamy organ and synthesiser sounds were an essential part of Floyd's songs, providing an undercurrent upon which the rest of the band could drift.
Richard had met Roger Waters and Nick Mason at London's Regent Street Polytechnic in 1963 when all three were architectural students before Richard switched courses to study music, his first love. Their first group was Sigma 6, also briefly known as The Meggadeaths, in which Richard played rhythm guitar and brass instruments as well as keyboards. Richard left the UK for a while, and in the interim art student Syd Barrett joined the others in their current band, Leonard's Lodgers, which became The Spectrum Five. In 1965, when Richard returned to the fold, they were more or less settled as The Tea Set, renamed Pink Floyd by Syd, and by Summer 1965 the lineup was Wright, Waters, Mason and Barrett. All four appeared on the group's first album, The Piper at the Gates of Dawn, released in 1967, with Wright's keyboards a crucial part of the arrangements.
After Barrett left, and with new guitarist David Gilmour on board, the band started to redefine themselves in the late 1960s and early '70s, moving away from eccentric pop to multi-layered rock.
Like George Harrison in The Beatles, Richard Wright wrote or was instrumental in inspiring some of Floyd's most memorable songs, including the 23-minute "Echoes", from Meddle, which centred around a single Wright piano note.
Pink Floyd achieved legendary status with albums including their 1973 masterpiece The Dark Side Of The Moon, which stayed in the US album chart for more than a decade. Wright wrote two of the album's standout songs: "The Great Gig In The Sky" (with Clare Torry's added vocal melody) and "Us And Them" (with lyrics by Roger Waters).
Influenced by the musical style of jazz greats like Miles Davis and Eric Dolphy, Wright once stated: "We never had a desire to be famous, to be rock 'n' roll stars." Check out his two solo albums, Wet Dream and Broken China, for more evidence of his understated talent.
As the band became one of the biggest acts in the world there was a personality clash between Wright and Roger Waters, resulting in the keyboardist leaving Floyd during the sessions for The Wall, although he returned to play The Walls' live concerts in 1980 /1981, for some people the greatest rock shows ever staged.
Roger Waters himself left the band in 1985 and in 1987 Gilmour and Mason a new Pink Floyd album, A Momentary Lapse Of Reason, in which Richard Wright joined them. The Momentary Lapse album and the follow-up, The Division Bell, were hugely successful and placed both Floyd and Wright back squarely in the public's consciousness. Pink Floyd played more than 100 shows on the Division Bell tour in 1994, the most lucrative tour in rock history at that time.
To the delight of Floyd fans everywhere, Roger Waters joined the line up of Wright, Gilmour and Mason for one last time at Live 8 in Hyde Park in 2005.
Write made his last recordings when he contributed to David Gilmour's 2006 solo album On An Island, and also toured with Gilmour in Europe and the US, although his final onstage appearance was with Gilmour and Mason as Pink Floyd, when they performed Arnold Layne at the Syd Barrett tribute concert on 10th May 2007. Roger Waters also attended but was unable to join them as he had to leave the concert early for another engagement.
Richard died on 15th Sept 2008 after a short struggle with cancer.
In the days after his death, Floyd's guitarist David Gilmour stated: "No-one can replace Richard Wright – he was my musical partner and my friend. In the welter of arguments about who or what was Pink Floyd, Rick's enormous input was frequently forgotten."
I was lucky enough to meet Richard backstage after a David Gilmour show in Manchester, England in 2006. I was chatting with some other fans when he walked into the room and joined in the conversation. He was in fine spirits as we all chatted about the night's performance. It was a privilege to meet you Richard – wish you were still here.
We have a book! Pink Floyd – I Was There which contains over 400 eyewitness accounts from fans who saw Pink Floyd live in concert. Available in print and all digital formats.