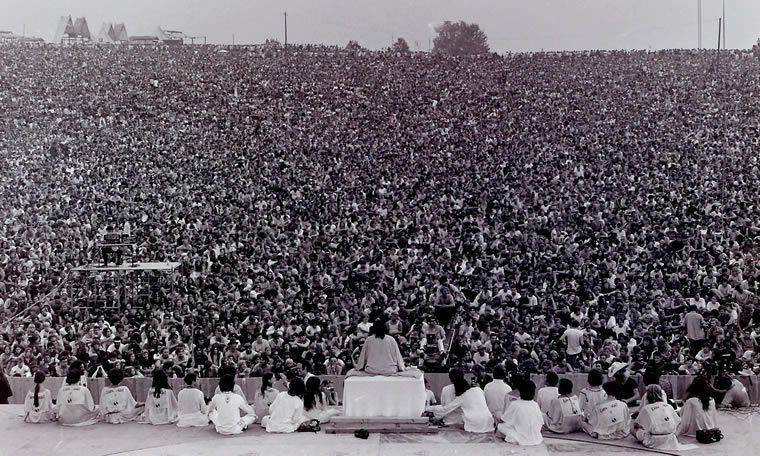 On August 15th 1969, the first day of the Woodstock Music & Arts Fair was held on Max Yasgur's 600-acre farm in Bethel in New York, about 80 miles North of New York City. Attended by over 400,000 people, the Woodstock Festival was one of the most pivotal moments in popular music history.
The men behind Woodstock were Michael Lang, (who had organised the largest festival on the East Coast at the time, the Miami Pop Festival), John Roberts, Joel Rosenman, and Artie Kornfeld. It was Roberts and Rosenman who had the finances.
Roberts and Rosenman placed the following advertisement in The New York Times and The Wall Street Journal under the name of Challenge International, Ltd: "Young men with unlimited capital looking for interesting, legitimate investment opportunities and business propositions". Lang and Kornfeld answered and the four men got together originally to discuss a retreat-like recording studio in Woodstock, but the idea evolved into an outdoor music and arts festival.
All they needed was some good acts to attract the crowds. They approached various acts with little success until Creedence Clearwater Revival signed a contract for the event, agreeing to play for $10,000. Once the news was out that CCR had confirmed, others followed: Jimi Hendrix, Joe Cocker, Crosby Stills Nash & Young, (only their second live show), Santana, The Who, Grateful Dead, Janis Joplin, The Band, Canned Heat and Joan Baez.
Others didn't quite make it. The promoters understandably wanted to secure the biggest acts at the time. They approached John Lennon to see if The Beatles would play, but the fab four were on the verge of breaking up. It was also reported that Lennon said he would only appear if his wife Yoko could perform her own set – which the promoters were unsure about.
Led Zeppelin's manager Peter Grant turned down an offer for his band to play – concerned that Zeppelin would just be another band on a very full bill.
Although the festival was in his backyard, Bob Dylan decided to 'get out of town' and instead signed up for the Isle Of Wight festival which was being held two weeks later. Dylan and his family intended to set sail for England on the Queen Elizabeth 2 on the day the festival started but after their son was injured by a cabin door the family disembarked. Dylan, with his wife Sarah, flew to England the following week.
The Doors considered appearing but declined the invitation – the same with The Byrds and Jeff Beck.
Joni Mitchell, who was originally booked to perform, – cancelled at the last minute on the advice of her manager after seeing the traffic chaos on the TV news. Joni didn't want to miss a scheduled appearance on The Dick Cavett TV Show the same weekend. Joni did, of course, write a song about the event which captured the moment in time perfectly.
Woodstock was designed as a profit-making venture – tickets cost $18 in advance (equivalent to around $75 today) and $24 at the gate for all three days. Around 186,000 tickets were sold beforehand and organizers anticipated approximately 200,000 festival-goers would turn up.
It famously became a "free concert" only after it became obvious that the event was drawing hundreds of thousands more people than the organizers had prepared for.
Although the festival was remarkably peaceful given the number of people and the conditions involved, there were two recorded fatalities: one from what was believed to be a heroin overdose and another caused in an accident when a tractor ran over an attendee sleeping in a nearby hayfield. There were also two births recorded at the event – one in a car caught in traffic and another in a hospital after an airlift by helicopter.
Woodstock featured one of the most prolific musical lineups in history. Fans got a taste of a variety of musicical styles, which came together in perfect harmony. The crowd at Woodstock sent a message to the world that individuals could come together peacefully to celebrate peace and music.
Over the sometimes rainy weekend, 32 acts performed:
Day 1: Friday, August 15
Richie Havens
Sweetwater
Bert Sommer
Tim Hardin
Ravi Shankar
Melanie
Arlo Guthrie
Joan Baez
Day 2: Saturday, August 16
Quill
Country Joe McDonald
John B. Sebastian
Keef Hartley Band
Santana
Incredible String Band
Canned Heat Set
Grateful Dead
Leslie West & Mountain
Creedence Clearwater Revival
Janis Joplin
Sly & The Family Stone
The Who
Jefferson Airplane
Day 3: Sunday, August 17
Joe Cocker
Country Joe & The Fish
Ten Years After
Johnny Winter
Blood Sweat And Tears
Crosby, Stills, Nash & Young
Day 4: Monday, August 18
Paul Butterfield Blues Band
Sha Na Na
Jimi Hendrix
Because of the rain delays that Sunday, when Hendrix finally took the stage it was 8:30 Monday morning. Numbers were now reduced to about 30,000 many of them merely waited to catch a glimpse of Hendrix before leaving during his performance.
The following fans' accounts of attending Woodstock Festival are taken from the This Day in Music book Jimi Hendrix – The Day I Was There which contains over 500 stories from people that saw Jimi Hendrix live. Available in print and all digital formats.
I WAS THERE: JIM WILLIAMS, AGE 19
I was in the navy. We were in Virginia Beach, Virginia. My ship was going to head off to Vietnam and it was all over everywhere about Woodstock being about to happen. So me and another guy went AWOL, jumped ship and hitchhiked up to Woodstock. Nowadays nobody would pick you up if you hitchhiked, but back then you got a lot of rides. The hippies would give anybody rides. Most of them were broke, but they would give me dried fruit or whatever they had, a lot of free love and a lot of, 'Hey man, take a hit off this joint.' And because I was AWOL they were on my side – totally. 'Man, we'll take care of you.' It was neat. Janis, I liked a lot and got to see her a couple of times. But at Woodstock, she was so wasted her actual performance really wasn't that good. Jimi was the headliner and he played last on everything. He got paid more than everybody else too, I heard. Everybody was so exhausted they just started leaving, because they were freaking out about how they were going to get home, because the roads were all blocked. When Jimi played, it was the last day and so many people had left you could get right up close. I just kept waiting for him at the end. Man, if you had made it the whole three days you were exhausted. I was exhausted. I dropped a bunch of acid. Everything was free. We didn't have a dime. We were AWOL and we ate free, we got free pot and free LSD and everything. It was like a three-day party.
It seemed like it was 700,000 people strong when it was really going, when The Who played. There were 69 bands. At the end, for the people who got to see it, it was like, 'God, what a performance!' It was like, 'Nobody's here.' I'm looking around and, 'Where is everybody?' Being at Woodstock turned out to be a massive big deal. At the time it was just, 'Man, what a massive concert this turned out to be.' Later, it was the greatest concert in history because of all the bands that were there. And Jimi was beautiful, he looked really cool. He was polished. He was great. After Woodstock I finally got back home and lost a bunch of weight and then went and snuck into my girlfriend's bedroom. Her ma found out I was there and called the FBI. That morning, they kicked the door in. I'm stark naked and these great big dudes jerk me out of bed. I'm down to about 175 pounds so I'm light, I'd lost a lot of weight, and these two guys are 6ft 6, 285 lb. They jerked me out of bed and dragged me out to the front yard and handcuffed me, naked. I said, 'Jesus Christ, can I get some pants?' Then they realise I'm not some killer, like the girlfriend's mother said, and so they said, 'Okay' and took me back to the bedroom and I got to put clothes on. Then they took me to the Treasure Island naval base in San Francisco on Bay Bridge.
I got thrown into what's called restricted barracks and waited for my court-martial. They threw me in the brig for 30 days. The Vietnam War was going on. But the kicker was that it was the East Coast that I went AWOL from, so that saved my ass. Because normally they send you back to your ship and you're screwed. Well, my ship had gone over to 'Nam, so they said, 'OK, you're going to do your 30 days and you're going to stay here in California.' And I said, 'Great!' As soon as they let me go, I found a lawyer in San Francisco helping people get out of the service legally, and he said, 'Give me $500 and I can get you out.' He told me what to do.
I borrowed $500 off my dad and went AWOL again, then turned myself in and went back to the brig. When I got out the second time they said, 'We've got a shrink' and the lawyer said, 'Here's what you say. Act like you're gonna lose it and then tell them you're gonna kill somebody if they give you any more orders.' I got out on a passive- aggressive thing, like I couldn't control my anger. It cost me five bills but I got out after doing a year and a couple of months, so they couldn't draft me again. Because they were drafting people back then. And that's why I joined in the first place, so I wouldn't go to 'Nam in the front-line. I would have been stuck. Our ship was going to be nine months on the ocean, right outside of Vietnam, launching and recovering jets. It was a big decision to go AWOL. But it all worked out. I didn't get killed, anyway.
The day I got out of the brig, I got out of the navy and got a general discharge that turned honourable six months later, if you put in for it, with all the bene ts and everything. I did seven months of what's called 'good time' and the other five months 'bad time', in the brig or AWOL. So when I got out, my opinion was that I didn't get drafted and I got to see Jimi Hendrix at Woodstock!
I WAS THERE: CJ KOERNER, AGE 21
I was a year out of nursing school, living in Pittsburgh, Pennsylvania. My friend, Mary Ellen (Mic, RIP), along with others headed to Wildwood, New Jersey to spend the summer at the beach. Mic and I lined up jobs as graduate nurses at a nearby hospital. We packed into my 1968 yellow MG Midget and hit the road. We found an apartment in a house near the beach and began that summer of '69. While walking the boardwalk one night, we saw a poster for a concert called Woodstock. It seemed as if it would be a good time if we could get a ride to NY, if the hospital would give us the time off – which they didn't, so we picked up our pay-checks and didn't go back.
The salt air and lack of maintenance left my MG unavailable, so we started talking with two guys also checking out the concert poster. Turns out they too were from Pittsburgh. We agreed to pay for the gas if we could get a ride with them. I packed a small suitcase with a change of clothes and toiletries, thinking we would be sleeping at a motel near the venue. I had a fringed, beaded, suede bag I carried a few personal items in such as driver's licence, contact lenses and a harmonica I loved but could not play. In the bag was the only picture I had of my father, who passed away a few years prior.
We made our way to NY before the masses arrived, Mic and me eventually walking beside the car, slowly driving to a wooded parking area close to the fenced-in concert area. We left our belongings in the car and made our way to the entrance, but by this time the fences were torn down and we entered without the need for tickets.
The first evening was spent down front-centre, waiting for the musicians to come on stage. As the musicians played, the crowd grew and time passed, we eventually walked around to try to buy something to eat and use the port-a-potties. The music played and could be heard no matter where we were on the farmland. It was unlike anything we expected. We watched helicopters overhead, not realising the roads were blocked and the choppers were bringing the musicians to the farm. And it rained, so much rain that we walked back to the car and climbed in, trying to stay dry for a bit. After the deluge, there was mud and more mud. And the food was pretty much gone. Others shared what they had, especially those who prepared to camp in advance. And the music played. The announcements came and went – warnings about which acid not to drop, or where to meet up if you were lost from your friends.
And Hendrix, on stage. The concert coming to an end. Mic and I got separated from the guys that drove us to the concert. In fact, when we returned to the parking spot, the car was gone. Mic and I hitched rides from NY back to Wildwood, returning only with what we had on our backs. The looks we got waiting to find a ride, wearing the same clothes we had arrived in four days earlier. But what an experience! Eventually, after returning to my apartment in Pittsburgh, I received an envelope containing my driver's licence, my contact lenses and the picture of my father. The guys who drove us had given my suede bag to someone 'backstage' before they left, hoping we would hear an announcement of my name being read from my driver's licence.
I WAS THERE: STEVE BOISVERT
I'd just got back from Vietnam. I went with a few Hells Angels. I was riding with a motorcycle gang called the Slum Lords out of New Haven, Connecticut. I awoke to Jimi playing 'The Star Bangled Banner' on his guitar. It was unbelievable.
I WAS THERE: JEFFREY STAPLETON
I grew up in the late Sixties and early Seventies. Age-wise, I was around 20 when the music scene really changed big time in America. The Beatles were just starting out and really started the music change here. So many new groups from both England and America followed suit, too many to list. I was a working hippie at the time. It was all about sex, drugs and rock'n'roll and I gladly participated in all of them.
I saw Jimi a couple of times, once at a very small club in Boston called the Boston Tea Party. Jethro Tull, Santana, The Animals, The Allman Brothers, The Cream, and countless others played there. My routine was to hit this place with friends after dropping some LSD and enjoy the bands. I was lucky enough to attend Woodstock and saw Jimi there. That was a last-minute thing. A bunch of us drove up from Boston without tickets. They only sold something like 18,000 tickets and 400,000 people showed up, but that's a whole other story.
It was this short period of radical social change in America. It spilled over into the late Sixties with the Civil Rights movement, the opposition to the Vietnam War, feminism and the start of the birth control pill, which really gave women the freedom to do as they liked. Also, abortion became legal. Just about everything was changing from our parents' values. Up until then the position was that the Government had the people's best interests at heart and could do no wrong. The new generation took the position that really the Government was there to serve big business on a global level.
Jimi was a special musician, one of a kind. No one has filled his shoes since his untimely death. Today, we know a lot more about drugs and their short and long-term e ects than we did back then. Drug use, even hard drugs, were pretty mainstream at the time. For me, the thing other than his music that separated him from everybody else was that he seemed to have this seamless connection between his brain and ear that got transposed to his guitar. He was a natural and his talent appeared to be more genetic than a learned ability. His music really felt like it was not scripted but rather improvisational.
Jimi always came across as someone who had a lot of humility. Some people may have a hard time seeing that because at times he would do attention-getting stunts such as burning his guitar at the Monterey Festival. But Jimi had this raw talent, sometimes primitive in nature, that people connected with. His guitar abilities were such that it seemed as though he was just making it up as he played. He was not heavily rehearsed like, for instance, the Rolling Stones. It seemed effortless for him.