April 20th: The Biggest Music Headlines
Scroll down the page to see all the music headlines, stories and events for April 20 throughout music history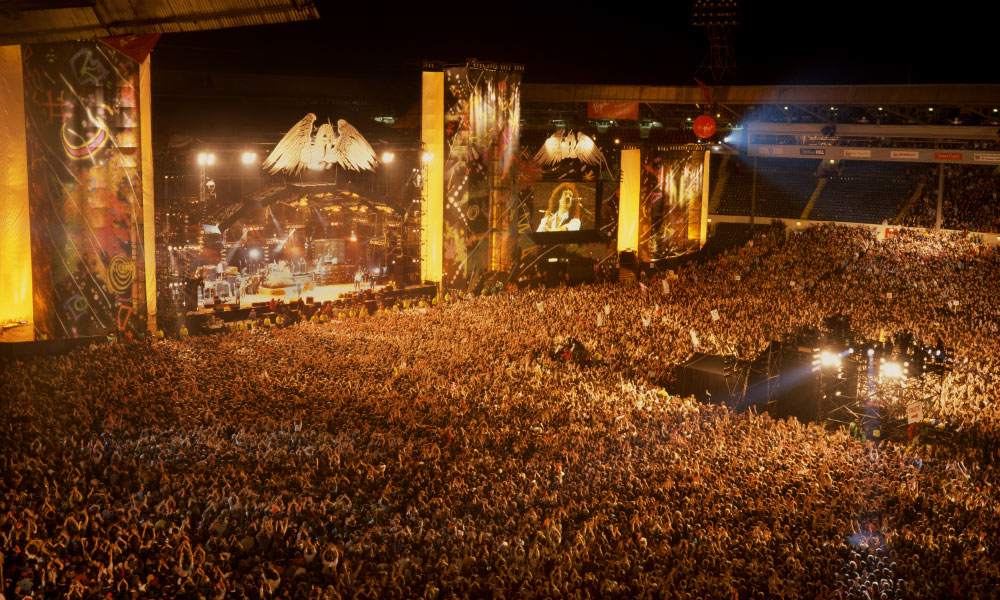 Star-studded Freddie Mercury Tribute Concert Takes Place
On this day in music, April 20, 1992, the life and music of Queen frontman Freddie Mercury, who died five months earlier following complications from AIDS, was celebrated in a star-studded concert at London's Wembley Stadium. Organized by Mercury's bandmates, the event not only featured an array of luminaries (including Elton John, David Bowie, Phil Collins, George Michael, and Metallica) but also raised funds for AIDS research, launching the Mercury Phoenix Trust. While all 72,000 tickets sold out in a mere three hours, The Freddie Mercury Tribute concert was broadcast live to approximately one billion fans in 76 countries.
In 2018, 28-year-old Swedish DJ and producer, Avicii – born Tim Bergling in Stockholm – passed away. Artists he worked with ranged from ABBA's Björn Ulvaeus and Benny Andersson to Robbie Williams, Rita Ora, and Wyclef Jean. Avicii's 2013 multi-platinum debut, True, contained the hit single "Wake Me Up," which topped dozens of charts around the world, including the US, UK, Australia, and across Europe.
In 1996, British R&B singer Mark Morrison scored his first and only UK No.1 with "Return Of The Mack." The track, which looped a drum beat sampled from Tom Tom Club's 1981 hit, "Genius Of Love," peaked at No.2 in the US.
In 1991, former Small Faces and Humble Pie co-founder Steve Marriott died in a house fire at age 44. After launching his career as a child actor, Marriott became a Mod style icon in the 60s as part of the Small Faces, with whom he racked up 12 UK hits, including the No.1 "All Or Nothing." He left the band in 1969 to form the best-selling hard-rock group, Humble Pie.
In 1980, 84-year-old comedian George Burns had the distinction of being the oldest person to crack the Hot 100 when his single, "I Wish I Was Eighteen Again," peaked at No.49. At the time, Burns had been enjoying a career renaissance thanks to his role alongside singer John Denver in the 1977 hit movie, Oh God!
In 1959, 13-year-old Dolly Parton released her debut single, the rockabilly-style "Puppy Love."
Looking for more things that happened on this day in music?
Keep scrolling for all of the headlines for April 20.
BORN ON APRIL 20:
1934: Ray Campi
1939: Johnny Tillotson
1940: Ronald Mundy (The Marcels)
1951: Luther Vandross
1971: Mikey Welsh (Weezer)
1972: Stephen Marley (Ziggy Marley & The Melody Makers)
1973: Gabry Ponte (Eiffel 65)
1978: Clay Cook (The Zac Brown Band)
Looking for more artists born on this day?
Keep scrolling for all of our April 20 birthdays.
---
What to find another day?
---
April 20th
20 Apr 2021
Scottish singer Les McKeown died age 65. As the lead singer of the Bay City Rollers during their most successful period from 1971 - 1976 the group scored 10 UK top ten hit singles including two No.1's. The Rollers were also the subject of a 20-week UK television series, Shang-a-Lang.
20 Apr 2020
Stuck at home in lockdown during the coronavirus pandemic, Willie Nelson staged the "Come And Toke It" live stream (in reference to 420 day, "the unofficial weed holiday"), to support efforts to legalize marijuana and free those incarcerated for it. Other guests included Ziggy Marley, Kacey Musgraves, Billy Ray Cyrus and Toby Keith.
20 Apr 2018
Swedish DJ, remixer, and record producer, Avicii died aged 28. He was nominated for a Grammy for Best Dance Recording with 'Levels' at the 2013 Grammy Awards. His biggest single was 2013's 'Wake Me Up'. He recorded with Wyclef Jean, Robbie Williams,
ABBA
members Björn Ulvaeus and Benny Andersson, Rita Ora and Billie Joe Armstrong of
Green Day
.
20 Apr 2012
Bert Weedon, whose Play in a Day guitar guide set some of the biggest names in rock and roll on the road to greatness, died, aged 91. Play in a Day, released in 1957, sold over two million copies and helped inspire a generation of budding musicians including
Eric Clapton
, Brian May of
Queen
and the late
John Lennon
.
20 Apr 2006
Babyshambles singer Pete Doherty was arrested in east London on suspicion of drugs possession only hours after a court appearance. Doherty had earlier admitted to seven charges of possessing drugs when he appeared before magistrates in east London. He was given a community order with two years supervision and 18 months drug rehabilitation and was also banned from driving for six months.
20 Apr 2002
American singer Alan Dale died. During the 50s he had his own US TV & radio show, had the 1955 US No.7 single 'Cherry Pink and Apple Blossom White.'
20 Apr 2002
In the dispute over who owned the rights to
Nirvana
's recordings former members Dave Grohl and Kirst Novoselic asked a Seattle Court to prove that Courtney Love was mentally stable. They told the court that Love was 'irrational, mercurial, self-centred, unmanageable, inconsistent and unpredictable.' They also claimed a contract was invalid because Love was 'stoned' at the time.
20 Apr 2001
A memorial concert for former
Small Faces
and Humble Pie front man Steve Marriott took place at the London Astoria with Peter Frampton, Midge Ure, Chris Farlowe and Humble Pie.
20 Apr 1996
English R&B singer Mark Morrison had his first UK No.1 single when 'Return Of The Mack' started a two-week run at the top of the charts. A No.2 hit in the US, the beat was sampled from Tom Tom Club's 'Genius of Love.'
20 Apr 1993
Aerosmith
released 'Get A Grip' their 11th studio album which became their best selling album to date with sales over 20m. The album which featured the hits: 'Livin' On The Edge' and 'Crazy' also featured guests Don Henley and Lenny Kravitz.
20 Apr 1992
'A Concert For Life' took place at Wembley Stadium as a tribute to
Queen
singer
Freddie Mercury
and for aids awareness. Acts appearing included;
Elton John
, Roger Daltrey, Tony Iommi (
Black Sabbath
),
David Bowie
,
Mick Ronson
, James Hetfield,
George Michael
, Seal, Paul Young, Annie Lennox, Lisa Stansfield, Robert Plant, Joe Elliott and Phil Collen, Axl Rose and Slash.
20 Apr 1991
Steve Marriott leader of
Small Faces
and Humble Pie, died in a fire at his home in Essex. His work became a major influence for many 90s bands. Small Faces had the 1967 UK No.3 & US No.16 single 'Itchycoo Park', plus 1968 No.1 UK album 'Ogden's Nut Gone Flake', Humble Pie, 1969 UK No.4 single 'Natural Born Bugie'. As a child actor he played parts in Dixon of Dock Green and The Artful Dodger in Oliver.
20 Apr 1987
A record store in Callaway, Florida was forced to closed down and a part-time clerk was arrested after selling a copy of '2 Live Is What We Are' by 2 Live Crew to a 14 year old boy. Officials had deemed the recording "obscene" because of its pornographic lyrics.
20 Apr 1985
20 Apr 1981
John Phillips of The Mamas & the Papas was jailed for five years after pleading guilty to drug possession charges; the sentence was suspended after 30 days. Phillips started touring the US lecturing against the dangers of taking drugs.
20 Apr 1980
84 year old George Burns, who starred in the movie Oh God with John Denver, became the oldest person to have a hit on the Billboard Hot 100 when 'I Wish I Was 18 Again' peaked at No.49. When asked if he wished he were 18 again, Burns replied "I wish I was 80 again." Before this, his most recent charting record had been a spoken word comedy routine with his wife and partner Gracie Allen in the summer of 1933.
20 Apr 1979
Lighting director Billy Duffy was killed in an accident during a
Kate Bush
concert in Southampton, England. 21-year old Duffy fell twenty feet through an open trap door on the stage. Bush held a benefit concert on 12th May with Peter Gabriel and Steve Harley at London's Hammersmith Odeon for his family.
20 Apr 1976
George Harrison
, who is good friends with Eric Idle, joined Monty Python on stage at New York's City Center. Dressed as a Canadian Mountie, Harrison joined the chorus for 'The Lumberjack Song.' No mention was made of Harrison's appearance, and few in the audience recognised him. The next night, Harry Nilsson showed up to perform the same feat, but with disastrous results, as he fell into the audience and broke his arm.
20 Apr 1971
Five friends at San Rafael High School in California coined the term "4:20" as a euphemism for smoking pot. April 20th became a popular day to spark one up, as does 4:20pm. Fans of the
Grateful Dead
helped spread the phrase, the Boston song 'Smokin'' clocks in at 4 minutes, 20 seconds, and if you multiply the title numbers in
Bob Dylan
's 'Rainy Day Women #12 And #35,' you get 420.
20 Apr 1969
Session drummer Benny Benjamin died. One of 'The Funk Brothers' he played on many Tamla
Motown
hits including, The
Four Tops
,
Temptations
,
Marvin Gaye
, The
Supremes
and
Stevie Wonder
. The film 'Standing In The Shadows Of
Motown
' released in 2003 features his work. He was also inducted into the Rock and Roll Hall of Fame in 2003 and was named the eleventh best drummer of all time by Rolling Stone magazine in 2016.
20 Apr 1968
Apple Music ran advertisements soliciting tapes from unknown artists, offering financial grants as part of a deal to release records on the Apple label. Artists such as
Badfinger
, James Taylor, Mary Hopkin, Jackie Lomax, David Peel and Elephant's Memory were signed up.
20 Apr 1968
Deep Purple
made their live debut at a gig in Tastrup, Denmark. Formerly known as Roundabout, guitarist Ritchie Blackmore suggested a new name: Deep Purple, named after his grandmother's favourite song (which had been a hit for Peter De Rose), after his grandmother had repeatedly asked if they would be performing the song.
20 Apr 1966
During a 12 hour session at Abbey Road studios in London
The Beatles
worked on a new
John Lennon
song 'And Your Bird Can Sing', and a new
George Harrison
song 'Taxman'. The Beatles first recorded 'And Your Bird Can Sing' in the style of the Byrds. This discarded version was released on the 1996 Anthology 2 and includes the sound of Lennon and McCartney laughing their way through a vocal overdub and being unable to sing.
20 Apr 1959
Goldband Records released 'Puppy Love' by a 13-year old
Dolly Parton
in the US, a song that was recorded two years earlier when she was just eleven years old. The song didn't chart.
20 Apr 1957
Elvis Presley
started an eight week run at No.1 on the US singles chart with 'All Shook Up.' It went on to be the biggest single of 1957 selling over 2 million copies.
20 Apr 1949
Phil Spector's father commited suicide when Phil was just 9 years old. The title of the song 'To Know Him Is To Love Him,' which Phil Spector wrote for the Teddy Bears, (the only vocal group of which he was a member), comes from the inscription on his father's headstone.
Born on this day in music
20 Apr 1978
Clay Cook American musician with the Grammy Award winning country music group, Zac Brown Band. Their 2015 album Jekyll + Hyde which debuted at No.1 on the US chart featured the single 'Heavy Is the Head' with vocals from Chris Cornell.
20 Apr 1973
Gabry Ponte, Italian DJ, remixer, record producer from Eiffel 65, (1999 UK No.1 single 'Blue (Da Ba Dee'). The single was also No.1 in Norway, Austria, Finland, Germany and Denmark.
20 Apr 1972
Stephen Marley from Ziggy Marley & The Melody Makers who had the 1988 UK hit single 'Tomorrow People'. The Jamaican American musician is the son of
Bob Marley
and his wife Rita Marley. His 2011 album Revelation Pt. 1 – The Root of Life won the Grammy Award for Best Reggae Album in 2012.
20 Apr 1972
American actress, model, singer Carmen Electra, from The Pussycat Dolls. They had the 2005, US No.2 & UK No.1 with their debut single 'Don't Cha' featuring Busta Rhymes. The Pussycat Dolls became only the fourth ever girl band to enter the UK charts at No.1 with their debut single. (The other's being the
Spice Girls
, B*Witched and Girls Aloud). Carmen has appeared in Playboy magazine and Baywatch and
MTV
's Singled Out.
20 Apr 1971
Mikey Welsh, bassist from American rock band Weezer who had the 1995 UK No.12 single, '
Buddy Holly
'. Weezer achieved mainstream success, helped by music videos directed by Spike Jonze.
20 Apr 1951
American singer, songwriter Luther Vandross who scored the 1989 UK No.13 single 'Never Too Much', first released 1983, and the US N0.10 and UK No.2 single with
Janet Jackson
'The Best Things In Life Are Free'. Vandross also worked with
David Bowie
,
Mariah Carey
. Vandross died on 1st July 2005 aged 54 two years after suffering a major stroke.
20 Apr 1948
Craig Frost, keyboardist for 1970s hard rock band Grand Funk Railroad who had the US No.1 single with their version of 'The Loco-Motion' which was produced by Todd Rundgren and is also a member with Bob Seger & The Silver Bullet Band.
20 Apr 1948
American multi-instrumental musician Rob Stoner. His work can be heard on Don McLean's classic 'American Pie'. In the summer of 1975 he was hired as bandleader, opening act and bass player in
Bob Dylan
's band and has also worked with many other artists as well as
Bruce Springsteen
,
Ringo Starr
,
Chuck Berry
, Lou Reed and
Joni Mitchell
.
20 Apr 1945
English musician Jimmy Winston who was the original keyboard player with
Small Faces
, (he left in Nov 1965).
20 Apr 1940
American singer Ronald Mundy. He was a member of The Marcels who scored the 1961 US and UK No.1 with a doo-wop cover of the ballad 'Blue Moon' that began with the bass singer singing, "bomp-baba-bomp-ba-bomp-ba-bomp-bomp... vedanga-dang-dang-vadinga-dong-ding...". The record sold over one million copies and was awarded a gold disc. He died of pneumonia on 20 January 2017 age 76.
20 Apr 1939
American singer-songwriter Johnny Tillotson who had the 1960 US No.2 and 1961 UK No.1 single 'Poetry In Motion'. He enjoyed his greatest success in the early 1960s, when he scored nine top-ten hits.
20 Apr 1934
American singer and musician Ray Campi. Nicknamed "The King of Rockabilly", he first recorded in the mid-1950s. Campi's trademark was his white double bass, which he often jumped on top of and "rode" while playing. He died died in his sleep at home on March 11, 2021, at the age of 86.