Instant Karma! Written, Recorded And Mixed, All In One Day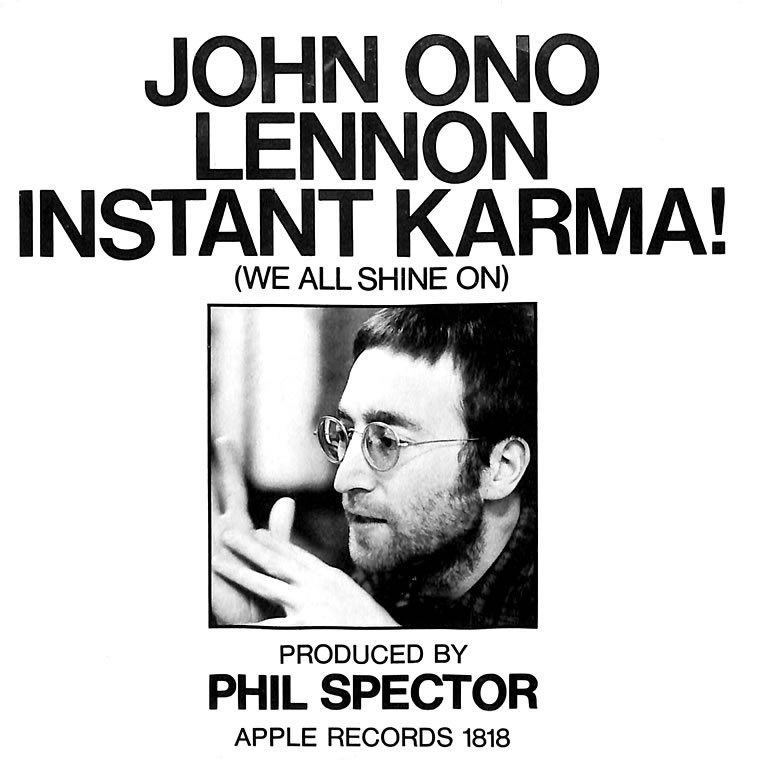 On Jan 27th 1970, John Lennon wrote, recorded, and mixed his new single, "Instant Karma!," all in one day. It ranks as one of the fastest-released songs in pop music history, recorded at London's Abbey Road Studios and arriving in stores only ten days later. The single peaked at No. 3 on the US chart and No. 5 in the UK.
Lennon later stated, "I wrote it for breakfast, recorded it for lunch, and we're putting it out for dinner." Lennon's makeshift band for the day was George Harrison on guitar, his old mate from the Beatles' Hamburg days, Klaus Voorman, on bass, Alan White on drums, and keyboard player Billy Preston.
The song's title came from Melinde Kendall, the wife of Yoko Ono's former husband Tony Cox. John and Yoko had stayed with them in Denmark during December of 1969 and had heard her using the phrase in conversation. "Instant Karma" came during a tumultuous time for Lennon personally and for the Beatles, who he was in the midst of leaving behind. Paul McCartney had unofficially taken leadership of the group after manager Brian Epstein's death, and he was pushing for recording new songs and then performing a live concert (which would've been their first live performance in more than three years). George Harrison was totally against the idea and after a massive argument he quit the group, making him the second Beatle to leave after Ringo Starr had done the same in 1968.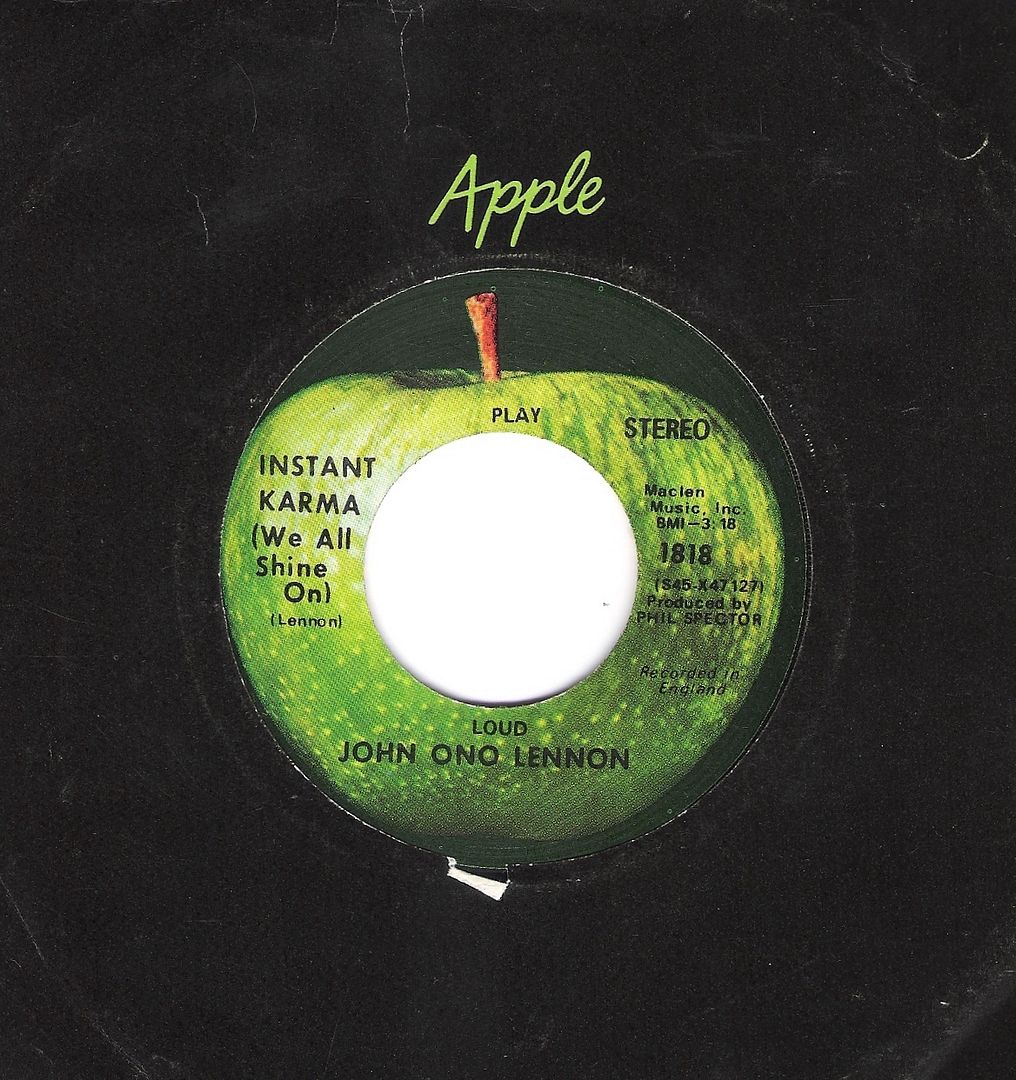 The formation of the Plastic Ono Band was originally conceived as an outlet for Lennon and Ono in 1969. However, after performing at Toronto's Rock and Roll Festival in September 1969 (where Lennon bashed out a set of rock and roll standards), he made his decision to leave the Beatles and informed Paul McCartney of his decision on 20 September 1969.
Lennon, meanwhile, was moving fast and in a new direction. The January 27 session, which started at 7pm, came about spontaneously. Lennon had written the song that morning and, as he said, "I knew I had a hit record."
With legendary 'wall of sound' producer Phil Spector at the controls, it was given its incredible sound. Lennon's happiness with the results would lead directly to Spector's taking over the dormant Beatles Let It Be project, which became another nail in the coffin, driving a further wedge between Lennon and McCartney.
Lennon would also work with Spector on his first proper solo album, the stripped down John Lennon and the Plastic Ono Band and the follow-up, Imagine. By January 1970, John had walked away from the Beatles, and the Plastic Ono Band was the only musical entity he considered himself part of.
Being the Beatles nut that I was at the time, I remember seeing Lennon perform the song on Top of the Pops (he became the first Beatle to have appeared on the show since 1966). John sat at an upright piano, wearing headphones, dressed in black, hair cut short, with Yoko sitting next to him, wearing a blindfold … knitting. WTF! What was she doing? Maybe making John a new hat? We didn't care, it just added to the occasion. Sharing the stage was the drummer, two bass players, and a guitarist. The energy in that performance is amazing!
The song has since become a Lennon classic and has been covered by countless artists (including Paul Weller, U2, John Hiatt, Phish, and Regina Spektor), some of them good, some bad, and some downright ugly (yes, Duran Duran, you know who you are).
John Lennon was no longer a Beatle. After all this time of being a member of the most famous band on the planet, he was free, to go in his own direction and do what he did best—write songs and make records.