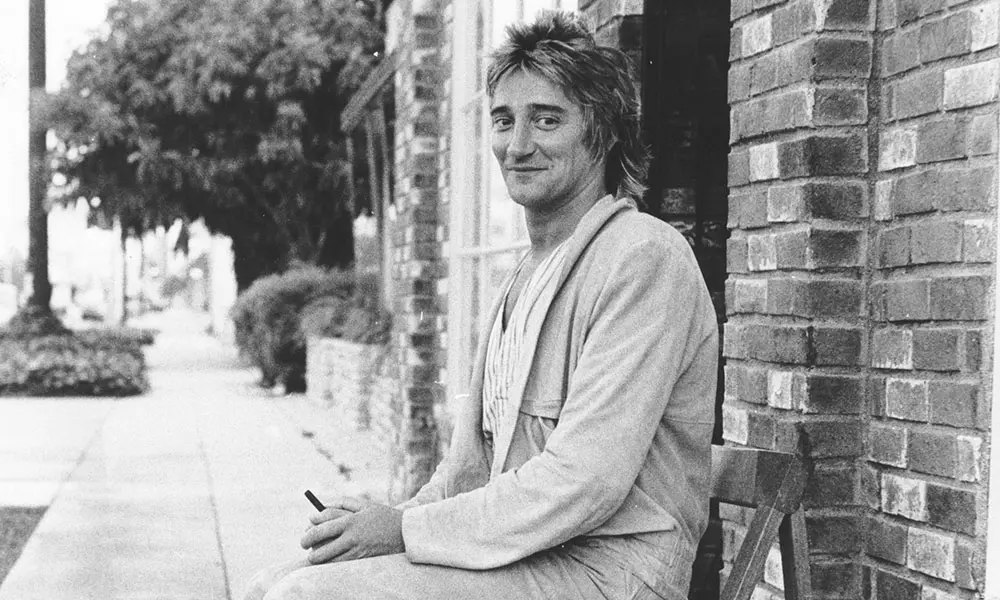 Roderick David Stewart was born on 10 January 1945 in Highgate, North London, the youngest of five children.
Stewart left school age 15 and worked briefly as a silkscreen printer. Spurred on by his father, his ambition was to become a professional footballer.
His music career begun in 1962 when he took up busking with a harmonica. In October 1963, he joined The Dimensions as a harmonica player and part-time vocalist. In 1964, Stewart joined Long John Baldry and the All Stars, and in August 1964, Stewart signed a solo contract, releasing his first single, a version of "Good Morning Little Schoolgirl", in October. Future Led Zeppelin bassist John Paul Jones played on the session.
Rod Stewart made his TV debut in 1964 on The Beat Room as a member of The Hoochie Coochie Men.
He was given the nickname "Rod the Mod" from his dandyish style of grooming and dress.
Rod first met Elton John, (then Reginald Dwight) in 1965, when he was playing in Bluesology. Rod named Elton 'Sharon', while Elton's name for Rod is 'Phyllis'.
Stewart came to prominence in the late 1960s and the early 1970s with The Jeff Beck Group, and then with The Faces.
Stewart released his debut solo album, An Old Raincoat Won't Ever Let You Down in 1969. The album featured his versions of the Jagger and Richards penned "Street Fighting Man", Manfred Mann, singer Mike d'Abo's "Handbags and Gladrags" and the Ewan MacColl song "Dirty Old Town".
He has sold over 120 million records worldwide including nine UK No.1 albums and 62 UK hit singles including 31 that reached the top ten, six of which gained the No.1 position.
Stewart has had 16 top ten singles in the US, with four reaching No.1 on the Billboard Hot 100.
The Small Faces split up in 1969 after singer Steve Marriott announced he was leaving the band to form Humble Pie. Members Ronnie Lane, Ian McLagan and Kenny Jones linked up with Ronnie Wood and Stewart and formed the Faces.
The Faces released four albums including the 1971 top 10 A Nod Is As Good As a Wink… to a Blind Horse which featured the UK No.4 hit "Stay With Me".
In 1971 he enjoyed a five week run at No.1 on the US singles chart with 'Maggie May / Reason To Believe', his first solo No.1. Stewart's album Every Picture Tells A Story also spent four-weeks at No.1 on the UK and US chart.
Stewart is a supporter of Celtic, which he mentions in "You're in My Heart". He supports the Scotland national team and follows Manchester United as his English football side.
His 1977 hit "I Don't Want To Talk About It" was written by Danny Whitten who had died in 1972 of a drug overdose aged 29. He was a member of Neil Young's Crazy Horse.
Stewart's fifth UK No.1 album the 1975 Atlantic Crossing indicated Stewart's new artistic direction, and the jet-set lifestyle in Los Angeles to escape the 83 per cent top rate of income tax introduced by British Labour Prime Minister Harold Wilson.
Rod Stewart had the 1975 UK No.1 with his version of the Sutherland Brothers song "Sailing". The song had been featured in the BBC TV series about HMS Ark Royal.
His 1976 No.1 hit "Tonight's The Night" was banned by many radio stations due to song being about the seduction of a virgin. The song features whispers from actress Britt Ekland who was Stewart's girlfriend at the time.
A plagiarism lawsuit by Brazilian musician Jorge Ben Jor around "Da Ya Think I'm Sexy", confirmed that the song had been derived from his composition 'Taj Mahal'. Stewart agreed to donate all his royalties from the song to United Nations Children's Fund.
In 1979 Stewart married actor George Hamilton's ex-wife Alana Hamilton in Beverly Hills, California. The couple had a daughter, Kimberly, and a son, Sean. Alana and Rod Stewart divorced in 1984.
A car collector, Stewart owns one of the 400 Ferrari Enzos. In 1982, Stewart was car-jacked on Los Angeles' Sunset Boulevard while he was parking his $50,000 Porsche. The car was subsequently recovered.
In 1990 Patricia Boughton filed a lawsuit against Stewart claiming that a football he kicked into the crowd during a concert at Pine Knob Music Theatre had ruptured a tendon in her middle finger. And as a result the injury had made sex between her and her husband difficult.
Rod married New Zealand model Rachel Hunter in 1990. After the wedding he was quoted as saying 'I Found the Girl that I Want, I won't be putting my banana in anybody's fruit bowl from now on'. They split in 1999.
In 1991 Kelly Emberg the ex-girlfriend of Rod filed a $25 million (£14.7 million) palimony suit in Los Angeles. The couple lived together from 1985 to 1990. Rod Stewart later said: "Instead of getting married again, I'm going to find a woman I don't like and just give her a house."
On 31 December 1994, Stewart played in front of 3.5 million people on Copacabana beach in Rio, and made it into the Guinness Book of World Records for staging the largest free rock concert attendance in history.
In 2001 Rod asked for a change in wedding vows bringing them up to-date and to be treated like a dog licence saying "a change is needed because they've been in existence for 600 years when people used to live until they were only 35".
In 2003 Ray Jackson who found fame with Lindisfarne took out legal action against Rod over his 1970s hit song 'Maggie May.' Jackson claimed he came up with the classic mandolin melody and claimed he may have lost at least £1m because he was not credited for the track's distinctive "hook." Jackson was paid just £15 for the recording session by Stewart in 1971.
Rod Stewart married model girlfriend Penny Lancaster in 2007 on the Italian Riviera just outside the resort of Portofino.
In 2007 Rod collected his CBE from Prince Charles at Buckingham Palace. The singer who was honoured for his services to music wore a skull and crossbones tie, white trousers and a stripy shirt instead of the conventional morning suit.
Rod Stewart was knighted in the Queen's Birthday Honours list in 2016 for services to music and charity.
He concentrated on singing 1930s and 1940s pop standards from the Great American Songbook with great popular success.
In late 2019 Rod was featured on the cover of Britain's Railway Modeller magazine. The singer had put the finishing touches to a 25-year project building a railway city, which was modelled on both New York and Chicago around 1945. The model railway which spans 1,500 square feet was housed in the attic of his Los Angeles home.
In 2019 Sir Rod became the oldest male solo artist to have a No.1 album in the UK when the singer's 10th chart topper You're In My Heart went to the top of the charts. Sir Rod, who was 74 years and 11 months old, took the accolade, which was previously held by American singer Paul Simon.
In 2020 Rod was charged by police following an alleged altercation at a hotel in Florida on New Year's Eve. A police document released accused Stewart of punching a security guard after he and his companions, including his son Sean, attempted to get into a private party in a children's area at the Breakers Palm Beach Hotel.
Stewart was estimated to have a fortune of £190 million in the Sunday Times Rich List of 2019, making him one of the 10 wealthiest people in the British music industry.