Died And Gone To Heaven 2021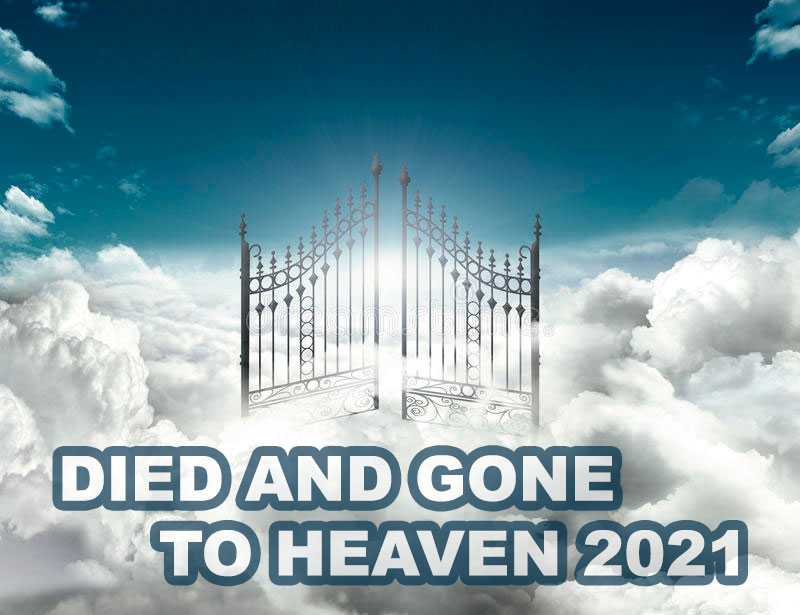 1 January 2021, Mick Bolton, the keyboardist best known for playing with Mott the Hoople and Dexys Midnight Runners died age 72. During the 80's Bolton found a notable gig offstage; giving keyboard lessons to Paul McCartney's wife and collaborator, Linda McCartney.
2 January 2021, Record producer Steve Brown died age 65. He produced many acts including U2, The Pogues, Big Country, Elton John, The Cult, Manic Street Preachers and Simple Minds as well as producing Wham!'s debut album Fantastic.
3 January 2021, English musician Gerry Marsden died age 78 after being diagnosed with a blood infection in his heart. With Gerry And The Pacemakers he had the 1963 UK No.1 single 'How Do You Do It' and the 1965 US No.6 single, 'Ferry Cross The Mersey'. In common with The Beatles they came from Liverpool, were managed by Brian Epstein, and were recorded by George Martin. Their cover of 'You'll Never Walk Alone' was released in 1963, peaking at No.1. After becoming a chart hit the song gained popularity on the Anfield terraces, and the song quickly became the football anthem of Liverpool F.C. which adopted 'You'll Never Walk Alone' as its official motto on its coat of arms.
8 January 2021, Michael Fonfara passed away at the age of 74 following a two-year battle with cancer. He was most well known for his work with The Electric Flag, Rhinoceros, Rough Trade, Lou Reed's backing band and The Downchild Blues Band.
8 January 2021, William Jellett, aka "Jesus", died. He was a legendary UK music fan known for his frequently naked appearances at UK music festivals throughout the 70s and 80s. He was a fixture at gigs by everyone from Cream and Queen to Hawkwind and Motörhead. He famously got his nickname at Blind Faith's Hyde Park show in June 1969, when DJ Jeff Dexter publicly referred to him as "Jesus" over the PA.
8 January 2021, American country music songwriter, singer and actor Ed Bruce died age 81. He was known for writing the 1975 song 'Mammas Don't Let Your Babies Grow Up to Be Cowboys' and recording the 1982 country number one hit 'You're the Best Break This Old Heart Ever Had'. He also co-starred in the television series Bret Maverick with James Garner during the 1981–1982 season.
11 January 2021, Mark Keds the former frontman with early 90s British indie-punks Senseless Things died of unspecified causes at the age of 50. Keds was also briefly a member of The Wildhearts, as well as Jolt, Lams, Trip Fontaine and Deadcuts.
13 January 2021, New York Dolls guitarist Sylvain Sylvain died from cancer at the age of 69. Along with the Velvet Underground and the Stooges, they were one of the bands later credited as influences of the soon to be punk scene with the band's first two albums, New York Dolls (1973) and Too Much Too Soon (1974), became among the most popular cult records in rock. Prior to joining the New York Dolls, Sylvain and future band mate Billy Murcia ran a clothing company called Truth and Soul, which would play a role in the band's ground-breaking look.
13 January 2021, American musician Tim Bogert died from cancer age 76. He was bass guitarist and vocalist with Vanilla Fudge, Cactus and the power trio Beck, Bogert & Appice.
13 January 2021, American Hip hop producer and rapper Duke Bootee died age 69. His best known single, 'The Message', was released in 1982 on Sugar Hill Records under the name Grandmaster Flash and the Furious Five.
16 January 2021, American producer Phil Spector died in prison age 81. Known for his 'Spector Wall Of Sound' he was a member of Teddy Bears, who had the 1958 US No.1 single 'To Know Him Is To Love Him'. He went on to produce many classic songs including; Ben E King, 'Spanish Harlem', The Crystals, 'Da Doo Ron Ron', The Ronettes, 'Baby I Love You', The Righteous Brothers, 'You've Lost That Lovin' Feeling', Ike and Tina Turner, 'River Deep, Mountain High'. He also produced albums for The Ramones, John Lennon, George Harrison, The Beatles, Cher and Harry Nilsson. The 2003 shooting of actress Lana Clarkson in his Alhambra, California home led to his 2009 conviction of murder in the second degree.
18 January 2021, American singer and actor Jimmie Rodgers died at 87 years of age in Palm Desert, California, following kidney disease and after testing positive for Covid-19. Rodgers had a run of hits and mainstream popularity in the 1950s and 1960s.
18 January 2021, American composer, producer, arranger, and musician Perry Botkin Jr. died age 87. As an arranger, he worked with Bobby Darin, Harry Nilsson, Gary Crosby, The Lettermen and Harpers Bizarre, among others. "Nadia's Theme", composed by Botkin and Barry De Vorzon, peaked at No.8 on the Billboard chart in 1976. He was also a major contributor to Incredible Bongo Band, one of the most influential groups of all-time for its Bongo Rock album which is one of the most sampled from records, making it a major influence in the origins of Hip hop.
22 January 2021, Australian animator, director, and producer Ron Campbell died age 81. He was best known for his work on the 1960s The Beatles television series, as well as the animated feature film Yellow Submarine.
22 January 2021, James Purify died Pensacola, Florida, of complications due to COVID-19. The R&B singing duo, James & Bobby Purify biggest hit was 'I'm Your Puppet' in 1966, which reached No.6 in the US Billboard Hot 100.
23 January 2021, American bassist, guitarist, singer, and songwriter, Tom Stevens died age 64. He worked with roots rock band the Long Ryders and released a string of solo albums.
29 January 2021, Hilton Valentine, original guitarist and founding member of The Animals, died at the age of 77. In 1963 he was recruited to join The Animals alongside Chas Chandler, Alan Price and John Steel. He went on to play on classics like 'Baby Let Me Take You Home', 'Don't Let Me Be Misunderstood', 'We Gotta Get Out of This Place', 'It's My Life' and 'Don't Bring Me Down', and on the band's landmark, trans-Atlantic number one cover of the traditional folk song 'The House of the Rising Sun'.
29 January 2021, Grammy-winning English pianist, orchestrator, music producer and songwriter Jeremy Lubbock died aged 89. He moved to Los Angeles with his family in 1977, and worked on Joni Mitchell's album Mingus, and Minnie Riperton's final album Minnie. In following years, he worked with David Foster, Quincy Jones, Chicago, and many others. He won Grammy Awards for his arrangements on Chicago's 'Hard Habit to Break' in 1984, and for Celine Dion's 'When I Fall in Love'.
29 January 2021, American electric blues, Texas blues and jazz blues tenor saxophonist, Grady Gaines died age 86. He performed and recorded with Little Richard in the 1950s and later worked with Little Willie John, Sam Cooke, Jackie Wilson and Joe Tex.
3 February 2021, American singer-songwriter Jim Weatherly died age 77. He wrote mostly pop and country music, his notable songs include "The Need to Be" and "Midnight Train to Georgia" a 1973 No.1 hit single by Gladys Knight & the Pips.
3 February 2021, American folk musician and singer-songwriter, political activist Anne Feeney died age 69. Feeney's song "Have You Been to Jail for Justice?" was recorded by Peter, Paul and Mary and she also worked with John Prine and Pete Seeger.
4 February 2021, American R&B singer and songwriter Nolan Porter died age 71. He recorded two albums and six singles in the early 1970s. His best known song is "Keep On Keeping On", which became popular on the northern soul scene. In 1978 Joy Division used the guitar riff from Porter's song for their song "Interzone" on their debut album Unknown Pleasures.
4 February 2021, American soul singer Gil Saunders died. He came to fame as lead singer with Harold Melvin & the Blue Notes and sang lead on the international 1984 dance music hit "Today's Your Lucky Day".
5 February, Stefan Cush, co-lead vocalist and guitarist for folk-punk group The Men They Couldn't Hang died at 60 years of age following a heart attack.
7 February, Producer Elliot Mazer died at the age of 79. He is most famous for his work with Neil Young, working on a string of releases including Harvest, Journey Through The Past, Times Fades Away, Tonight's The Night, American Stars & Bars, Hawks & Doves, Everybody's Rockin', Old Ways, Lucky 13 and the recently released "lost" album Homegrown. He also worked with The Band, Janis Joplin, Rory Gallagher and many more.
9 Feb 2021, Richie Albright, a long-time drummer for Waylon Jennings died age 81. Albright aided in crafting the legend's distinct outlaw sound, also worked among others, Johnny Cash, Jessi Colter and Hank Williams Jr.
9 February 2021, American jazz composer, keyboardist, bandleader Chick Corea died age 79. His compositions "Spain", "500 Miles High", "La Fiesta", "Armando's Rhumba" and "Windows" are widely considered jazz standards. As a member of Miles Davis's band in the late 1960s, he participated in the birth of jazz fusion. In the 1970s he formed Return to Forever along with Herbie Hancock, McCoy Tyner, Keith Jarrett and Bill Evans.
12 February, Rupert Neve died at 94 years old due to pneumonia and heart failure. Neve was a pioneering designer of professional audio recording equipment. Regarded as the father of modern studio recording, his equipment became industry standard and influenced the sound of countless musicians including Nirvana, Fleetwood Mac, Santana, The Who, Pink Floyd and many more. Nirvana even recorded their iconic album Nevermind on a mixing console at Sound City Studios designed by Neve.
13 February 2021, English music arranger and keyboard player Louis Clark died age 73. He was best known for his work with Electric Light Orchestra and Hooked on Classics. Clark started out as a bass guitarist for Birmingham band The Buccaneers, who later became Monopoly and eventually The Raymond Froggatt Band.
18 February 2021, American rapper, songwriter and producer, Prince Markie Dee died age 52. He was a member of the Fat Boys, a pioneering rap group that gained fame during the 1980s. Morales was also the vice-president of Uncle Louie Music Group.
20 February 2021, American pianist Gene Taylor died age 68 after being found dead at his home in his bed in Austin, Texas. The cause of death is believed to have been related to the house having been without heat in the dead of winter due to the state-wide power outages caused by the 2021 Texas power crisis. He was best known for his boogie-woogie style and worked with Big Joe Turner and T-Bone Walker, was briefly part of Canned Heat, toured with The Blasters, and later with The Fabulous Thunderbirds.
2 March 2021, Jamaican singer-songwriter and percussionist Bunny Wailer died age 73. He was an original member of The Wailers along with Bob Marley and Peter Tosh. A three-time Grammy Award winner, he is considered one of the long-time standard-bearers of reggae music.
2 March 2021, English jazz musician, Chris Barber died age 90. He sponsored African-American blues musicians to visit Britain, making Barber a significant figure in launching the British rhythm and blues and "beat boom" of the 1960s. This, with the encouragement of local enthusiasts such as Alexis Korner and John Mayall, sparked young musicians such as Peter Green, Eric Clapton and the Rolling Stones.
4 March 2021, Procol Harum's former bassist Alan Cartwright died aged 75. He was part of the band's line-up between 1971 and 1976, playing on four albums including their ground-breaking 1972 release Live With The Edmonton Symphony Orchestra.
6 March, Lou Ottens passed away at the age of 94. The inventor of the tape cassette, he was instrumental in changing personal listening habits for an entire generation. "We were little boys who had fun playing," he once said of his invention. "We didn't feel like we were doing anything big."
11 March 2021, American singer and musician Ray Campi died age 86. Nicknamed "The King of Rockabilly", he first recorded in the mid-1950s. Campi's trademark was his white double bass, which he often jumped on top of and "rode" while playing.
23 March 2021, Ethel Gabriel a Grammy-winning record producer passed away in New York aged 99. A trailblazer for women in the music industry, she was one of the first women to work as a record producer. "We had a son-of-a-gun president at RCA who was not favourable to women in the industry," she said in 1992. "He put me in charge of the Camden label, the economy line subsidiary, because it was supposed to fold. I'm sure he thought it was a way to get rid of me. Well, I made a multimillion dollar line out of it, conceived, programed and produced everything."
24 March 2021, American drummer, percussionist, and songwriter Don Heffington died age 70. He was a founding member of the Los Angeles alternative country band Lone Justice, and was a session and touring musician for various artists, including Lowell George, Bob Dylan, Emmylou Harris, Jackson Browne, the Wallflowers and the Jayhawks.
28 March 2021, British jazz bassist, record producer Malcolm Cecil died age 84. He was a founding member of a leading UK jazz quintet of the late 1950s, the Jazz Couriers and later joined Cyril Davies and Alexis Korner to form the original line-up of Blues Incorporated. Cecil subsequently collaborated with Robert Margouleff to form the duo Tonto's Expanding Head Band, which led to them collaborating on and co-producing several of Stevie Wonder's Grammy-winning albums of the early 1970s.
2 April 2021, American bassist Morris 'B.B.' Dickerson died age 71. He was a founding member of the 70s funk-rock-soul band War who scored hits such as "Low Rider", "Why Can't We Be Friends?" and "The Cisco Kid".
9 April 2021, American rapper, songwriter DMX (Earl Simmons) died age 50. He began rapping in the early 1990s and released his debut album It's Dark and Hell Is Hot in 1998, to both critical acclaim and commercial success. He was the first artist to debut an album at No. 1 five times in a row on the Billboard 200 charts. Overall, DMX has sold over 74 million records worldwide.
14 April, American guitarist, vocalist and songwriter and Poco frontman Rusty Young died of a heart attack at the age of 75. Young is best known for writing the Poco songs "Rose of Cimarron" and "Crazy Love". A virtuoso on pedal steel guitar, he was celebrated for the ability to get a Hammond B3 organ sound out of the instrument by playing it through a Leslie speaker cabinet.
16 April 2021, English songwriter Barry Mason died age 85. A leading songwriter of the 1960s, he wrote the bulk of his most successful songs in partnership with Les Reed. His song writing credits included three UK Singles Chart No.1s, "Love Grows (Where My Rosemary Goes)", "The Last Waltz", and "I Pretend". His songs have been recorded by many artists including Tom Jones, David Essex, The Drifters, Rod Stewart, Petula Clark, Perry Como, Elvis Presley and Engelbert Humperdinck.
16 April 2021, The Kingsmen guitarist Mike Mitchell died. The 1960s garage rock and blue-eyed soul band from Portland, Oregon, are best known for their 1963 recording of R&B singer Richard Berry's "Louie Louie". Their first album, The Kingsmen in Person, remained on the Billboard Top LPs chart for 131 weeks from January 1964 to August 1966.
16 April 2021, English harmonica player and vocalist Lew Lewis died. He was a member of Eddie and the Hot Rods before forming his own bands and released a solo single for Stiff Records. Influenced in style by Little Walter, he also guested on albums by The Stranglers, The Clash and others. In 1987, Lewis was given a seven-year jail sentence for armed robbery, after holding up a post office with a fake pistol, stealing £5,000 and trying to escape on a shopping bike.
19 April 2021, Producer and songwriter Jim Steinman, most famous for his work on Meat Loaf's best-selling Bat Out Of Hell album, died at the age of 73. His most successful chart singles include Bonnie Tyler's "Total Eclipse of the Heart", Air Supply's "Making Love Out of Nothing at All", Meat Loaf's "I'd Do Anything for Love (But I Won't Do That)", the Sisters of Mercy's "This Corrosion".
20 April 2021, Scottish singer Les McKeown died age 65. As the lead singer of the Bay City Rollers during their most successful period from 1971 – 1976 the group scored 10 UK top ten hit singles including two No.1's. The Rollers were also the subject of a 20-week UK television series, Shang-a-Lang.
21 April 2021, American musician Joe Long died from complications of COVID-19 age 88. He is best known as the bass guitarist for the Four Seasons that became internationally successful in the 1960s and 1970s.
27 April 2021, Australian singer-songwriter Anita Lane died age 61. She was briefly a member of the Bad Seeds with Nick Cave and Mick Harvey. Lane released two solo albums, Dirty Pearl (1993) and Sex O'Clock (2001).
29 April 2021, British drummer John Hinch died age 73. He was the drummer in an early line-up of heavy metal band Judas Priest.
3 May 2021, American R&B and swing singer-songwriter, record executive and bandleader, Lloyd Price died age 88. He was known as "Mr. Personality", after his 1959 million-selling hit, "Personality". His first recording, "Lawdy Miss Clawdy", was a hit for Specialty Records in 1952.
4 May 2021, English singer-songwriter, musician and model Nick Kamen died following a long battle with bone marrow cancer age 59. He was best known for the singles "Each Time You Break My Heart" from 1986 and "I Promised Myself" from 1990, as well as for appearing in a 1985 Levi's advert.
6 May 2021, American gospel, soul, and R&B singer Pervis Staples died suddenly in his home in Dolton, Illinois, at the age of 85. The Staple Singers are best known for their 1970s hits "Respect Yourself", "I'll Take You There", "If You're Ready (Come Go with Me)", and "Let's Do It Again".
20 May 2021, American drummer Roger Hawkins died age 75. He was best known for playing as part of the studio band known as the Muscle Shoals Rhythm Section. His drumming can be heard on dozens of hit singles, including tracks by Percy Sledge ("When a Man Loves a Woman"), Aretha Franklin ("Respect"), Wilson Pickett ("Mustang Sally". Hawkins also worked with Duane Allman, Joe Cocker, Paul Simon, Bob Seger, Bonnie Bramlett, Boz Scaggs, Albert King, Traffic, Rod Stewart, Eric Clapton and Willie Nelson.
29 May 2021, American singer B. J. Thomas died of lung cancer age 78. He scored hits with "Hooked on a Feeling" (1968), "Raindrops Keep Fallin' on My Head" (1969), "(Hey Won't You Play) Another Somebody Done Somebody Wrong Song" (1975), "Don't Worry Baby" (1977) and "Whatever Happened to Old-Fashioned Love" (1983).
8 June 2021, American singer Dean Parrish died at the age of 78. Best known for the song, "I'm on My Way", which became noted for being the penultimate record that was played at the last Northern soul all-nighter at the Wigan Casino, he also worked as a session musician with Jimi Hendrix and Santana in 1970, and played guitar with Bob Marley in 1972.
23 June 2021, British engineer and composer Peter Zinovieff died age 88. In the late 1960s, his company, Electronic Music Studios (EMS), made the VCS3, a synthesizer used by many early progressive rock bands such as Pink Floyd and Krautrock groups as well as more pop-orientated artists, including Todd Rundgren and David Bowie.
26 June 2021, American singer-songwriter Johnny Solinger died one month after he revealed that he was suffering from liver failure. He was 55 years old. He was best known for being the lead vocalist of Skid Row from 1999 to 2015.
29 June 2021, British rock and blues vocalist John Lawton died unexpectedly age 74. He was best known for his work with Lucifer's Friend, Uriah Heep and the Les Humphries Singers.
4 July 2021, American country-rockabilly singer and guitarist Sanford Clark died age 85, best known for his 1956 hit "The Fool", written by Lee Hazlewood.
4 July 2021, Irish musician, photographer, teacher, and author Rick Laird died of lung cancer age 80. He is best known as the bassist and founding member of the jazz fusion band Mahavishnu Orchestra, led by English guitarist John McLaughlin with which he performed from 1971 to 1973.
10 July 2021, American fiddle player Byron Berline died at the age of 77 of complications of a stroke. He joined The Flying Burrito Brothers in 1971, worked with Stephen Stills's band Manassas and played on "Country Honk" on the Rolling Stones' album Let It Bleed. He also worked with many other artists including: Bob Dylan, Elton John, The Byrds, Janis Ian, Willie Nelson, John Denver, Rod Stewart, The Eagles and The Band.
17 July 2021, American rock violinist and singer Robby Steinhardt died from complications of acute pancreatitis age 71. He is best known for his work with Kansas, for which he was co-lead singer along with keyboardist Steve Walsh.
20 July 2021, American songwriter and vocalist Chuck E. Weiss died from cancer age 76. Weiss was the subject of Rickie Lee Jones's hit song "Chuck E.'s In Love", from her 1979 debut album. At the time, Jones was linked romantically to Tom Waits. All three lived in the Tropicana Hotel in Los Angeles.
26 July 2021, American musician Joey Jordison died at the age of 46. He was the drummer and co-founder of metal band Slipknot as well as guitarist for horror punk band Murderdolls. In August 2010 Jordison was voted the best drummer of the previous 25 years, by readers of Rhythm magazine.
28 July 2021, American musician Dusty Hill died at his home in Houston, Texas, at the age of 72. He was the bassist of the rock band ZZ Top for over 50 years, he also sang lead and backing vocals, and played keyboards.
31 July 2021, American guitarist and singer-songwriter Paul Cotton died at the age of 78. He was a member of the band Poco and the writer of their international hit song "Heart of the Night". Cotton left Poco in early 2010 and went on to release several solo albums.
7 August 2021, American funk saxophonist Dennis Thomas died age 70. With Kool & The Gang he had the hits "Ladies' Night", the US No. 1 "Celebration", "Get Down on It", "Joanna", "Misled", and "Cherish".
9 August 2021, American hip-hop and R&B record producer Chucky Thompson died of complications from COVID-19. He was a member of Bad Boy Entertainment's "Hitmen" team of in-house producers during the 1990s, and worked with Bad Boy mogul Sean Combs on material for artists such as The Notorious B.I.G. and Faith Evans.
11 August 2021, American guitarist, Roy Gaines died a day before his 84th birthday. He was a backing musician in sessions with the Everly Brothers, the Supremes, Bobby Darin, Stevie Wonder, and Gladys Knight. Gaines co-wrote the song "No Use Crying", which was recorded by George Jones and Ray Charles.
13 August 2021, American singer, guitarist, and songwriter Nanci Griffith died at the age of 68. In 1994 she won a Grammy Award for the album Other Voices, Other Rooms.
20 August 2021, American country music singer-songwriter and short-story author Tom T. Hall died from a self-inflicted gunshot wound to the head. He wrote 12 No.1 hit songs, with 26 more that reached the Top 10, including the No.1 international pop crossover hit "Harper Valley PTA" by Jeannie C. Riley.
21 August 2021, Don Everly one half of The Everly Brothers died at his home in Nashville, aged 84. Their first hit song came in 1957, with "Bye Bye Love", followed by a string of hits including "Wake Up Little Susie", "All I Have to Do Is Dream", and "Cathy's Clown". The music of the Everly Brothers influenced the Beatles, who referred to themselves as "the British Everly Brothers". In 2015, Rolling Stone ranked the Everly Brothers No. 1 on its list of the 20 Greatest Duos of All Time.
22 August 2021, Brian Travers died from cancer age 62. He was a one of the founders of British reggae group UB40. He played the saxophone and was also an arranger and lyricist. He had suffered from cancer since 2019.
24 August 2021, British musician Fritz McIntyre died age 62. He was the keyboard player in the original line-up of Simply Red, a founder member of the band, and played from their debut album Picture Book in 1985 until their 1995 album Life. He was the last of the founder members to quit the band. Simply Red had five number one albums in the UK, with their 1991 album, Stars, being one of the best-selling albums in UK chart history.
24 August 2021, English musician Charlie Watts died at a London hospital at the age of 80. Originally trained as a graphic artist, Watts developed an interest in jazz at a young age and joined the band Blues Incorporated. He also started playing drums in London's rhythm and blues clubs, where he met future band mates Mick Jagger, Keith Richards and Brian Jones. In January 1963, he left Blues Incorporated and joined the Rolling Stones as drummer and remained with the group for 58 years.
29 August 2021, American drummer Ron Bushy died following a battle with cancer, at the age of 79. He was a member of the rock band Iron Butterfly and as the drum soloist on the band's iconic song "In-A-Gadda-Da-Vida," released in 1968. He was the only member of the group to appear on all six of its studio albums.
29 August 2021, Jamaican record producer and singer Lee "Scratch" Perry died from an unspecified illness, aged 85. He was noted for his innovative studio techniques and production style and was a pioneer in the 1970s development of dub music with his early adoption of remixing and studio effects to create new instrumental or vocal versions of existing reggae tracks. He worked with and produced for a wide variety of artists, including Bob Marley and the Wailers, Junior Murvin, Beastie Boys, Ari Up, The Clash, The Orb, and many others.
5 September 2021, American rock guitarist Rickie Lee Reynolds died age 72. He was a founding member along with singer Jim Dandy of Southern rock band Black Oak Arkansas.
5 September 2021, English singer Sarah Harding died age 39. Her professional career began in 2002 when she successfully auditioned for the ITV reality series Popstars: The Rivals, during which Harding won a place in the girl group Girls Aloud. The group achieved twenty consecutive top ten singles (including four number ones) in the UK. In August 2020 Harding announced that she had been diagnosed with advanced breast cancer.
10 September 2021, English singer-songwriter, and virtuosic guitar player Michael Chapman died at the age of 80. He became well known in the folk clubs of the late 1960s, as well as on the 'progressive' music scene, and released over 50 albums.
20 September 2021, American singer and actress Sarah Dash died unexpectedly at the age of 76. She first appeared on the music scene as a member of Patti LaBelle & The Bluebelles and later was Dash was a member of Labelle, and worked as a singer, session musician, and sideman for The Rolling Stones, and Keith Richards.
22 September 2021, American session musician, orchestra leader, and double bassist Bob Moore died age 88. He was a member of the Nashville A-Team during the 1950s and 1960s and performed on over 17,000 documented recording sessions, backing acts such as Elvis Presley, Patsy Cline, Bob Dylan and Roy Orbison.
26 September 2021, English musician Alan Lancaster died age 72 due to complications from multiple sclerosis. He is best known as a founding member and bassist of Status Quo, playing with the band from 1967 to 1985.
28 September 2021, British pop singer Barry Ryan died after complications from a lung disorder age 72. As half of Paul & Barry Ryan he scored eight Top 50 singles in the UK and later had the solo hit, "Eloise", which reached No.2 on the UK Singles Chart in 1968.
8 October 2021, British drummer and percussionist Everett Morton died age 71. As the drummer for the early 1980s ska band The Beat he enjoyed a string of hits singles, including "Mirror in the Bathroom", "Too Nice to Talk To", "Can't Get Used to Losing You", and "Hands Off…She's Mine".
11 October 2021, American musician and singer Deon Estus died at the age of 65. He is best known as the bass player of Wham! and as the bassist on George Michael's first two solo projects. Estus' single "Heaven Help Me", with additional vocals by George Michael, reached No.5 on the Billboard Hot 100 chart in 1989.
12 October 2021, Irish musician, composer, and record producer Paddy Moloney died suddenly at a hospital in Dublin at the age of 83. He co-founded and led the Irish musical group the Chieftains, playing on all of their 44 albums.
22 October 2021, American singer Jay Black died from pneumonia age 82. Also known as "The Voice," whose height of fame came in the 1960s when he was the lead singer of Jay and the Americans. The band had numerous hits including "Come a Little Bit Closer", "Cara Mia", and "This Magic Moment".
2 November 2021, Irish-born American rock musician, singer and songwriter Declan Mulligan died age 83. He was best known as a guitarist of rock band The Beau Brummels that formed in San Francisco in 1964 and broke into the mainstream with their debut single, "Laugh, Laugh'.
8 November 2021, American songwriter, singer, musician and lyricist Margo Guryan died age 84. Her 1960s song "Sunday Mornin'", was hit for both Spanky and Our Gang and Oliver. Her songs have also been recorded by Cass Elliot, Glen Campbell amongst others.
11 November 2021, English musician, songwriter, and poet Graeme Edge died of metastatic cancer age 80. Best known as the co-founder and drummer of the Moody Blues that scored the successful singles "Go Now", "Nights in White Satin", "Tuesday Afternoon", "Question", "Gemini Dream", "The Voice" and "Your Wildest Dreams".
11 November 2021, British-American progressive rock and jazz fusion guitarist John Goodsall died. He was best known for his work with Brand X and Atomic Rooster.
13 November 2021, American musician Philip Margo died age 79. He was a long time member of The Tokens, along with his brother Mitch, best known for their hit recording of "The Lion Sleeps Tonight".
17 November 2021, Keith Allison, American singer and bassist from Paul Revere & the Raiders died age 79. They had the Top Ten US hits "Kicks" and "Hungry", establishing the band as national stars and later in 1971 the hugely successful cover of the song "Indian Reservation".
2 December 2021, English music manager Richard Cole died age 75. He is most known for having been the tour manager of Led Zeppelin from 1968 to 1980. He was the author of the book called Stairway to Heaven: Led Zeppelin Uncensored.
3 December 2021, American drummer Melvin Parker died. He and his brother, saxophonist Maceo Parker, were key members of James Brown's band. Parker was the drummer on three of Brown's recordings: "Out of Sight," "Papa's Got A Brand New Bag," and "I Got You (I Feel Good)."
4 December 2021, American country music singer and musician Stonewall Jackson died in Nashville, Tennessee, at the age of 89. His breakthrough came in the country Top 40 in late 1958, with a song written by a young George Jones, "Life to Go".
5 December 2021, British rock music vocalist, guitarist, and keyboardist John Miles died after a short illness age 72. Best known for his 1976 top 3 UK hit single "Music". He won the "Outstanding Musical Achievement" award at the 2017 Progressive Music Awards.
7 December 2021, Scottish singer-songwriter Steve Bronski died from smoke inhalation in a fire at his home in Soho, London age 61. He was a co-founder and keyboard player of the group Bronski Beat, known for the singles "Smalltown Boy" and "Why?". He was also well known as an LGBTQ activist and was openly gay himself from an early age.
8 December 2021, Gil Bridges, the last surviving member of the original line-up from American band Rare Earth died aged 80, of complications arising from COVID-19. Rare Earth was the first big hit-making act signed by Motown that consisted only of white members.
8 December 2021, American bass guitarist and record producer Robbie Shakespeare died age 68. He is best known as one half of the reggae rhythm section and production duo Sly and Robbie, with drummer Sly Dunbar. Regarded as one of the most influential reggae bassists, Shakespeare's work extended beyond the reggae genre, covering various pop and rock artists such as Mick Jagger, Bob Dylan, Jackson Browne, Cyndi Lauper, Joe Cocker, Yoko Ono, Serge Gainsbourg, and Grace Jones.
8 December 2021, Ralph Edward Vierra Tavares died two days before his 80th birthday. He was a member of American R&B, funk and soul music group Tavares best known for their 1976 hit "Heaven Must Be Missing an Angel".
9 December 2021, David Lasley American recording artist, singer and songwriter died age 74. He was known for his contributions as a background singer and songwriter for such artists as Bonnie Raitt, James Taylor, Luther Vandross, Chic, Aretha Franklin, Dionne Warwick, Dusty Springfield and Boz Scaggs.
9 December 2021, Jamaican musician Garth Dennis died from complications of pneumonia age 72. He was a founder member of Black Uhuru, later a member of The Wailing Souls for ten years. He grew up in Trenchtown and became friends with Bob Marley, Peter Tosh, and Bunny Wailer.
10 December 2021, American musician, songwriter, actor, producer, Michael Nesmith died from heart failure at his home in Carmel Valley, California age 78. He was best known as a member of the pop rock band the Monkees and co-star of the TV series The Monkees (1966–1968). His song writing credits include "Different Drum", which became a hit for Linda Ronstadt and the Stone Poneys. After the break-up of the Monkees, Nesmith continued his successful song writing and performing career, first with the seminal country rock group the First National Band, with whom he had a top-40 hit, "Joanne".
13 December 2021, American soul and R&B musician Joe Simon died age 85. He charted 51 U.S. Pop and R&B chart hits between 1964 and 1981. His biggest hits included three number one entries on the US Billboard R&B chart: "The Chokin' Kind" (1969), "Power of Love" (1972), and "Get Down, Get Down (Get on the Floor)" (1975).
15 December 2021, American singer Wanda Young died at the age of 78. She was a member and after 1965, the lead singer of the Motown all-female singing group the Marvelettes. They gave Motown their first No.1 Pop single in late 1961 with "Please Mr. Postman". The Beatles later recorded "Please Mr. Postman" on their second studio album With the Beatles and in 1975, the Carpenters' remake of "Please Mr. Postman" was a No.1 hit around the world.
20 December 2021, American R&B singer Paul Mitchell died. With The Floaters he had the worldwide smash hit in 1977 "Float On".
22 December 2021, British guitarist Robin Le Mesurier died at the age of 68. He was known for his long collaborations with Rod Stewart and Johnny Hallyday, as well as for the wide-ranging nature of his musical performance, including membership of such bands as The Wombles. In September 2015, Le Mesurier joined Rod Stewart and Rolling Stone Ron Wood for the Faces reunion.